Goa is a perfect destination for anyone who likes the two sides of life – the busy and the tranquility. The North of Goa is filled with markets, temples, churches and much more, including a river cruise! For those that enjoy the hustle and bustle, it's the perfect area.  
The South of Goa is for those who prefer the slower ways of life, filled with sandy white beaches and the smell of the sea. Relaxation is a staple in the South of Goa, perfect for those who simply want to relax and de-stress.
We've compiled a list of tourist attractions in Goa, whether in the North or the South. There's certainly something for everyone!


North Goa
There's always something in the capital, and for Goa, that's in Panaji, otherwise known as Panjim for English speakers, and Velha Goa (Old Goa in English).  
Church of Our Lady of the Immaculate Conception
The Church of Our Lady of the Immaculate Conception is a top choice on every traveller's list.

Built in 1619, the pearl white chapel was where Lisbonian sailors would give acknowledgement to God for a safe journey towards Old Goa, just up the river. Ropes within the chapel lead to the gleaming church bell at the belfry, saved from ruins of an Augustinian monastery in Old Goa.
The church is the main focus on the 8th of December when celebrations are held during the Feast of Our Lady of the Immaculate Conception.
Casino Pride
Have you ever wanted to gamble on a ship? Casino Pride are two boats, with everything you ever need. Pride I hosts a children's play room, and even an outdoor party deck, with the bonus of an unlimited dinner buffet, and free drinks if you're going to play at one of their 40 gaming tables, which are open for 24 hours. Pride II has the exact same thing, although it's just smaller in size.
Municipal Markets
The Old Municipal Market offers up fresh produce and clothing stalls. Small but amazing eateries are present, and the market is perfect for any who want to bring home a piece of Goa.
The New Municipal Market composes of mostly fresh produce, such as fresh fruit and vegetables. However, unlike the old market, it also hosts a couple of electronic stores and tailors upstairs in the building. If you're looking for a little getaway from the hustle, this market is less atmospheric.
Mandovi River Cruises
Hour long courses at the Mandovi River offer not only the best view of North Goa, and a scenic journey down te Mandovi River, but also live entertainment. Goa folk songs and dances are often performed, and two hour dinner cruise, and an all day back-water cruise are offered twice a week respectively. The all-day cruise takes you to lunch at a spice plantation, and passes by the Viar and Chorao Islands.
If that sounds like something you're up for, tickets can be purchased at the Santa Monica Jetty, where the cruise departs.
Basilica of Bom Jesus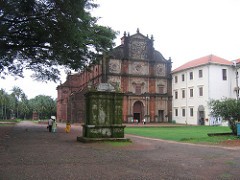 Goa's most famous church, it's one of the most revered by Catholics around the globe. The UNESCO World Heritage site was completed in 1605, and an amazing example of Baroque architecture.
It's the only church in Old Goa, and 10 kilometers east of Panaji. It's noted that it's where the remains of St. Francis Xavier reside, a highly regarded Saint.
South Goa
Moving away from the busy vibrancy of North Goa, South Goa offers relaxation, with it's sandy beaches and calm atmosphere.
Bentalbatim Beach
Though this beach has been developed, it's still secluded while offering countless amenities that one could visit. Restaurants and bars set up near the beach, such as Martin's Corners and Anri's Place, all well-known restaurants that win hearts.
The beach is a well-known site for hosting dolphins, where locals offer rides to tourists to see the magnificent creatures, at a small price of course. Walking along the beach is more than peaceful, and perfect for any to rest their mind.
Goa Chitra
The only ethnographic museum in Goa, it's a tribute to the founder's ancestors. With an amazing collection on original farming and ancient tools, 4,000 objects are on display for tourists to see. Workshops and events are held throughout the year, related to ethnography, archaeology, art, culture, history, etc.
Zorro Jewellers
Named one of the best jewellery stores, it's perfect after relaxing at the beach. Stones, rings, earrings, bracelets and necklaces are all available, and the store will even make to order!
Sernabatim Beach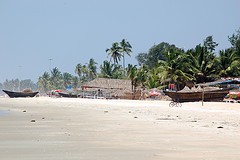 The Sernabatim Beach is considered an extension of Colva Beach. The beach is clean, with the tidal waves creating a gentle calming effect, perfect for swimming.
The view from quiet beach is magnificent and is perfect to see the sunset over the Arabian sea. It's perfect if you want to get away other tourists and stores, but it's just in walking distance of Colva Beach, where all the stores and shopping reside.
If you are looking to book your Holiday in Goa,  North or South, try booking your stay with Sterling Holidays for a stress-free and calm vacation!