I stared at the treacherous sheet of frozen water on the bathroom floor and wondered what was in store. Tabo, they had said, was the warmest village in Spiti. The wind was howling outside and the temperature was already six degrees below the freezing point. Kibber, our destination, on the other hand, was showing a menacingly low number of -22 degrees.
Months ago, when Sourav asked me if I would like to join them for the Snow Leopard Expedition to Spiti in winter, I was extremely skeptical about the prospects of surviving this trip. I had never been to Spiti before, however, I had been to Ladakh and knew how brutal the elements can get in the Himalayan winters. I told him that I did not think I was up to the mark to make this trip and come back alive. It took a lot of convincing from his side to make me agree to spend 11 days 12000 feet above sea level and mercury many notches below zero. Now, on that frightfully chilly evening in Tabo, I was back to questioning my life decisions.
The Grey Ghost of The Mountains
The snow leopard (Panthera uncia) is so elusive that it is often called the mountain ghost or the grey ghost. In the Tibetan plateau, it lives on the high mountains between 10,000 to 14,500 feet, coming down to the lower reaches only in the winters.
The snow leopard is a beautiful animal, well adapted for the cold mountainous habitats with a thick coat of fur, large nasal passage, rounded ears to minimize heat loss, broad paws and fur on the undersides for better grip on snowy surfaces, and a thick, long and furry tail to store fat and provide warmth. While slenderer than the other members of the Panthera family, an adult male snow leopard can reach 75 kg in weight.
A solo traveler, the snow leopard is solitary and highly difficult to come by. It is crepuscular, preferring to be active around dawn and dusk, and can cover great distances while free ranging. The female rears the cub alone and cares for them till they are 18 months old.
The snow leopard is not known to attack humans. It sticks to its diet of ibex and blue sheep and stays hidden as much as possible. There are good reasons to shun human company. Poaching for fur and bones is a big threat and has rendered the species vulnerable. It is estimated that there are about 200-600 snow leopards in the Indian Himalayas, spread between Jammu and Kashmir, Ladakh, Himachal Pradesh, and Arunachal Pradesh. Their numbers are dwindling worldwide, and demand urgent action towards conservation.
The Snow Leopard Expedition
Tabo on a cold dreary morning. Feb-Mar 2022
The total duration of the Snow Leopard Expedition was 11 days. We started from Chandigarh and did a long-haul day drive in Himachal Pradesh, crossing Shimla, Fagu, Kufri, and Narkanda, and had a night halt at Rampur, a busy town that doubles up as a business and tourist base for trips in Himanchal.
The next morning, we started from Rampur, reached Kalpa to get the permits, etc, and then started towards Spiti through sweeping beauty. We crossed Nako by late morning, kept driving along the Spiti river, and were in Tabo by the evening.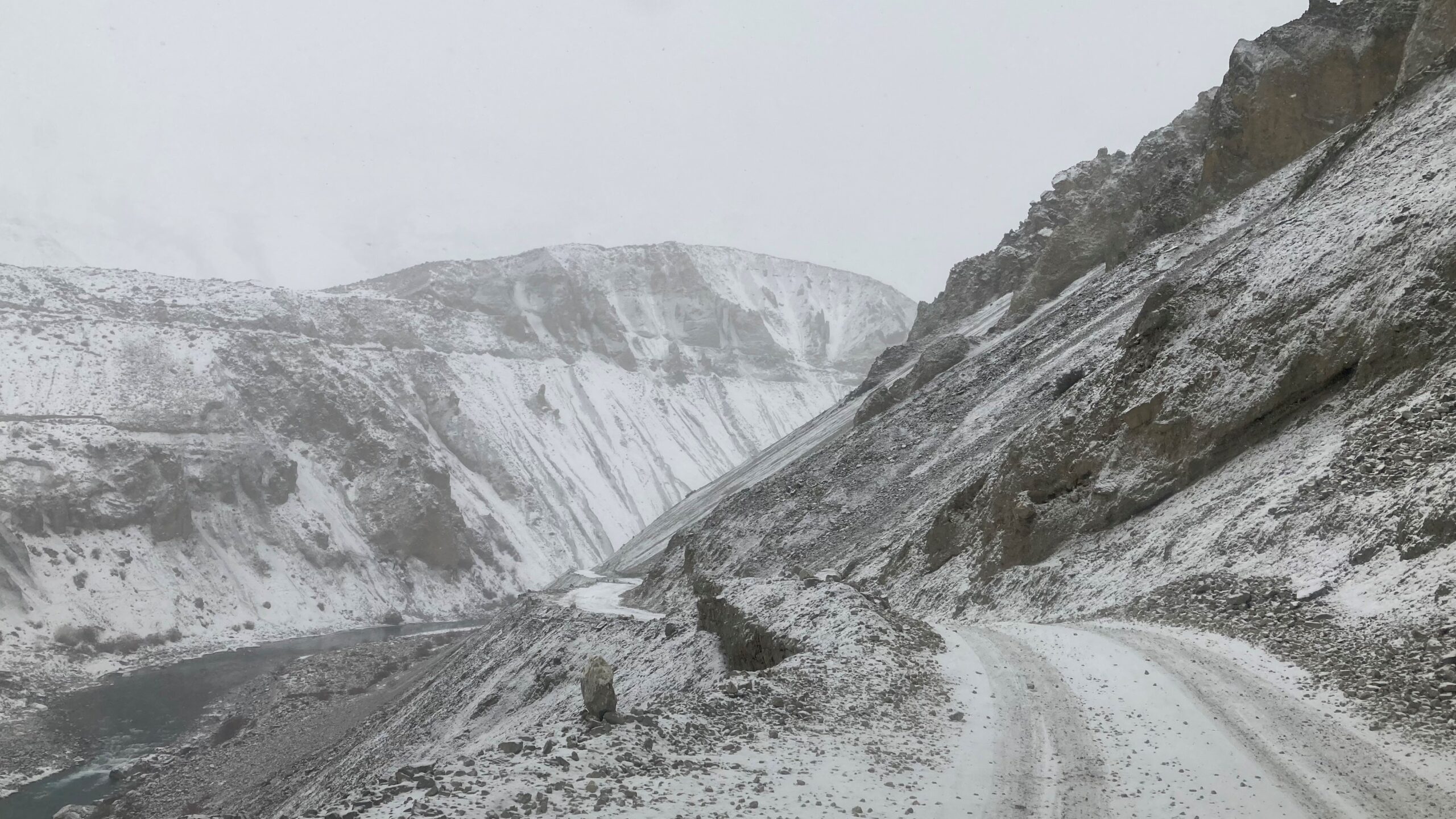 The frozen road to Spiti. Feb-Mar 2022
It was from Tabo that we started feeling the real bite of the cold. Snowfall started by the morning and by the time we were ready to start from Tabo, the weather had already turned grey. From Tabo, we crossed the vast landscapes of the Spiti valley, to Kaza, then Key, and finally to Kibber. The guesthouse at Kibber was going to be our base for the next seven days from which we would launch search parties to spot the snow leopard.
Kibber is a small village in Spiti Valley, located at an altitude of 14,000 feet above sea level. This beautiful village is the nucleus of the Kibber Wildlife Sanctuary and serves as one of the bases for launching expeditions for snow-leopard, the other being Langza.
Kibber is 19 KM from Kaza, the largest town in the region and the place where supplies come from. The Key/Kee village, famous for its monastery is almost mid-way between Kaza and Kibber. Chicham is another nearby village, separated from Kibber by a gorge. Connecting Chicham and Kibber is the Chicham hanging bridge, the highest of its kind in Asia.
For a small population of roughly 400, Kibber manages to have basic amenities like homestays, some shops, and a government dispensary to cater to basic illnesses. Barley is the prominent crop and you can get roasted barley for snacks if you are nice. There is a self-help group of women who specialize in making knitwear from sheep and yak wool. These woolens somehow perform better in such harsh climates, much better than the best brands in the city.  The village has electricity and is connected by a good 4G connection from Airtel and Jio. There are no ATMs in Kibber and you may need to go to Kaza if you need cash.
The biggest treasure of Kibber is its people, friendly, honest, hardworking, and humble. They compensate for the harsh cold of the winters with the warmth of their hospitality and go out of their way to make sure that you feel safe and welcomed. We can learn so much from them.
This was our most common workplace, a spot on the Kibber-Kaza road overlooking the ravine. Spiti, Feb-Mar 2022.
The day usually started early, thin air would mean we would have a shifting sleep and by 5:00 AM, some of us would be up already. Around 6-6:30 AM, Lamaji and other trackers would start in search of the snow leopards. Since the snow leopard makes its movements usually at dawn, fresh pug marks in the snow are the biggest help in tracking them.
While the trackers were at their work, we would get ready, have breakfast, check the gear and then huddle up in the warmth of the dining room, waiting for the call. By 8:00 AM, the trackers would call to tell us where to reach, usually the place where a sighting had happened or was expected to happen. At this point, we will get into our vehicles and start for that point.
After reaching that point, it was more of a waiting game. Tripods would be deployed and we would sit there with our cameras waiting for an action to happen. Sometimes this wait would go on for many hours, in temperatures lower than -10 degrees C, howling winds and often blinding sunlight. The toes wrapped under 2-3 layers of snow inside the snow boots would start freezing and we would walk around a bit, coming back to the camera and waiting again. Often, the sighting was not near the road and we would have to trek in knee-deep snow to the point where we would sit precariously on the edge of a cliff, looking at our target from the viewfinder of the camera, till the eyes teared up and the vision blurred. The lunch was usually in the field, and we would call it a day at 4:00 pm, packing up and heading back to Kibber.
 It was not just about the snow leopard alone; while we waited, any bird or animal in the vicinity was fair game. In the course of seven days, we managed to capture, apart from the leopard, Himalayan red fox, Ibex, Blue sheep, Lammergeier, Chukar partridge, Snow finch, and many other species of birds.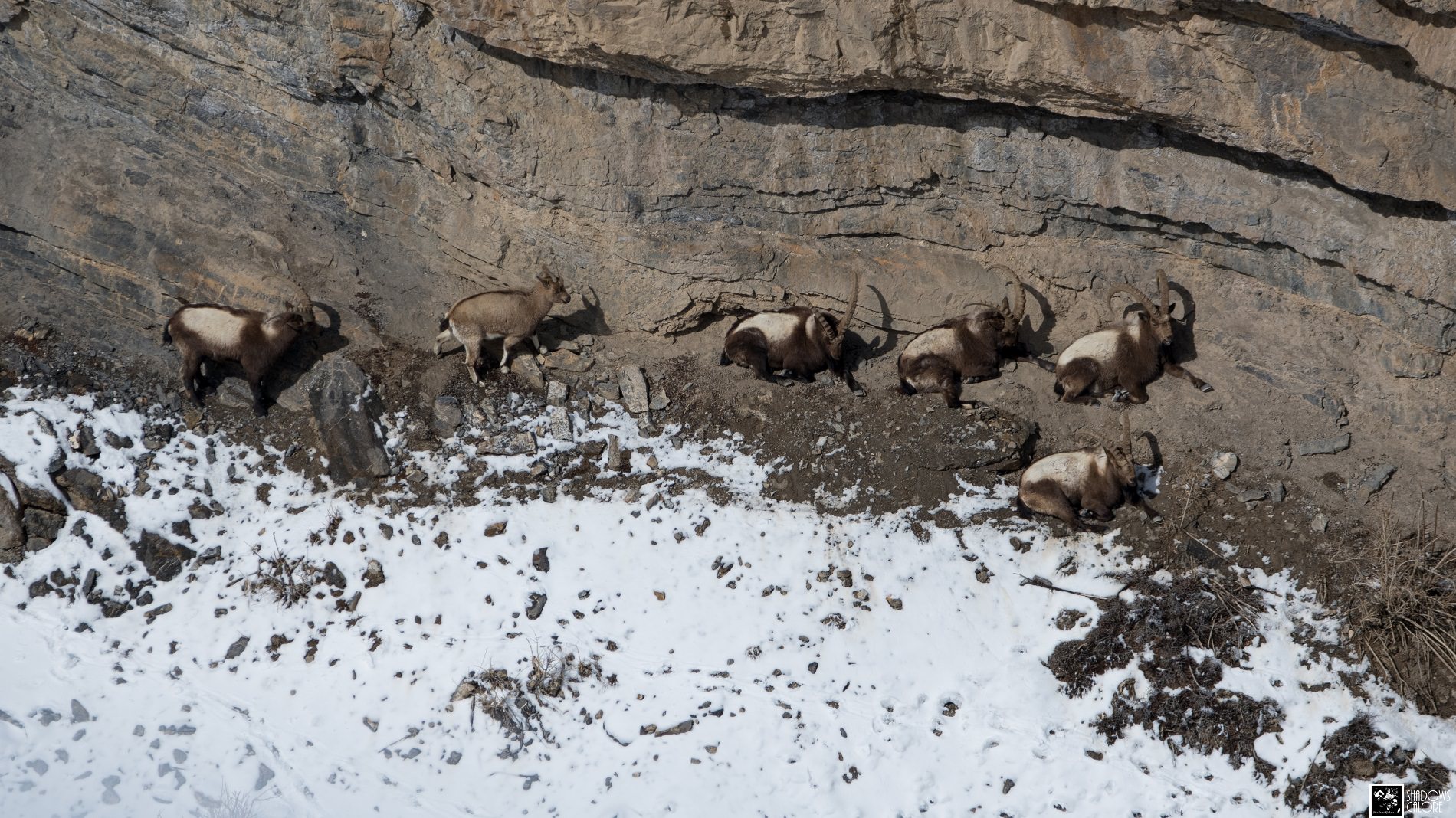 During the 7 days that we were in Kibber, we manage to spot 2 adult and 3 sub-adult snow leopards, at least 2 Himalayan red foxes, and a number of ibex and blue sheep. 3 out of 7 days, we have no sightings and the whole day would pass waiting for news. On the 4th day, I was nearly blinded by snow glare and could not shoot for the whole day. On the last day, we were blessed with glorious sightings of a lammergeier, hiked a km at 14,500 feet, and spotted a female snow leopard at 50 meters along with 3 cubs. While returning, the elusive blue sheep decided to make an appearance and a whole herd came face to face with us. It was mostly luck on a particular day that would decide who things would turn out to be.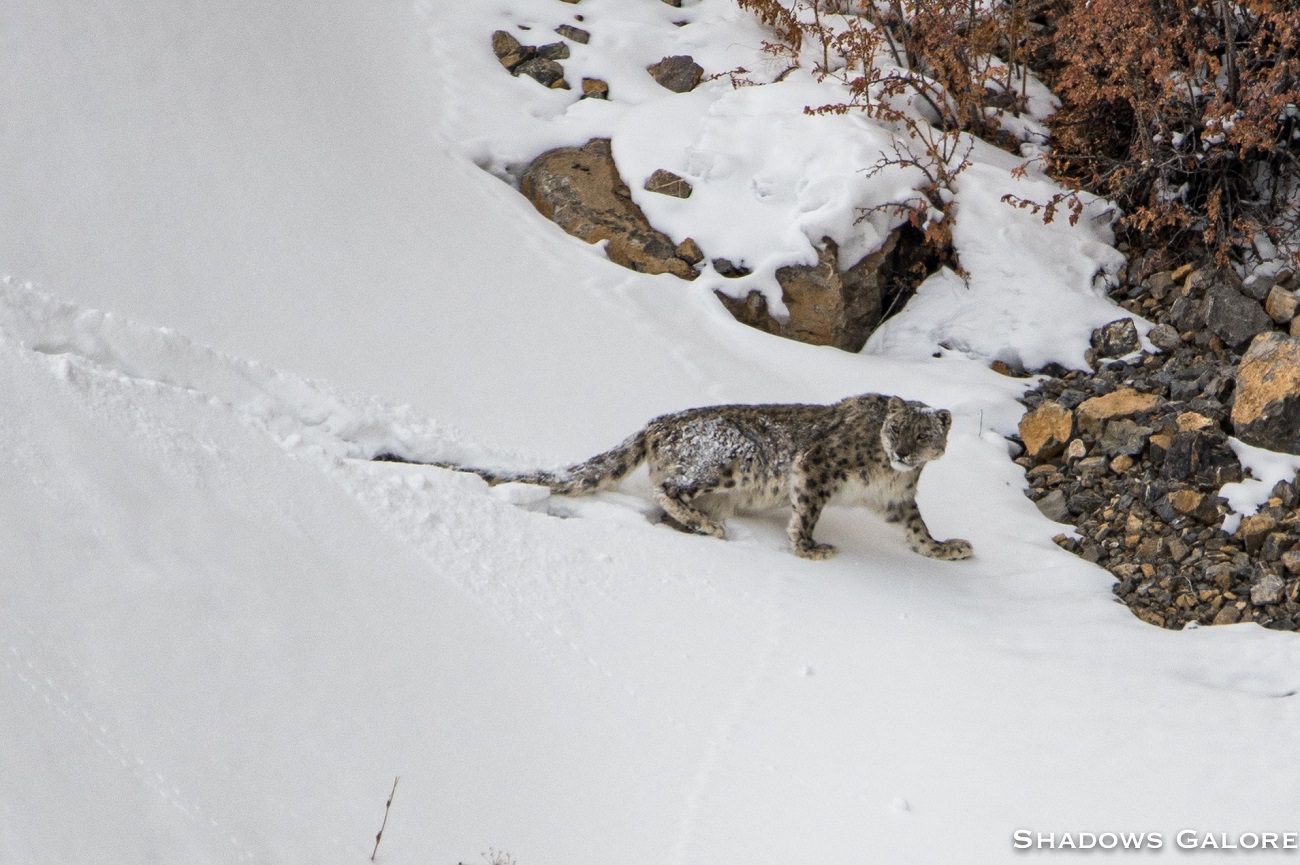 An adult snow leopard on the prawl. Spiti, Feb-Mar 2022
Snow leopards were, of course, the prime attraction of our trip. We were fortunate to observe these reclusive beautifies from a distance and shared a day in their lives. We got the first sighting on the day of arrival itself, however, the leopard was very far, and it was snowing heavily, making sighting difficult.
For the next three days, there was no news of the snow leopards and we started wondering if the expedition would achieve its goals.
Finally, on the fourth day, we got the news that fresh footprints were spotted. Breakfast remained unfinished and we rushed to the spot. A drive of two km followed by a half km hike in the snow, there it was! Sleeping in a nook on a rock face across the gorge, the ghost was finally visible. From 8 AM, we sat precariously on the edge of the cliff till 2 PM when the guest of honor finally decided to wake up and stalk a blue sheep that was down in the valley, only to pause for a second and look at us.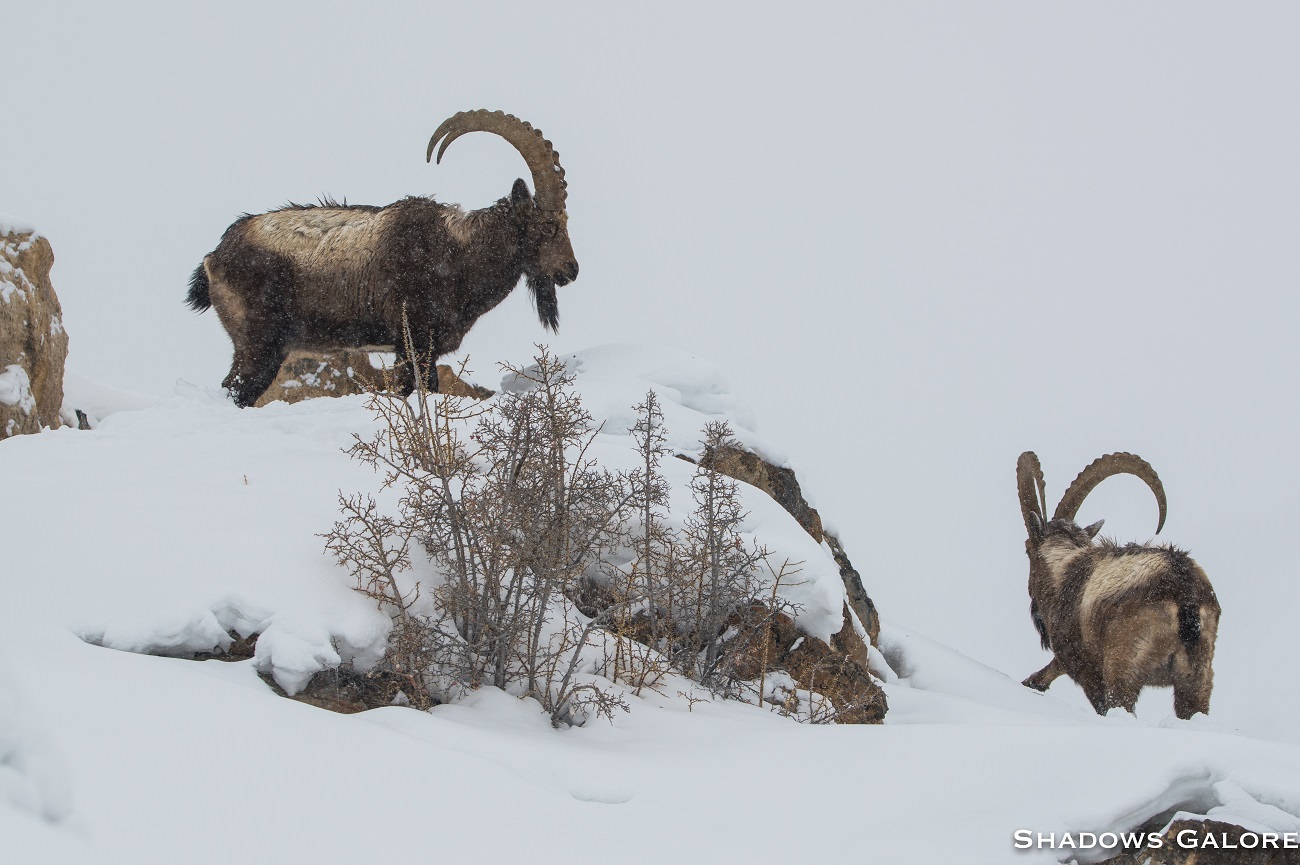 A pair of Ibexes during snowfall. Spiti, Feb-Mar 2022
It was a day of heavy rainfall and we were holed up in our guesthouse as the chances of any sighting were next to none. Shortly after lunch, we got a call that some ibexes have come very close to the village and there was a good chance to shoot them. So off we went scurrying up to make the best of what was a lost day. The ibexes did not disappoint at all!
An Ibex is a collective name for some types of wild mountain goats, distinguished by the male's large recurved horns that are transversely ridged in the front. The ibex are phenomenal mountain climbers and can be found sitting leisurely in narrow spaces on steep mountain ridges where no other mortal would dare set foot. They are considered sacred in the Tibetan sphere.
"Lammergeier" is a word of Greek origin, meaning "lamb vulture". It is a large vulture known to attack sheep, take them high up in the air, and drop them on rocks, in order to feed on the bonemarrow inside the shattered bones of their ill-fated prey. It is the only known vertebrate that feeds almost exclusively on bones. They can fly with bones up to 4 kg, or nearly their own body weight.
The Lammergeier is also called the "Bearded Vulture" due to an obvious distinctive feature on its head. Another way to identify the bird is its diamond-shaped tail. These birds are very large and can have a wing span of up to 9 feet.
The Lammergeier lives and breeds in the high mountains of Southern Europe, East Africa, the Indian subcontinent, Tibet and Caucasus. Its population has been on a decline over the last two decades and was placed under the 'Near-Threatened" category under the IUCN Red List. An increase in human activities and infrastructure build-up is thought to be the biggest contributing factor to their decline.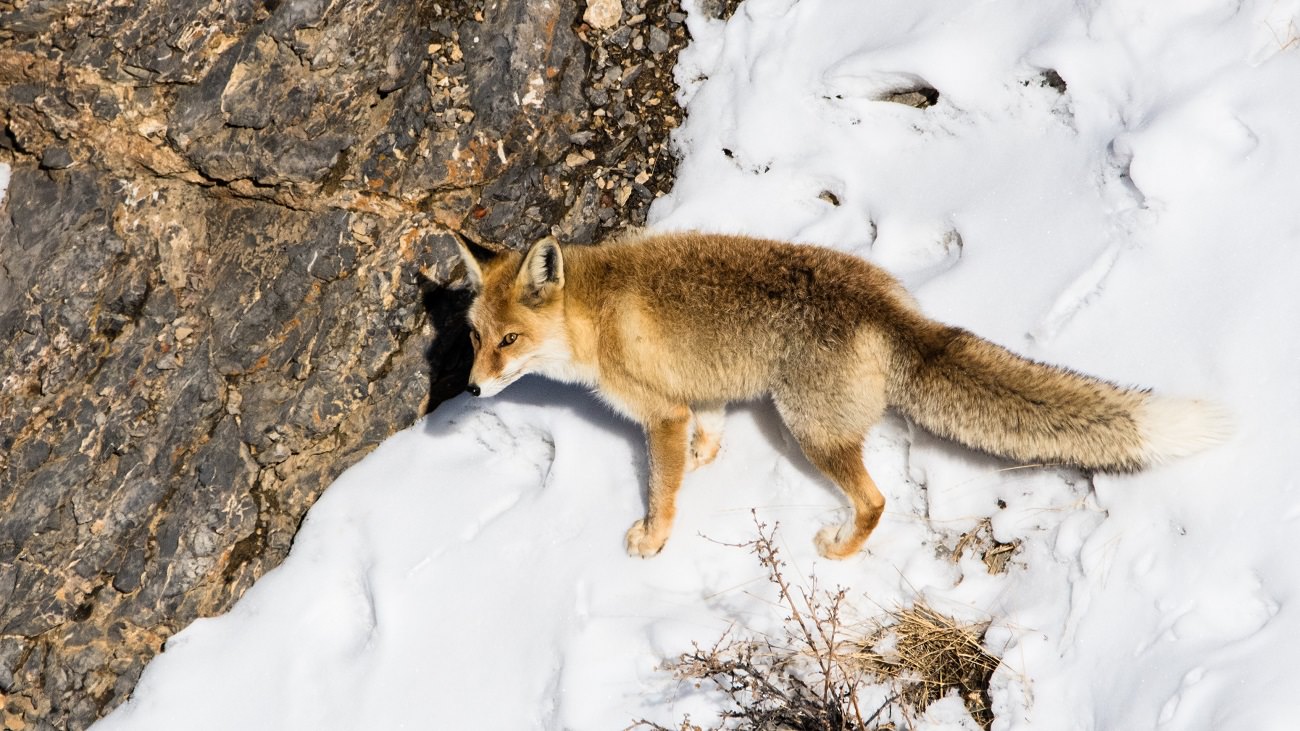 Himalayan Red Fox, Kibber, Feb-Mar 2022
"The quick brown fox jumps over the lazy dog."
Though the fox was red, it did have a brush with a dog. Finally, the fox decided to keep walking, came very close to where we were standing, jumped over a snowy outcrop, and vanished behind the rocks.
The Himalayan red fox is similar to its cousins from the desert, except for that significantly thicker coat of fur and a thicker tail that keeps it protected from the extreme cold in these snowy regions. The red fox has a large range of habitats, from the Himalayas to the urban areas, and can adapt well to different environments. They tend to be tame and friendly and will even wag their tails if you appear kind to them. Their biggest headaches are the increasingly hostile free-ranging dogs that hunt in packs, compete for food, and can even attack the foxes.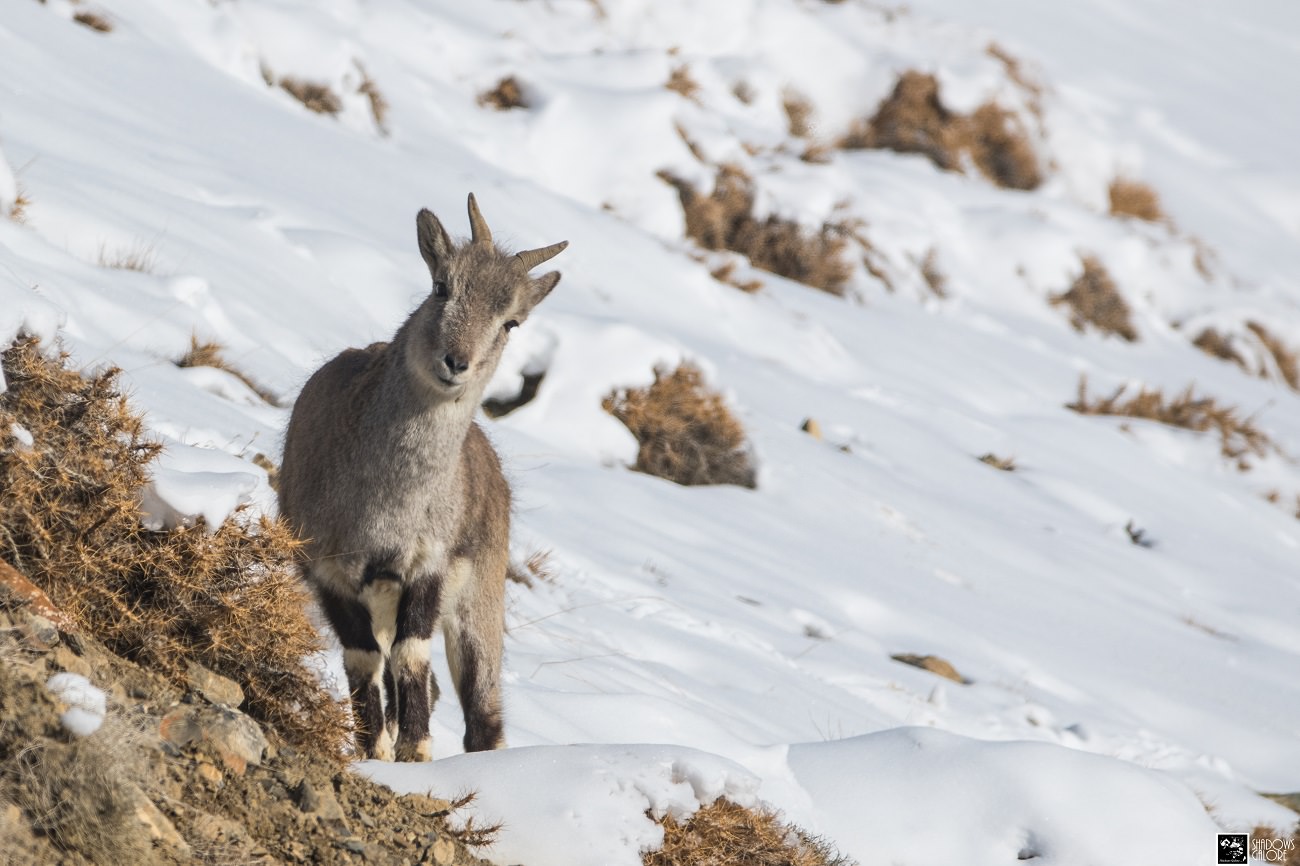 Bharal (Blue Sheep), Kibber. Feb-Mar 2022
A Bharal (Blue Sheep), probably a female or a kid looked on in curiosity as we stopped to take a photograph. Bharals are native to the higher reaches of the Himalayas and can be usually found grazing on steep slopes, blending into the environment. They are an important part of the delicate food chain that supports Eagles, Foxes, and Snow leopards in Spiti.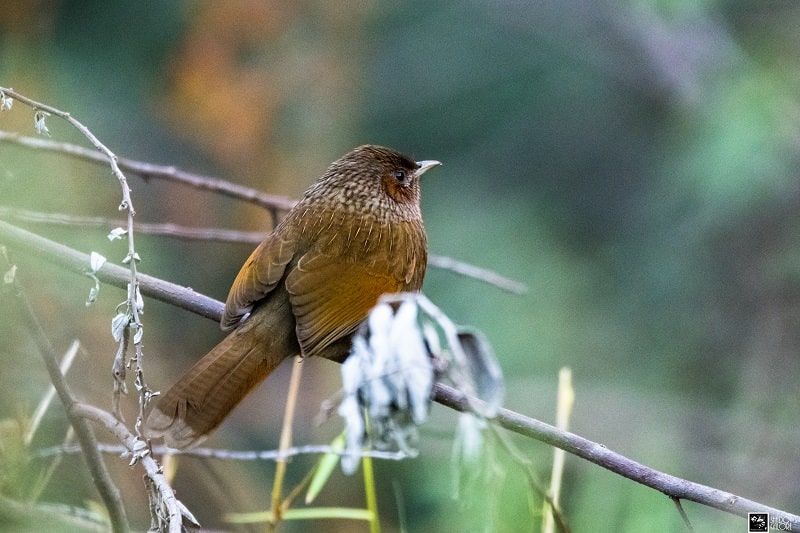 Streaked Laughingthrush
Rampur Bushar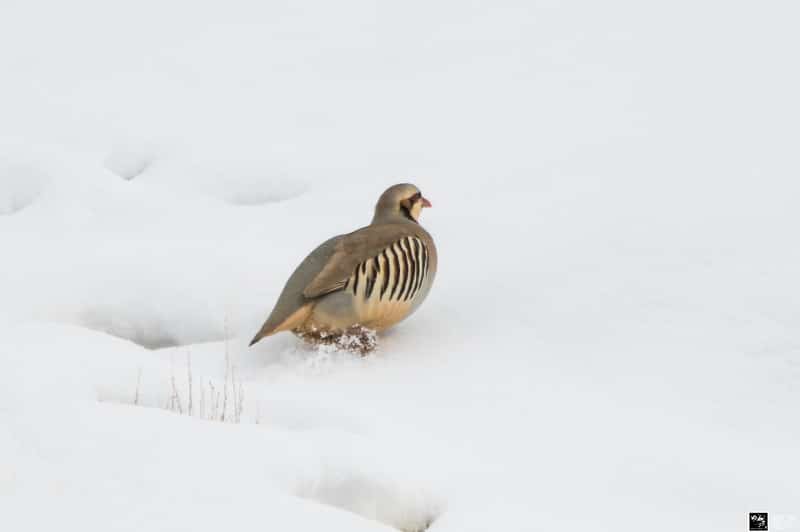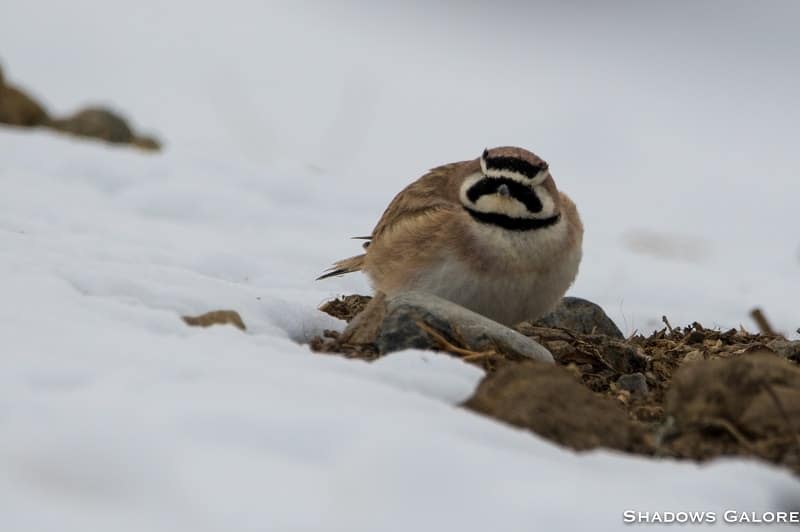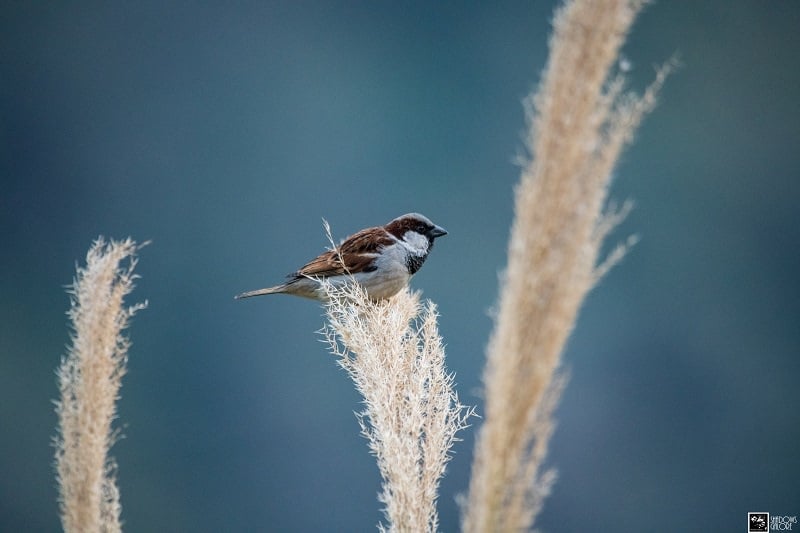 Mountain Sparrow
Rampur Bushar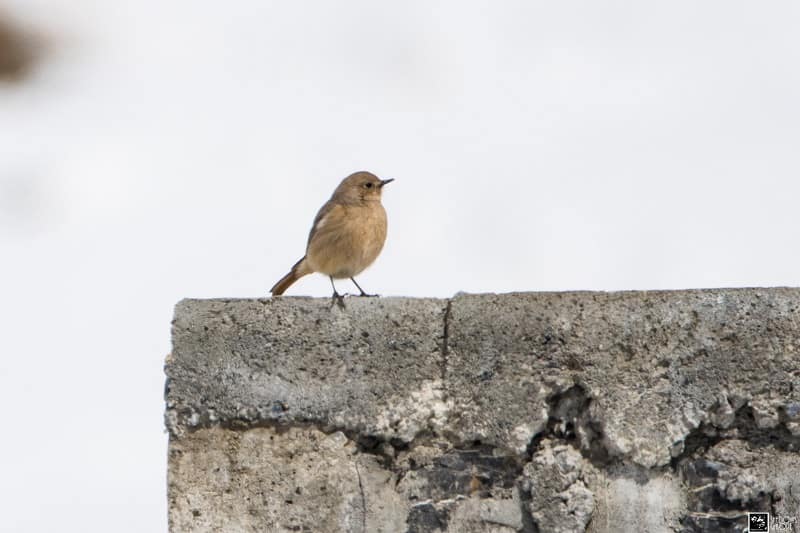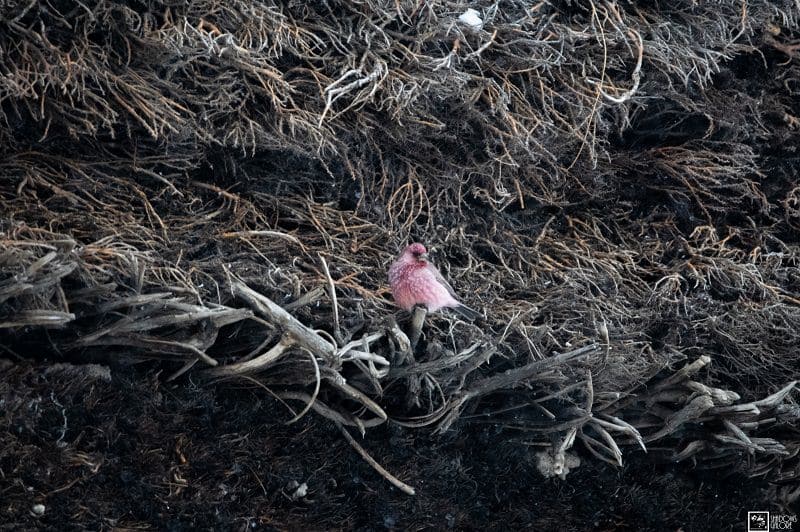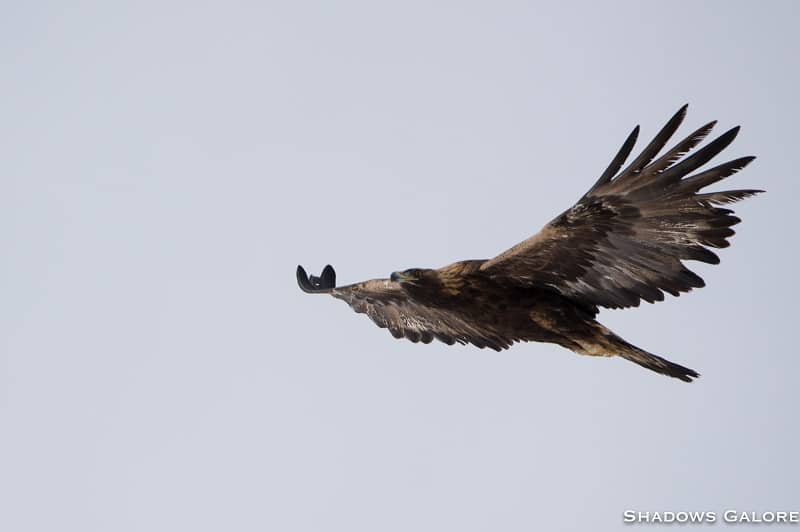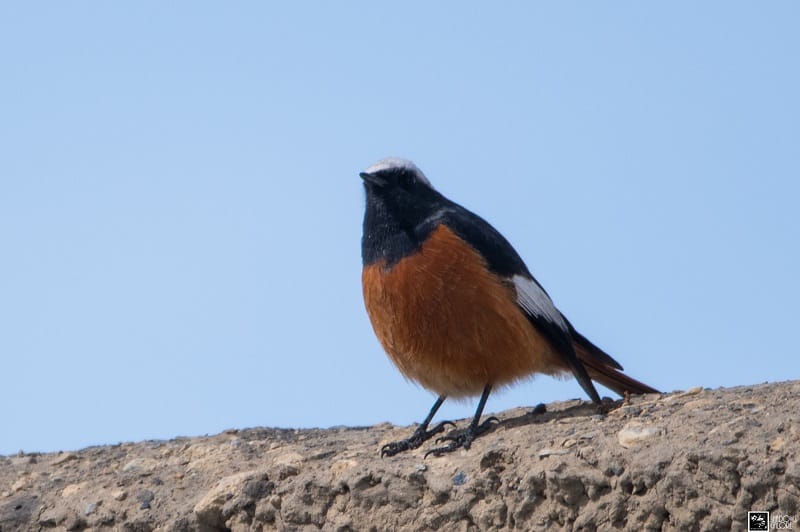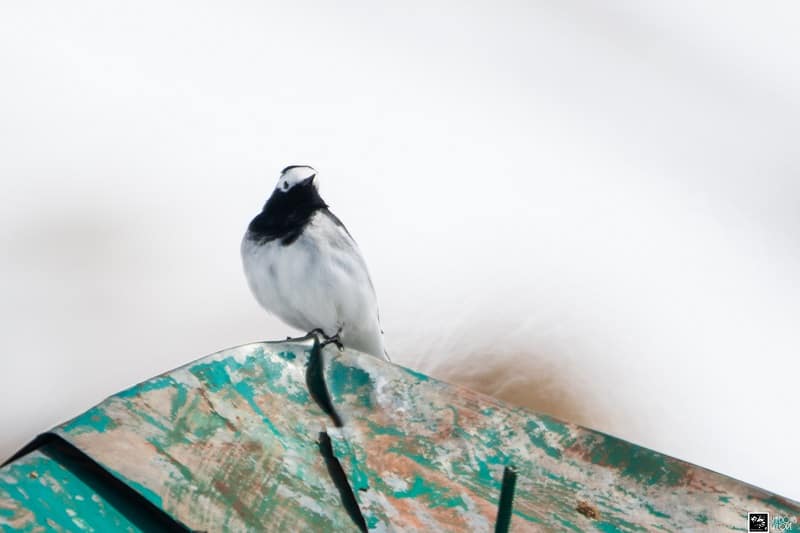 Memories came flooding in as I sat writing this piece. It was one of the most adventurous and fun trips that we have ever made, a journey that forced us to push our boundaries and made us see the value of human bondings and capabilities. We may not be able to make another trip to Kibber soon again, but when we do, I am sure we will be back among friends. There is more to come, maybe in follow-up stories.