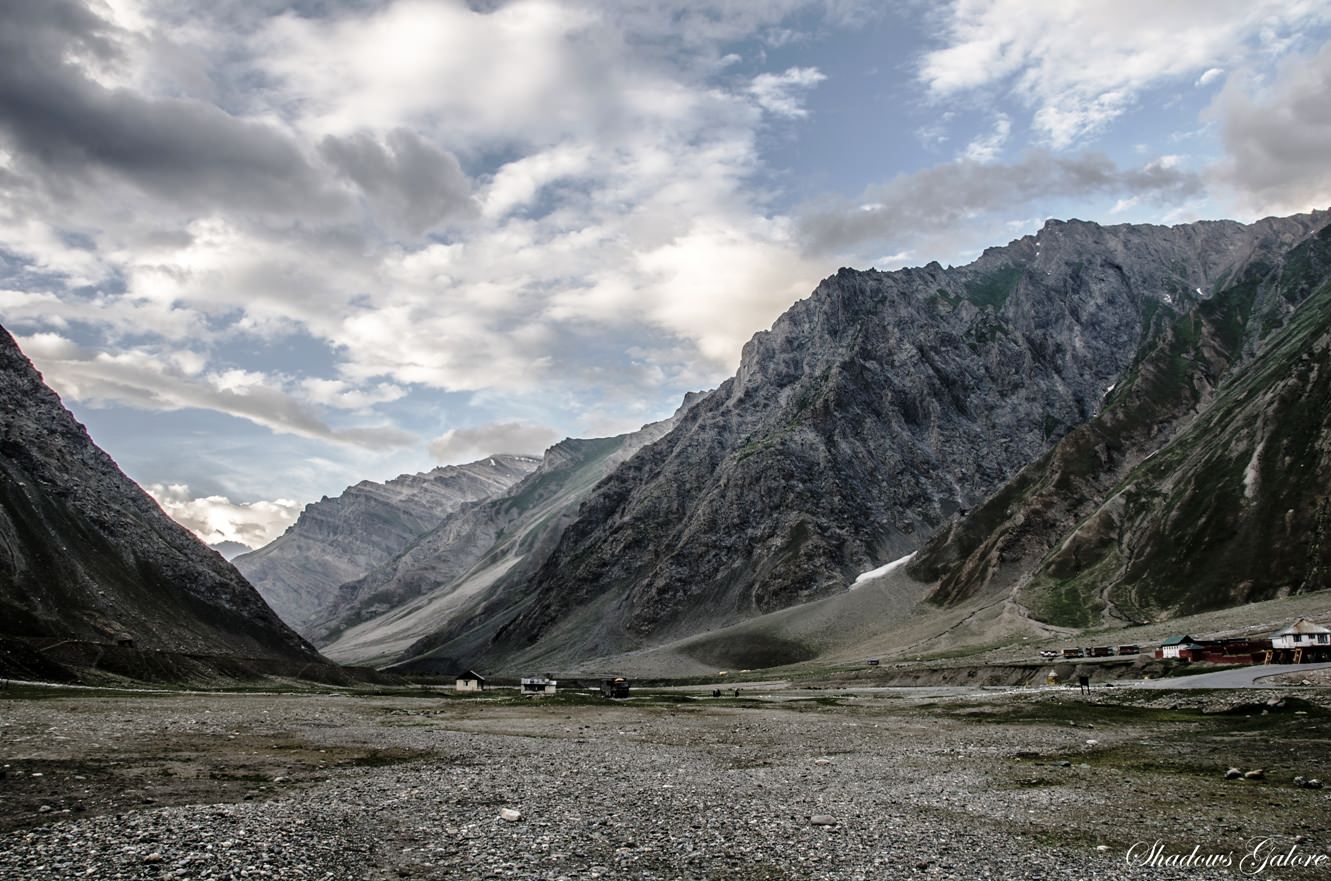 By the morning of 28th July, BRO and army painstakingly cleared the highway of debris and after a fun  day in Gulmarg and we were pumped up to start the expedition. So early in the morning, Taurus was un-deployed with lightening speed and by 8:00 AM, we were back on Highway 1D to Leh. Our target for the day was to cross the Zoji La Pass and camp at a suitable place.
For sometime, we drove  along the now familiar Indus. Our route would take us through Kangan, Kullan, Sonmarg and the Baltal. Most of the landslides had taken between Sonmarg and Baltal. As we gained altitude, the air became cooler and scenic beauty enhanced manifold. The traffic was not very much and we could proceed smoothly without many hiccups.
Sonmarg, meaning "Meadow of Gold", is an alpine valley lying in the vicinity of some great Himalayan glaciers and is flanked by the snow covered peaks of Sirbal, Kolhoi and Amarnath. Located at 2700 m above sea level, this picturesque place is famous as a tourist destination, characterized by breathtakingly beautiful meadows in summers and gets covered by a thick sheet of ice in the winters. Sonmarg had its own share of calamities, a park newly constructed by J&K Tourism lay buried under the debris from the recent landslide and only a part of its boundary wall was visible.
After Sonmarg, we had to cross a bridge which was badly damaged in the flash floods of a few days back, so much so that its railings had been washed away and the bridge itself was covered with slush. However, it was just strong enough to let us pass and we continued on our way.
Baltal, on the banks of the river Indus (Sindh nullah), is the gateway to Ladakh, 15 KM from Sonmarg on the highway to Leh and is the beginning of the Zoji La Pass. It also serves as the base camp for the Amarnath Yatra from where the pilgrims start for the Amarnath cave by foot or on ponies. It even has a heliport which is used to ferry pilgrims to the cave. Though the yatra season was on however, the camp wore a deserted look, all yatris being evacuated due to the floods and all we could see were desolate colourful tents lying in wait for the next batch of occupants.
Zoji La
The Gateway to Ladakh
Running at an elevation of 3500 m, Zoji La (La = Pass) is a high mountain pass connecting Srinagar to Ladakh. The pass is about 9 KM long, is more like a mud path, quite steep at places and is not for those with a faint heart. Even if I travel through that pass everyday, I will not stop getting scared. I was wondering how Asraf, our driver, was keeping his cool over the edge to nowhere, but when I caught a glimpse of his face in the rear view mirror, he looked pretty creeped out himself, and this after crossing this pass 300 times (by his own account) !
There was hardly any traffic on the road that day so most of the time it was just us versus Mother Nature. As Taurus went higher and higher, we held on to the arm rests of our seats, avoided looking down as much as possible, and gave a shriek of pure unadulterated horror from time to time. On other occasions, we half hung outside the windows and clicked away to photographic glory. The view outside was glorious and we could see the valley of Baltal a few light-years below us and majestic snow-clad peaks at a distance. At a few places the snow reached so close to the road that we could almost feel cold currents coming from it; had a stony look to it and looked more like marble than just frozen water.
The road still needed repair at places and workers from the BRO were on their duty to keep the lifeline of Ladakh open. Places like these bring a sense of respect in the heart, both for the power of nature in front of which we are nothing but puny nobody, and the grit of human spirit which defies all challenges and can carve a path on the breast of the mightiest of mountains ..
As we crossed the pass and reached normal roads, we took a breath of relief, stopped Taurus by the roadside and jumped out in It was a small valley with sprawling grasslands. There were numerous sheep grazing around and a lone shepherd girl guarding her flock. We took photographs, gave her some biscuits and went on …
These words etched on a signboard made us jump in joy. We had reached Gumri, an isolated military station which had a cafe serving momos to the civilians ! This was our first interaction with some army officers who were known to the captain and over plates of delicious momos, they were kind enough to tell us more about the place and its importance in the war history of India. Gumri was the focal point of the Battle of Zoji La in 1948 and the War Memorial on the other side of the road is a silent testimony of the supreme sacrifice made by our brave soldiers to carve out and protect the present boundaries of India.
Gumri is covered under many feet of snow during winters and the temperature reaches 40 degrees below zero. Even in such hostile conditions and under constant threat from the nature and enemy, our jawans and officers stand guard to protect our motherland.
Getting a first hand look at the workers from BRO and these brave soldiers, I felt a pang of shame for being an ever whining, ever dissatisfied IT wallah. Our air conditioned offices have weakened our spines so much that we have lost the capacity to appreciate the work and life we live. I am not sure that I will give a good account of myself if I were to serve at their place…
During the 1948 Kashmir War, the Indian Army suffered initial reverses and the crucial position of Drass was lost to the enemy. The Indian troops then occupied the defensive positions at Zoji La and Gumri. Zoji La eventually fell in May 1948 and it was of great importance to recapture the pass and reopen the link to Leh. An assault, named Operation Bison, was led by Lt. Gen. Carriappa to achieve the target. M5 Tanks at Srinagar were dismantled and brought to Baltal. In the meanwhile, the Madras Sappers worked day and night to convert the mule track of Zoji La into a Jeep path within 15 days from and the tanks were hauled all the way to Gumri.
On 1st Nov 1948, the enemy was shocked to find the barrels of these tanks pointing at their nose, led by Maj. Gen. Thimmaya and aided by three regiments of artillery. Zoji La was recaptured and the invaders were pushed back to Matayan. The Battle of Zoji La proved a pivotal point of this war, culminating in the capture of Kargil shortly afterwards.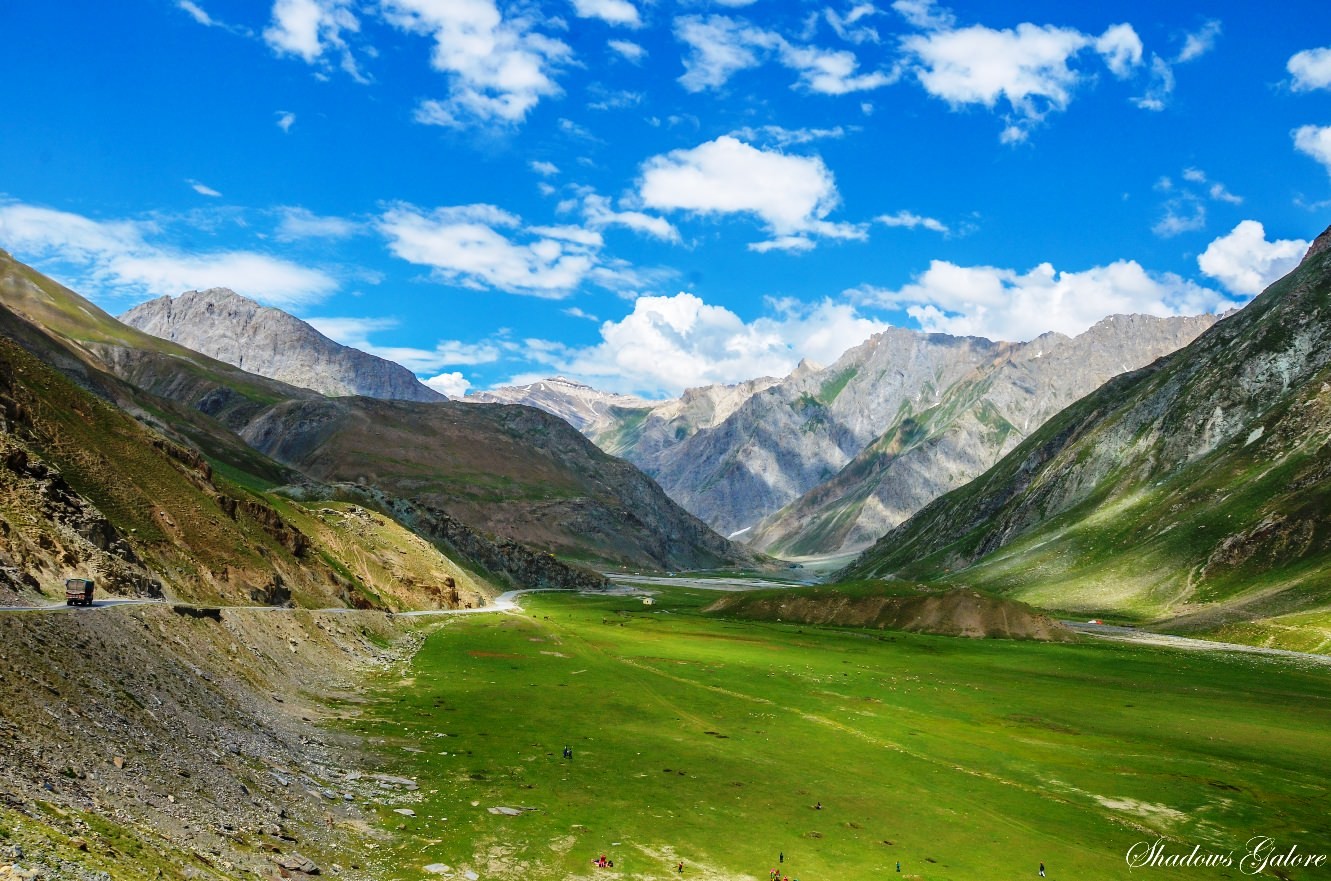 After getting fed and much pampered, we said profuse thanks to our kind hosts in uniform and started again. The views soon changed from breathtaking to absolutely stunning and we decided to stop at a grassland by the stream where a few Bakarwal families lived. We decided to camp at this beautiful place and have our lunch.
Bakarwals are nomadic tribal spread across the Pir Panjal and Himalayas and are mainly shepherds. They live in tents and keep moving from one place to another. Their gritty features are quite photogenic and hence we spent quite some time capturing their portraits. However they have this annoying habit for pestering for bakshish (tips) and after a point it starts getting on one's nerves. So after the photo-shoot and the lunch we quickly packed up and set off again to what was going to be our last stop of the day.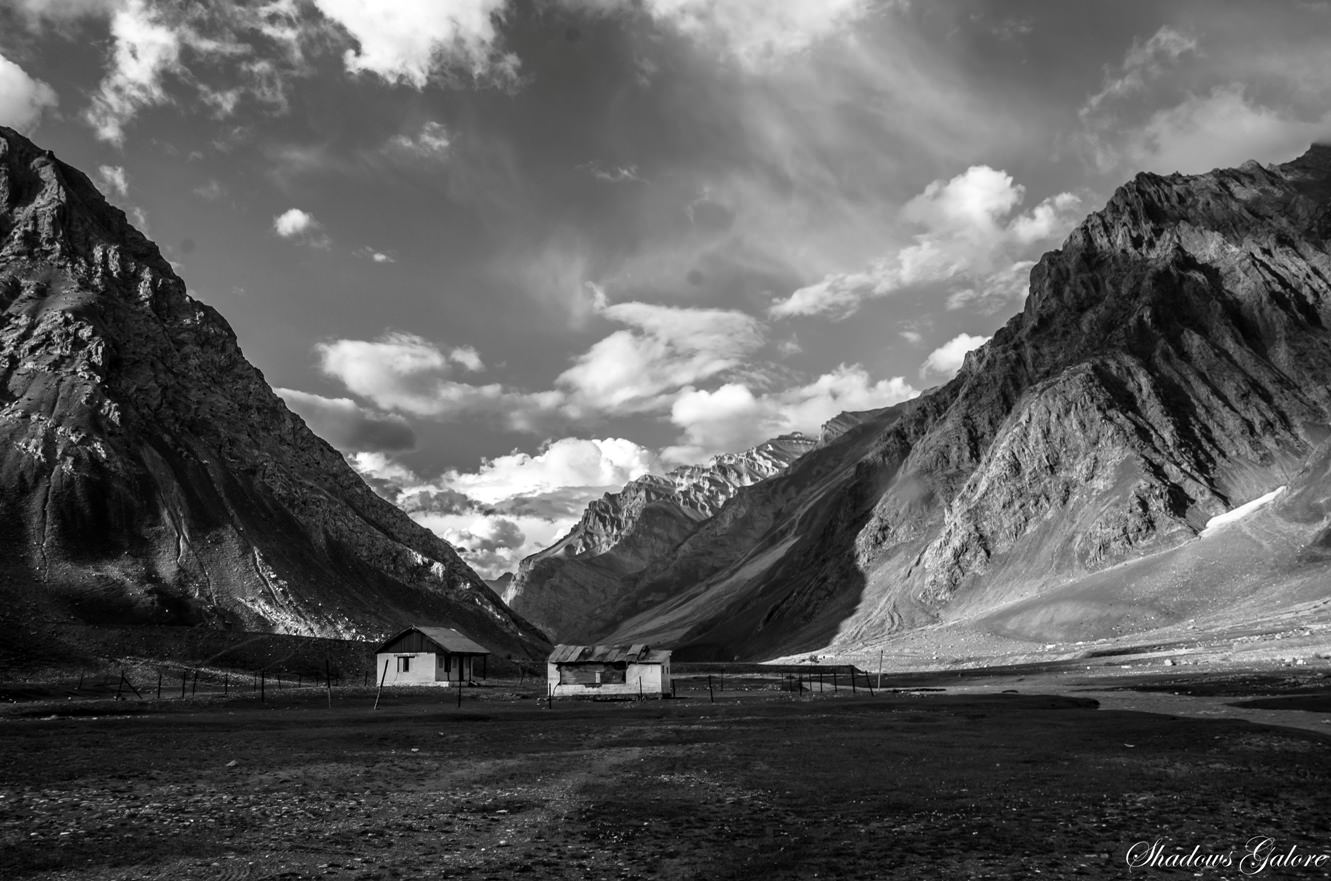 The place where we finally set up the camp was a place to which no words or photographs can do justice, though am going to try both. It was a quaint little valley, so picturesque that one would stop breathing at the first look of it. Snow covered mountains flanked it on all sides, and the vast grazing lands were covered with the greenery of the summer. The serpentine Kargil-Skardu road passed along a mountain river (Indus ?) and crossed it with an iron bridge. A small mountain stream passed just next to where Taurus was parked and the whole set-up seemed like a cosmic conspiracy to bring the paradise at our feet.
Am I overdoing it ? Whatever ! For the records, there was another smaller dera of Bakarwals on the other side of the road near the river and at our end, another military camp kept a watch on us. We were going to have fun !