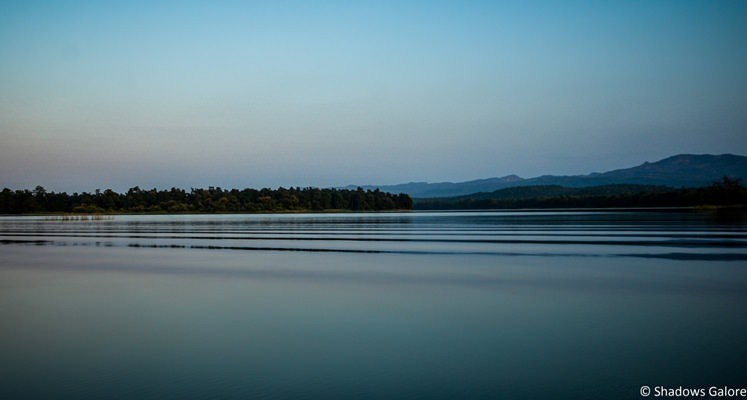 Dividing the core area of the Satpura National Park and its buffer zone is the Denwa river and its backwaters. The waters of Denwa and Son are stored in a huge reservoir, which is 80 feet at places, and released for irrigation via a dam. When the water levels recede, many small islands appear amidst the waters which become home to hundreds of species of migratory birds, making this place a bird-watcher's paradise.
The MP Tourism department offers guided boat tours in these waters of Denwa which make for some very scenic viewing. Till  the day before we landed there, the park was officially closed for visitors and boating was allowed only in the areas near the buffer zone. However, we were lucky as we could go inside the boundaries of the park and as far as possible, often in the middle of lush greenery and unspoiled wild life. So Chinmay, Ekta and Me hired a boat and started our explorations with a guide who, as it turned out, had very keen eyes and an in depth knowledge of the forests.
As the shorelines of Madhai receded in the background, we went forward towards the eastern side of the ridge, straight to the mountains. Very soon, the birds started making their appearance – Engrates, Kingfishers, Shrikes, Robin, Drongos Herons and Raptors.
नदी, निर्झर और नाले,
इन वनों ने गोद पाले।
लाख पंछी सौ हिरन-दल,
चाँद के कितने किरन दल…
Since the reservoir was full to the brim with the monsoon waters, the small islets in its middle were all submerged. Bubbles of methane gas from the vegetation decaying underwater were coming up, providing an interesting demo to those who are interested in the way by which Science and Mother Nature work together.
There is a point where the Denwa river meets Sonbhadra, or Son as we call it, and the confluence then proceeds as Son towards east where it finally meets Ganga in Bihar. As I leaned sideways to touch the water of Son, the thought occurred to me that Chatth festival was just 10 days away. Though we would be far away in Pune for the festivities, these waters will carry a part of my touch to my village which lies on the banks of this river, to my family and loved ones. It felt good.
Soon the dusk began to fall and it was time to return back. As the sun went down, the warm colors of the sky became prominent and the horizon turned a beautiful red. We happily clicked as long as the light lasted in the sky and then quietly sat on the boat as mild waves lapped against it. Such a beautiful journey …
Check out more photographs from the River Safari on Flickr
This Trip to Satpura National Park was facilitated by Pugdundee Safaris. Thanks a lot for such an amazing experience !