Ever since Jayant wrote his amazing account of Jogyakarta trip (here), this place has been on my mind. So when we were making plans for a trip to Bali, I could not help but force Ekta to accept at least one day in Yogyakarta. To save money, we had planned our journey in a weird way. It involved changing three flights and an 8 hours wait at the Kualalumpur airport. Finally at around 6 PM in the evening, we arrived at the Yogyakarta airport.
The Yogyakarta Airport is the smallest I have seen so far, it gets quite crowded and chaotic whenever a flight comes. After some hassle, we managed to get the visa on arrival; were promptly ripped off at the Forex counter and walked out to begin our new adventure.
Named after the ancient Indian city of Ayodhya, Yogyakarta is famous as the centre of the Javanese culture and serves as the capital of the Yogyakarta Special Region. Be it the Batik or Silverware works, or the Ramayana Dance and Puppetry, or the modern graffiti that adorn almost every wall, art flows potently in the veins of this city. This city allows one to take a look into the life of Indonesia, a land of supremely polite and cheerful people who are always ready to help. 
There are daily shows of the Javanese Ramayana Dance in the auditorium every evening at 7:30 PM, but partly because of the fatigues and partly due to the high ticket rates (IDR 350,000 per person [conversion]), we decided to skip it and took a tricycle rickshaw to see the Maliboro Street instead.
Located near the Kraton (Sultan's Palace), Jalan Maliboro or Maliboro street is the most important shopping district of Yogyakarta. Named perhaps after the cigarette brand Marlboro, this street is a big cauldron or small shops selling clothes and crafts, eateries, shopping malls and is the most lively place in the city. However be prepared to bargain hard and goods may be marked up as much as 5 times their actual price. While you are not buying, you can enjoy the crowded spectacle that this street is, live bands playing on the road and the spicy aromas of the eating joints.
The by-lanes spun off from the Maliboro street lead to the gastronomical heavens of Yogyakarta. There are street hawkers selling all sorts of foods and just a walk through these lanes is enough to keep one drooling.
After some deliberation, we entered a restaurant which displayed colourful posters to tempting dishes.  However a look at the menu and we realised that not even a single item in it made any sense to us. Thankfully there were a bunch of Malaysian girls sitting next to us who helped us choose a dish which turned out to be chicken fried rice – the iconic Nasi Goreng.
Nasi Goreng is typically rice fried with vegetables and spiced with sweet soy sauce, tamarind, chillies and is topped with eggs, chicken, prawn or fish, or everything. In addition, there can be salad, Indonesian version of paapad (with prawn flavour), chicken satay and more.
Elevated to the status of the national food of Indonesia, Nasi Goreng was voted second in the "World's 50 Most Delicious Foods" list, and deserves every bit of its reputation. If you are in Indonesia and haven't tastes Nasi Goreng; well, then you haven't been to Indonesia.
Due to some real genius planning, we had allotted just one day for Yogyakarta in our itinerary. So we decided to hire a shared tour package by car and got a decent deal for IDR 300,000. However it was still not enough to cover all the places and we ended up skipping the city Sultan's Palace (Kraton).

At 8:30 AM in the morning, we were greeted by our lovely little guide Rifa and the driver Chris. The first destination of the day was to be the Borobudur temple, followed by a drive to Mount Merapi and then to the Prambanan temple. The temple was a good 40 km away from our hotel and we slept most of the time during the trip.
The entry ticket for Borobudur is really pricey by Indian standards, standing at USD 20 for foreign tourist, and does pinch a little. Wearing a sarongs is compulsory and these can be rented free of cost. The guide charge is another IDR 75,000 and we decided to hire a guide so as to get a better picture of the temple (and ourselves).
Borobudur is a Mahayana Buddhist temple in Central Java, built around the 9th century AD. It is the largest Buddhist temple to the world and can be compared with Cambodia's Angkor Wat in magnificence. When it was 'rediscovered' and reclaimed from the forest in 1810, there were no inscriptions found about the creators of the magnificent temple or the purpose of building such a gigantic structure, and most of the conclusions made by the archaeologists are based on contextual evidences.
Borobudur is built in the form of Mandala, which is influenced by the Buddhist philosophy of the cosmos being divided into three levels – Kamadhatu (commoners), Raptadhatu (detachment) and Arupadhatu (enlightenment). The different layers of the temple are built over one another and represent the above-mentioned levels of cosmos. The central stupa at the top is the highest level of enlightenment and is said to house a relic of Buddha. (Read more here)
It was a weekend and the place was crowded with tourists and school groups, especially to the higher levels which ironically represent the enlightenment which very few can reach. However, the crowd was not unruly and consisted of mostly teenagers who were busy taking selfies for the Facebook profiles.  So we walked up and down on different levels, took photographs and marvelled at the skill of those unnamed artisans who had chiselled this mountain of beauty out of lava rocks. The parikrama galleries at each level are adorned with stone relief based on the theme of that level. While on the lower level you find scenes from daily life, glimpses of worldly desires, court proceedings, war and love; as you go higher, the carvings get more subtle and reflective. The higher levels, are less adorned, symbolizing the simplicity which comes with enlightenment. The bell-shaped perforated stupas circling the central stupa are the most iconic symbol of Borobudur, and perhaps unique to this monument.
After Borobudur, our guides took us to a restaurant which was very costly and an "art gallery" which was just an glorified curio shop. We made short work of it and were back in our car for the next destination. Merapi.

We did not doze much on our journey to Mount Merapi and started talking with Rifa, about her life, our lives and India and Indonesia in general. She has completed 12th and taken a year's break to work as a tourist guide which she hopes will teach her about the world and improve her English, after which she wants to study to become a journalist. You can hear her commentary in the Yogyakarta video which we have prepared. They had national general elections coming in a month and we were done with ours just a week back, so naturally, politics was a part of our discussion too. We reached a consensus that whatever be our religion, we need to live in peace and harmony. Even school children know this, wonder when will the politicians understand this. So we kept chatting while Chris took us uphill through winding roads and silenced up only when the crest of Merapi showed up right in front of us.
Mount Merapi [Gunung Merapi ~ Meru (Mountain) + Api (Fire)] is an active volcano located 28 KM north of Yogyakarta. It is the most active volcano in Indonesia and erupts approximately after every fours year. Merapi is conically shaped with a height of 2930 mts. Smoke can be seen coming out of the crest on most days.The last major eruption happened in 2010, while a phreatic eruption occurred in Nov 2013.
Merapi holds an important position to the people of Java and there are many myths and beliefs attached to the mountain. They bring regular offerings to the mountain to keep it happy and quiet.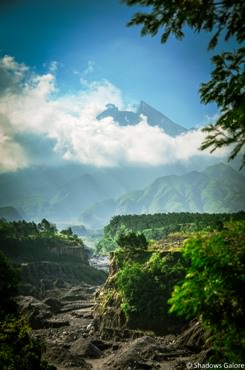 The tourist cars go only till the 'base camp' from where one can choose to either look at the mountain or take a Jeep Safari. Cost per Jeep comes to IDR 250,000; these are open Jeeps, usually the rustic Willys, seemingly the only vehicles that can navigate the impossible terrain there.
After some difficult ride, we reached a point from where we could see the deep lava rivers (reaching a depth of 70 mts sometimes) and Merapi in the front. The crest was surrounded by clouds and white smoke was coming out of it. We were 7 km away from the volcano and there was a huge rock lying nearby shaped like a human face. This rock was said to be a part of the mountain and brought this far by the lava river in an earlier eruption.
On the slopes of Merapi are villages with homes of which just the shells are remaining. Much of these areas were evacuated in 2010 and the area turned into a National Park. Now, these houses have been turned into mini-museums, with skeletons of cattle and bikes, melted down TVs and other stuff.  We meet two women from Jakarta there who were very happy to meet two Indians, from the land of Shahrukh Khan, and wanted to be photographed with us 😀

The Prambanan [Para + Brahman (Supreme God)] temple complex was our last and final destination for the day. Located 17 KM north-east of Yogyakarta, this 9th-century magnificence is another UNESCO World Heritage Site, and rightly so. The temples are dedicated to the triad of Brahma, Vishnu and Shiva, with towers reaching the height of 47 mts, the tallest in South East Asia for a temple.
Entrance Fee for foreigners is USD 18.00, which comes with a complimentary drink and a sarong on rent. Guide charges are IDR 75,000. Once we entered the monument, we turned left and went to the well equipped Information Centre which provided us with an insightful guide on the monuments. If you are not taking a guide, I recommend that you take this leaflet.
King Rakai Pikatan of the Sanjaya Dynasty started the construction of the Prambanan complex in 856 AD. It was further expanded by Kings Lokapala and Balitung Maha Sambhu of the Mataram Kingdom. At its zenith, hundreds of priests and their disciples lived within the premises of this temple.
A century later, the Mataram kingdom along with its people moved to East Java, probably because of a volcanic eruption of Mount Merapi. This marked the decline of Prambanan which gradually slipped into neglect and was reclaimed by wilderness. The temple suffered extensive damage in an earthquake in the 16th century when many of piers tumbled down. A mammoth restoration task started in 1930 which continues till date.
The Legend of Bandung Bondowoso
A prince named Bandung Bondowoso was Roro Jonggrang, a beautiful daughter of the king. When he went to ask for her hand she put a condition, that he must make 1000 temples with idols and 2 wells in one night, failing which she would refuse her proposal. He set about working with the help of some friendly spirits. While it was still night, Roro Jonggrang gathered her maids and ask them to make a huge bonfire on the east and start pounding rice, both of which signified the arrival of dawn. When the spirits saw this, they thought that daylight was approaching and vanished leaving only 999 statues completed. The princess told Bandung that he had failed in his task and hence was not suited for her. However, he discovered her trick and was so enraged that he cursed Roro to turn into a stone statue. This statue of Dewi Durga formed his 1000th and final creation and can be seen in the Shiva Temple. The 1000th unfinished temple is believed to be the Sewu Temple nearby and the spirits have frozen in stone as the demon guards at its entrance.
The Prambanan complex is built in the shape of a square, centred around a raised platform with 3 temples dedicated to Brahma, Vishnu and Shiva; with the Shiva temple being the tallest. There are 3 smaller temples in front of them, each dedicated to vehicles of the Gods; ie; Swan, Garuda and Nandi. This magnificent nucleus is surrounded by 224 smaller temples. The exterior of the temples are covered with rich carvings, mostly scenes from the Ramayana. In fact, there is a Ramayana dance show in an adjacent auditorium which is said to be a glittering spectacle. But we were too tired to wait for it and so gave it a miss.
Candi Sewu or the Sewu Temple was the last one which we saw. A group of many tumbled down shrines, this lonely looking temple was being guarded the spirits of Bandung Bondowoso, cast in stone. We had taken the toy train to reach there and they gave us hardly 5 minutes to take a look at the monument. The sun was setting fast and it was time to go back, our day in Yogyakarta was coming to an end.
You can see the high-resolution photographs on Flickr: Borobudur, Merapi, Prambanan
We even managed to create a small video of the trip, hope you like it:
Next Destination: Bali…