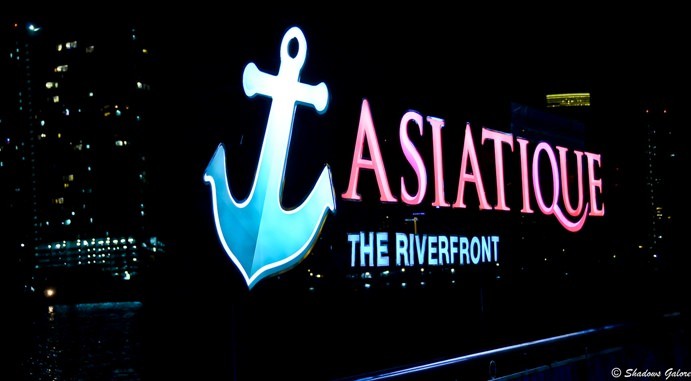 After the rejuvenating Thai massage, we were ready for our last destination for the day – Asiatique The Riverfront. A short ride and we were at the riverfront at around 7 PM.
Built on the site of an early 20th century warehouse of the Dutch East Asiatic Company, Asiatique The River Front is the latest and upcoming shopping destination of Bangkok. This beautiful night-market is  set in a sprawling complex of shops, eating joints and entertainment, and is the perfect place to do shopping, dining, ogling and having fun. The beautiful promenade at the riverfront is fun to take a walk and savor the colorful reflections of the glittering Bangkok city in the waters of the river Chao Phraya.
There was a neon blue giant wheel to our right; the place was buzzing with colors – shops, restaurants and people.  A fun factor was added to everything, even the balloon selling hawkers were dressed as clowns. There was a beautiful Christmas decoration for the upcoming Holiday season. Maps on the footpaths, statues and lights adorning the pathways, the place looked very picturesque indeed. One can even go boating in the river from the ferry near the promenade.
At this point, we decided to split and explore the area and I tagged along with Pooja. As we ventured further inside the by-lanes there were more and more shop. From clothes to bags, shoes and souvenirs, an impressive array of merchandise was out for sale and we were getting increasingly tempted to buy something or the other. At this point, Pooja couldn't resist and shopped a dress; however I decided to hold on to my purse. Though Asiatique is a night-market, it is definitely not a flea market and shopping can be a pricey affair here. 
We had to meet Suladda and Poom at the Baan Khanitha at one end of the riverfront. The diner is a beautiful white colonial-style building from the Siam bygone, much different from its surrounding. The ambiance was great, and food delicious.  While I made do with my vegetarian platter, others were going gaga over the lip smacking sea food that was served. We ended the day in a grand manner with a special Thai dessert –  mango + coconut ice-cream + sticky rice. It was awesomeness redefined and my mouth is watering just by the memory of its taste as I write about it !
This trip I just blogged about was courtesy the Tourism Authority of Thailand (TAT).