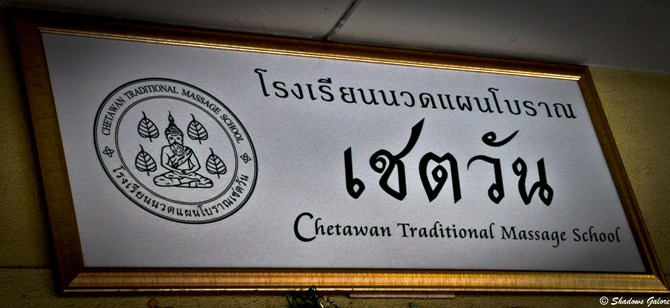 After long walks in the corridors of Wat Pho,  we were well primed to be thoroughly kneaded in a Thai massage session. For this, we arrived at the Chetawan  Thai Traditional Massage school, which is located in a lane just opposite to the temple. Do not go by its modest looks, for it is one of the finest massage schools in the world. In the little time we spent there, we saw people pouring in to have a massage or learn the famous massaging techniques.
Wat Pho was Thailand's first open university started by Kind Rama I to gather the Thai wisdom of traditional medicine and massage techniques and pass them through generations. Wat Pho Thai medical and massage school was opened in 1955 with the approval of the Thai Ministry of Education.
Chetawan Thai Traditional Massage School is trying to preserve the pure form of the traditional Thai massage, saving it from the corruption of commercialization. It employs expert Thai masseurs who are masters of their art. The range of services offered here include traditional Thai massage, Thai foot massage, Thai oil massage, Thai health massage and aromatherapy.
Once we decided that all of us wanted to have a body massage, we were ushered to a room that had multiple beds lined together. We were asked to change into comfortable massage dresses provided by the center and lie down. It was indeed an hour of pure bliss.  The amazingly skilled ladies played magic with their hands on our sore muscles. I even got a special foot reflexology as I told them that my heels were hurting. Ah! how I wished they wouldn't stop ! I always thought that Thai massage is done after applying oil but unlike my belief if is more to do with applying the right pressure at the right points. After the massage was over, we were served some sweet water.
One hour of pampering later, we were rejuvenated to go to our next destination, the last of the day – Asiatique The River Front.
Address:  Street 7/1-2 Soi Samud Lanna, Th Pracha Uthit
This trip and the amazing massage I just blogged about were courtesy the Tourism Authority of Thailand (TAT).