Singapore Flyer is the world's tallest Ferris wheel. Here are some fun facts about it –
It was constructed during the time between 2005 to 2008
It's height is 165 mts (541 ft)
It is 98 ft taller than London flyer.
It has an interesting story of it lucky number 28. Here it goes, initially the rotation of the flyer was counter-clockwise but it was considered that this motion deteriorated the country's wealth (by fengshui, masters). Hence on 4th August 2008 the direction was changed.

There are 28 capsules
They have the capacity of 28 people in each capsule
It takes 28 minutes to complete one rotation
It rotates 28 times in a day.
So if you are there on time you get a chance otherwise next day is always there. Sorry 🙂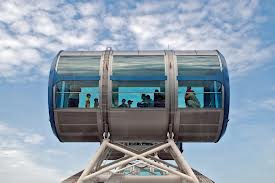 Once you are on the flyer moving towards the sky and you can feel the energy of the city beneath your feet. It also offers a breathtaking 360° view , you can  have some fun by spotting iconic and historical landmarks along the Singapore River.
At the flyer for a romantic date, raise a glass to the good things in life with the Moët & Chandon Champagne Flight. In a specially themed private capsule, take in the spectacular skyline at sunset with a flute of bubbly in hand. If you are ready to splurge you can choose to indulge in a romantic four-course Sky Dining experience for two that comes with a personalized butler service.
Special mention!
Before boarding the flight, go on a Journey of Dreams to learn about the Singapore Story and the Flyer. For a truly all-round experience, visit the seven interactive galleries behind the flyer that showcase the history and heritage of Singapore, as well as the stories and technology.
Before you leave, do go to the retail stores and take home a memento of your Singapore Flyer experience.
Important Information
Opening hours
Daily: 8:30 AM to 10:30 PM, Last admission time:-10:15 pm
Ticket sales-8:00 am to 10:00 pm
Ticket Rates
Adults(13 yrs and above) : S$33
Child(3 yrs to 12 yrs): S$21
And a family combo (2 adults and 1 child): S$78