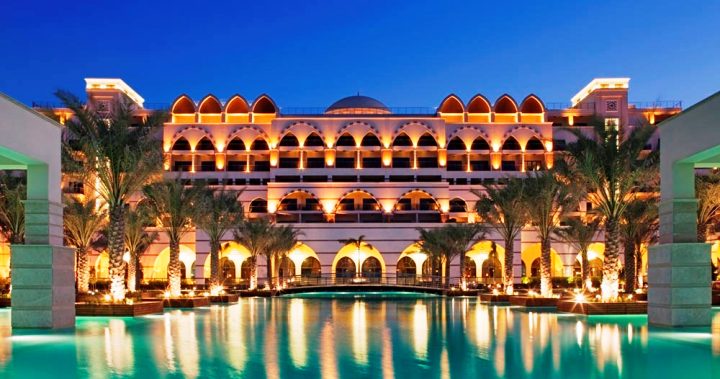 Jumeirah Zabeel Saray is a luxury resort nestled on a private sand beach in Palm Jumeirah, the smallest of the three man-made Palm Islands in Dubai. Inspired by the Ottoman style, this hotel has been built in the fashion of the breathtaking palaces of the bygone era.
First Impression
The first feeling which greets you as you see  Jmerirah Zabeel Saray is that of awe. A marble marvel which looks like a palace from Arabian Nights; imposing arches, exquisite lounges and heavy chandeliers greet the visitors as they enter the premise. The Turkish artwork, beautifully painted frescos and intricate murals make it a masterpiece of the modern Middle  East architecture.
Stay
The hotel is massive, has 379 rooms and 26 suites, each one air-conditioned and equipped with a balcony with great view, Ottoman furnishing, King Size bed, a well stocked mini-bar, 42″ LCD TV, wi-fi Internet,  and other facilities.  There are varied options for different guests like separate living/ dining room, interconnected family suites etc.
The hotel has a set of 38 royal residences, clustered around a man made lagoon. Each residence has its own private beachfront and there is some spectacular landscaping done around them. Made from the finest marble and dark wood, these exquisite villas are the prefect way to live life 'King size'.
Dining
At Jumeirah Zabeel Saray, the guests are spoiled for choices when it comes to dining. It has not one or two but 10 restaurants to choose from! With lavishly decorated and spectacular settings , these restaurants offer everything from traditional Arab cuisine, Indian delicacies to the continental platter to suit the taste of the Western visitors.
Some of the most remarkable places to have a lavish dinner are Al Nafoorah (Lebanese), Amala (Indian), Imperium (French), and Lalezar (Turkish). C Club on the ground floor is one of the places to retreat after the dinner to get in 'high spirits' in rich colonial setting. Sultan's Lounge is another perfect place to relax with friend in a lavish Ottoman palatial setting and have the traditional High tea or served with a range of delicacies to suit the mood.
Vodabar is a bar and lounge styled in a more contemporary fashion. A perfect place to surround oneself with the chic urban crowd in its sophisticated surroundings. Expect some great sushi prepared by Chef Leonard.
Indulge
Like everything else, swimming pool gets a grander meaning in Jumeirah Zabeel Saray. There is a vast 59 meter Infinity pool which just goes on and on. The hotel has its own private beach if one wants to do nothing but just sprawl on a beach chair and relax. And while you do the relaxing, the beach butlers take care of all your needs.  There is even a Waterpark equipped with 30 rides if you have kids (including those who are young at heart) in your group.
Talise, the Ottoman spa is an experience unlike no other in the world, built in marble and furnished with ebony wood, Turkish styled mosaic and murals. It boasts of 42 treatment rooms, 8 hydrotherapy rooms, steam baths, sauna and massage rooms. The Talise hammam upholds the tradition of the Turkish hammams and is a great place to come together and indulge while getting pampered like princes and princesses.
Other than these indulgences, the hotel has a private cinema, tennis court, and a gym and fitness studio. One can also learn the art of cooking from the chefs in the Voi and Amala restaurants. Al Dukan offers a great shopping experience, Dubai style; and the Avenue of Indulgence just takes it to a higher level.
Important Information
Name: Jumeirah Zabeel Saray
Address: The Palm Jumeirah, Crescent Road (West), PO Box 27722, Dubai, UAE
Phone: +971 4 453 0000    Email: [email protected]
Website: Jumeirah Zabeel Saray
All Photographs courtesy: Jumeirah