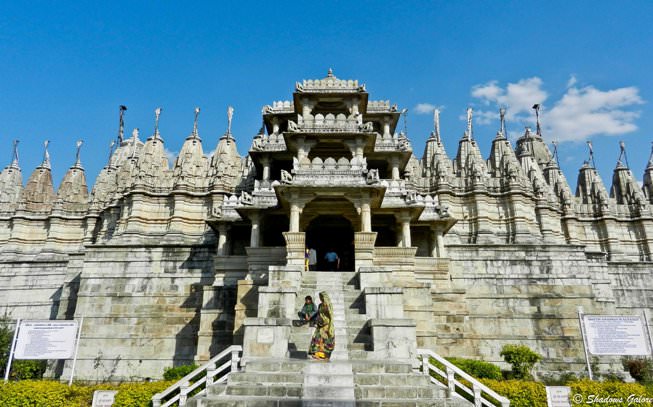 After Kumbhalgarh, we started for our next destination which was the famous Ranakpur Jain Temple. This small village is in the Pali District of Rajasthan, around 20 KM from Kumbhalgarh, however the journey is on serpentine roads on the ghats of Aravali, which although scenic, is a little time-consuming. I think it took us around a couple of hours to reach there but we did not complain as the view of the Aravalis and countryside in Rajasthan was truly good.
Dedicated to Lord Adinath, the Ranakpur temple is one of the most famous Jain temples in India. Built of white marble, it is also one of the most spectacular and stands in the league of the famous Dilwara temples of Abu. The temple was constructed in 1437 by Dharna Shah under the patronage of Rana Kumbha.
There are a few rules which need to be followed while visiting the temple. One must be dressed appropriately, the women are required to cover their body properly, even the legs. While entry is free, photography is allowed only by paying a donation of Rs 100 per camera. Mobile phone is considered a camera and even though I bought a donation ticket for my camera, was asked to get one for the mobile itself. I asked the security guard if I looked foolish enough to take photos with a mobile phone when I had a big camera in hand. Finally I gave the mobile to the security himself saying will collect it when am back. Other than camera, one must not carry anything made of leather inside and wallets, belts etc. need to deposited at the security.
The temple is a wonder in itself.  Built like a huge mountain with several peaks, it is a grand monument towering in the sky. There are said to be more than 1400 pillars in the building and not two of them are same. The carvings on the magnificent domes is of a quality rarely seen.
Since Ekta was wearing shorts, she stayed in the car and because of that, I cut short my visit to 20 minutes. It was only later that we came to know that they provide garments to wear in the temple. Anyway, hope the photographs will give a good enough tour to her and you all.
PS: If you have made a trip of Kumbhalgarh- Ranakpur, it is highly possible that you will be quite hungry by the time you leave the temple. There is a dharamshala in the campus where they serve meals till 1:30 PM. If you miss that and have to find a hotel, please avoid Chandra Hill Resorts in Ranakpur. It is highly overpriced and the food is bad with very small portions; but it is the haughty behaviour of the staff that acts as a major turn off.