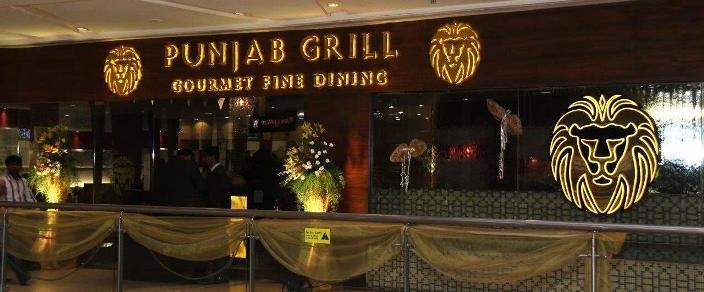 It came as a surprise when we were invited to the First anniversary celebrations at Punjab Grill. The Gourmet restaurant is located in the Phoenix Market City in the Viman Nagar area of the city and is a stylish one from its looks. We had seen this place on earlier occasions while shopping in the mall but for some reasons or another, did not try it out. So it definitely seemed like an interesting proposition; the surprise part being us, who are just simple traveling folks, getting an invite.
So on the evening of 17th May, I finished my work fast, picked Ekta from home and we reached the mall after navigating through a difficult traffic of Friday evening. Though the event was to start at 7:30 PM, we were more than half an hour late, out of a habit which I am diligently working on, without much success.
On giving our credentials, we were ushered inside by a very courteous staff. The ambiance of the place is really good, very ascetically designed interiors which give a cozy feel. The party was at the terrace at the back of the indoor seating area and we settled down comfortably with drinks in hand; a refreshing change after a day of oppressive heat of Pune summer and a heavy workload at office.  Soon we were joined by Sahil Khan of The Tossed Salad and the evening flowed by nicely with some good conversations, live music and drinks.
Then come the invasion of the Kababs! Chef Gurpreet Singh had created a signature barbecue menu especially for the occasion and we were overwhelmed by the tastes and smells that followed. Delicious charcoal grilled items like Rosemary rubbed Tandoori lamb chops,  Nalli ka Burrah, Basil malai tikka and Burnt garlic murgh tikka kept us wanting for more. Of the vegetarian stuff, I especially liked the Sesame crusted paneer tikka with mango glaze with the amazing crusty tikka and almost shockingly tangy glaze of raw mangoes. The sea food lovers must have been delighted by chingri kabab and salmon tikka.
Overall, it was a fulfilling evening with some delicious food and enchanting hosts. From what I know, this "Hopps To Barbeque" menu is going to stay till the 9th of June; a great opportunity for the Kabab lovers of Pune.
Information
Address:  2nd Floor, Phoenix Market City Mall, Nagar Road, Viman Nagar, Pune
Timings: 12 Noon to 5 PM, 7 PM to 11:30 PM
Cuisine: North Indian (Veg/ Non Veg)