We left Melbourne around 9:30 am on a slightly overcast but still hot and beautiful summer's day. I was lucky enough to meet a really nice Scottish guy who also had a car and had offered to drive us along the Great Ocean Road to see the Twelve Apostles. There were two other guys with us, an Irish guy and a German guy.
For those of you haven't heard of this road it was built by the soldiers who returned from World War 1 and stretches for 150 miles along the coast making it the world's largest war memorial. Here is part of the road as it hugs the coast line.
Our first stop was the lovely Bells Beach which is where many surfing competitions are held. However not today so after a quick snap it we continued on to official get on to the Great Ocean Road.
After an hour or so we headed in land to spot some wild koalas which weren't hard to find when you drive up the road and there are twenty cars parked at the side of the road!
Next it was on to Port Campbell National Park to see the main event, The Twelve Apostles as they are known although there are only eight remaining. No matter how many pictures you have seen of The Twelve Apostles, they just don't do them justice. When you see them for the first time it is a truly spectacular view. They are more hidden plus a couple behind me.
These limestone stacks are the world's tallest created from the waves eroding the cliff face and creating caves leaving arches which eventually have collapsed to leave these famous limestone stacks. Swinging round here you can see two more of the Apostles.
It takes around a three-hour non-stop drive to get from Melbourne to The Twelve Apostles however I would recommend driving that bit further through Port Campbell National Park to see the spectacular razorback and the London Bridge.
Just next to the razorback is what was called The Three Sisters, you can what is left of one of the sisters in the middle rock. A tour guide thought in 2009 that another apostle had collapsed however it was this smaller rock – not a very good tour guide!
Just a short ride later is London Bridge; just like the Apostles the limestone piece missing in the middle was eroded to form an arch. The waves and rain water have attached and eroded the rock until there wasn't enough support and it eventually collapsed. We learned that in January of 1990 it collapsed leaving two tourists stranded on the outer part, luckily no one was hurt and they were rescued by helicopter. You can see the second arch that will continue to erode and will eventually form two new limestone stacks.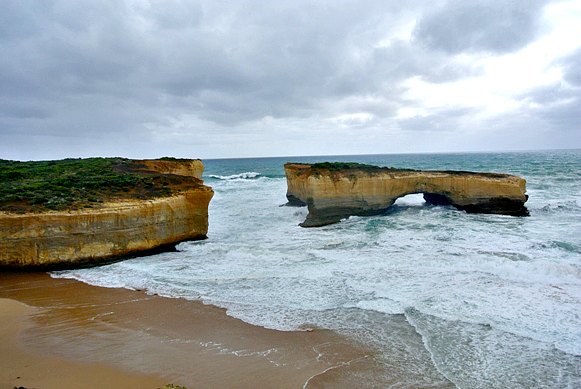 After this last stop we headed back inland to enjoy the drive through the forest roads and stop for food before heading back to Melbourne. We took our time spending around 10-12 hours on the road however it can be done in less. Better to take the time to enjoy the views and have that luxury of being able to stop wherever you want. When I get back to Melbourne I want to drive further along the Great Ocean Road and onto The Grampians for more spectacular views. Hope you enjoyed my post, please share if you did!
[divider slashed]
Find more Aussie adventures by following Chris at My 30s Travel Blog, or on Facebook or Twitter.