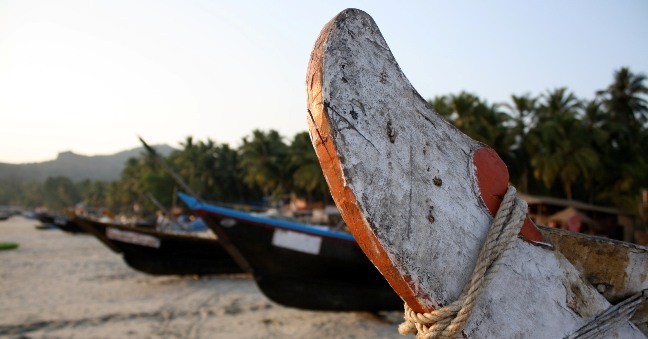 Goa is the smallest of the states in India and is yet one of the most famous tourist destinations in the country. The natural beauty, lovely beaches and the unique culture of Goa makes it very popular among tourists. There are two districts in Goa, the North and South Goa. While the North is famous for bursting towns, iconic beaches and a vibrant night life, South Goa is remarkable for its scenic beauty and sea beach yet unspoiled by too much of commercialization. Spending a quiet evening on the uncluttered beaches, taking a sneak peak in the Konkan life in the villages or simply riding through the lush greenery of the region are some activities one can look forward to.
When
The Touristy season of Goa is from November to February. However Goa looks very beautiful during the monsoons too, if you do no mind getting wet. Summers are hot and best avoided.
Reach
The major cities in South Goa are Margao and Vasco di Gama reachable from Pajim by road or rail. The Dambolim airport in Vasco-da-Gama is the only airport in Goa connecting. Konkan Railway runs through the region connecting the state to the rest of India.
NH 17 runs from Panjim towards south and is a beautiful highway to ride along. The distance being less than 100 km makes it even appealing for the bikers who want to ride in one of the most beautiful regions in India with wind in your hair.
Stay
Although not as numerous as in North Goa, the South has its fair share of hotels, resorts and homestays to suit everyone's pockets. During the peak seasons the Goa hotels may get scarce to find so it is always better to do a booking in advance. If one wants to get an authentic Goa experience then Beach shacks are also a good idea.
See
Cities
Margao
Margao (Madgaon) is the administrative center of the Southern district and is also called the Cultural capital of Goa. Established since ancient times, this city is famous for its beautiful cathedrals and buildings which still give a colonial feel. Some notable monuments in Margao are Holy Spirit Church, Our Lady of Grace Church, St. Sebastian Church, Rosary, Fatima Convent, Clergy Home and Clube Harmonia. Besides these building, there are many other smaller churches and chapels in the city which can be visited to get a feel of how it used to be in the days of yore. Very near to Margaon is the famous Colva Beach about which we will talk later.
Vasco da Gama
Named after the Portuguese explorer by the same name, Vasco Da Gama, or Vasco as it is referred by the locals, is the second major city in South Goa. Vasco happens to be a port city and even houses a sprawling Shipyard. It has a thriving ship breaking industry and as one goes around the city, one can see what looks like a graveyard of sea faring vassals. Vasco is a hilly town and the roads are pretty uneven, so it is advisable to exercise caution while driving. The town is not very touristy and the main places to see are the Japanese Garden at the top of the hill and the Naval Aviation Museum.
Beaches
Colva Beach
Located 8 km from Margao, Colva is the most important beach in South Goa. It is characterized by a flat sprawling beachfront with very fine white sand and a gentle sea. This beach is a favorite among tourists as well as locals and is quite crowded during the weekends. There are many restaurants, shacks, hotels etc around the area. One great aspect of the beach is number of star fish which is washed ashore, so much so that it looks practically 'star studded'. Some jelly fish also comes on the beach, make sure not to touch them.
Benaulim Beach
Located just a couple of kilometers from Colva Beach, Benaulim is a beautiful and laid back stretch of sand. This beach has a thriving fishing industry and is a good place to try water sports and sightseeing. The beach tends to get a little crowded in the evenings. Good for a nice relaxed stay. Goa Chitra Museum, founded by Victor Hugo Gomes, is an interesting place to see while in Benaulim.
Palolem Beach
Palolem can be modestly considered stunning, one of the gems of Goa which was undiscovered until a few decades back. Though the beach is not as quite as it used to be, it still remains one of the most beautiful beaches in Goa. The place has a characteristic laid back attitude, the night life is not as much as Baga or Calingute; but a nice place if you want to spread a mattress on golden sand and do nothing but just relax. For others who are more adventure seeking, kayaks and boats are available for rent. For those who want to "venture" more, the Cortigao Wildlife Sanctuary is less than 10 km away, giving a beautiful chance for some trekking and bird watching.
Agonda Beach
Located a little north of Palolem, Agonda is a beautiful 3 km long white sand beach. While not as happening as the Palolem beach, Agonda has charms of its own. This beach doesn't offer more than the sea, sand and lots and lots of Coconut trees, but is it not what beaches should be all about ?
Eat (and Drink)
While South Goa is not as "infested" with eating joints as the north, it has its own share of good restaurants and watering holes. Loghuino's (Margao), Lede Lounge (Colva), Malibu Restaurant (Benaulim),  Pedro's (Benaulim), Cafe Inn (Palolem), Casa Fiesta (Palolem) are some of the places to tingle your taste-buds with some delicious food while you are in South Goa.
Photo Courtesy: dms_303 at Fotopedia (http://www.fotopedia.com/items/flickr-3836586727)