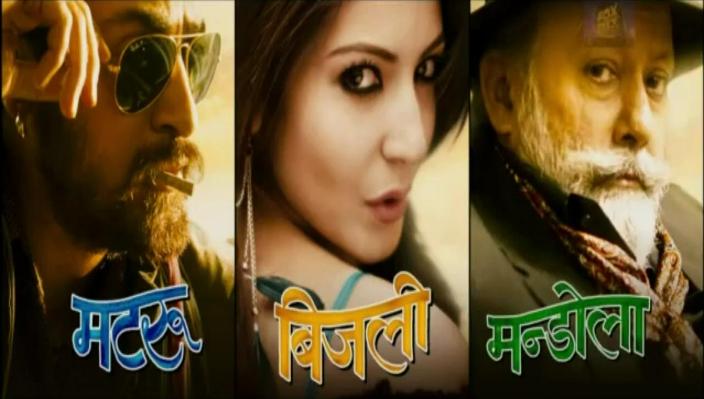 In the Mandola village of rustic Haryana lives feudal Harry Mandola who wants to take farmers' land away so that he can build factories and malls over them. Hand in gloves with Chaudhari Devi, who is going to be his Samdhan very soon, they almost succeed in their plans but for his daughter Bijlee and driver Matru. Add Mao-Tse-Tung, his follower (s), an African dance group, a politician's son – not even as intelligent (?) as Rahul Gandhi and a pink buffalo and you get the film, Matru ki Bijlee ka Mandola (MKBKM) . One more trivia – Mandola is an alcoholic who becomes a totally different man, a socialist, after having a few pegs of his favorite country liquor – Gulaabo.
At the very first, I would like to make it clear that I am a big fan of Vishal Bhardwaj. Since the days of Makdi, I have been watching his films with awe and have always believed that he is one of the best directors Mumbai Film Industry has these days. This is why I am writing this review, for I have never felt so let down by a movie as this one.
Just what was Vishal Bhardwaj thinking when he was working on this film ? Did he want to make a romantic comedy, a political satire,  or did he wish to create a Hazaaron Khwaishein Aisi? Moreover, did he suffer from the same problem as Harry Mandola ? When you watch the film, you will get a feeling that not one but two directors have directed it in bits and pieces. There are occasional streaks of the cinematic brilliance which Bhardwaj is famous for, but then it seems that he downs one bottle of Gulaabo and becomes a Karan Johar. There are quotes from Macbeth and reference to Mao and revolution apart from some great comedy, but it all gets buried under a bullshit-load of cliches. Bollywood cliches and Vishal Bhardwaj could have been an oxymoron before, but now they come to haunt you like a scary reality.  There is a remarkable scene where Mandola and Devi envision his dreams and it starts raining, very theatrical and brilliantly done; and on the other hand there are scenes like the marriage, which would make even David Dhawan squirm in discomfort.
The film is very funny in parts and tries to be serious in others, but the disjoint between these two is so stark that the viewer is left more irritated than amused by it. The director succeeds in creating a lovable Haryana with complete authenticity but the superficial way in which he treats a very serious problem of today's India – land grab of agricultural lands, it makes one wonder if his memory of the political class of India has been wiped out by some trick. This was not the Vishal Bhardwaj whose work we have seen in Maqbool or The Blue Umbrella.
The cinematography of the film is fortunately, still of the VB class. Music is good but out of place sometimes. Choerography is a bit weird, might have been intentional.
Coming to the performances, Pankaj Kapoor is perfect. He shows that he is one of the finest actors of the Indian Cinema, both in comic and serious avatars. Imran Khan looks good, acts good; Anushka looks super-beautiful, acts loud (is pardoned in respect of my bias for her). But one actor who stands apart from the rest is Shabana Azmi. She has never been wasted so much since Amar, Akbar, Anthony!
I might be called a Rowdy Rathod class for "not understanding" this film, but I have taken this catastrophe called MKBKM very personally. I have been hurt by this film and would like to pardon the director by thinking that it was his over indulgence combined with a severe bout of  narcissistic self-assurance that did him in. In future, I would expect to see his cinema at least at par with the work he has done earlier.
My Response to Matru ki Bijlee ka Mandola: Disappointing 
PS: What were those Zulu dancers for? Was VB arm twisted by the Producers to keep using them just to improve their percentage utilization after they were hired to bring "exotica" to this film ?