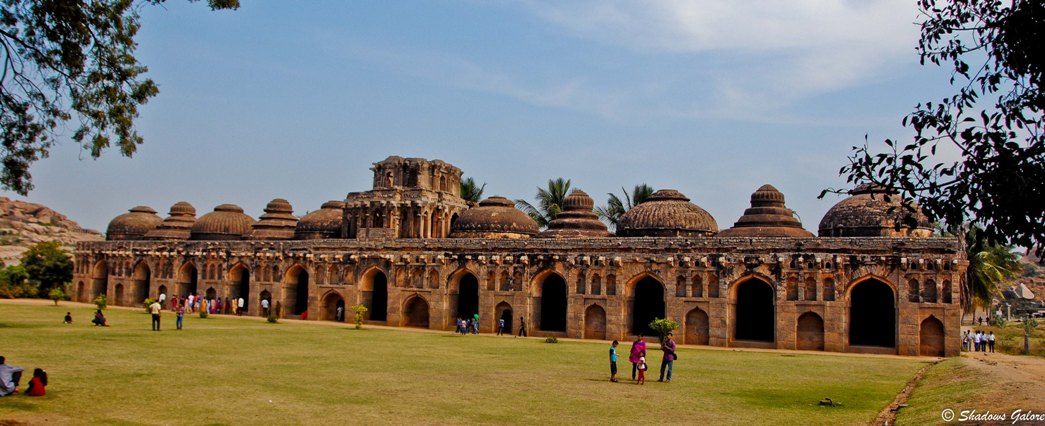 Our visit to the Royal Center started after we left the Underground Shiva Temple. We passed through a narrow and dusty path and a building with a lone window which looked so out of places, for a accessorized with a Palm Tree, it looked more a part of an Arabian Sultanate than a kingdom in Southern India.
We reached a huge parking lot at one end of which was a ticket counter, INR 10 tickets for Royal Center and Vitthala Temple (INR 250 for foreigners!). There was a hole in a huge wall from which we were supposed to enter and so did we. It was a different world on  the other side…
There were no cars, buses, bikes, toilets, litter .. instead there was a quiet, sprawling manicured lawn which seemed to spread across. The wall we just breached was actually a part of a fairly large fortification, square in size surrounding what our guard described as the Zenaana Enclosure or the Ladies Enclosure. There were just two buildings in this area; the first was actually a richly carved base of what has been left of a Royal Palace, but it was the second building which took our breath away!
Lotus Mahal is a beautiful little specimen of the Indo-Islamic Architecture. Named the Lotus Mahal because of the Lotus relief  on its arches, this two storied building is built in brick and mortar as opposed to the stone structure of most of Hampi and stand almost unblemished except for the vandalism done on its walls by stupid lovebirds. Our Guide told that this palace used to be a summer retreat for the royal ladies when their men would leave for war campaigns. He also pointed that this was an "Air conditioned" building; there were actually terracotta tiles running through the walls which carried cold water to cool off the building !
From another hole in the wall we came out and stood in front of a huge building. Was it a palace, was it a castle, it was a stable ! What we were looking at was the stable of the Royal elephants of the Vijayanagara empire. Adorned with 11 domes for 11 elephants, the magnificent building was another unique mixture  of the South Indian and Islamic schools of architecture and was quite well preserved. Adjacent to it was another building which served as the quarters of the guards of the elephants. Well, this guard quarter of the past was big enough to be a museum in present …
The seat of power of Vijayanagara was a grand monument. Although, only the bases of almost all the buildings were left, yet there was a clear indication of how it would have been in the 15th century. The Kings audience hall was a 100 pillared one, each pillar said to be carved from Sandalwood. We even went down to the underground chamber where the King used to have secret meetings with his nobles and foreign diplomats.
Adjacent to the Audience hall is a beautiful stepped pond, made in simple yet ascetic geometrical patterns. It used to be the ceremonial pond of the Royalty for their annual Dussera and Diwali festival. A nice serene place ideal to sit by and get photographed. The pond was flanked by a seemingly unimportant but in reality, an architectural feat of Hampi – the aqueducts. Carved in stoned, these aqueducts used to carry water to different parts of the Royal Center. A 500 year old water supply pipeline ! Romans would have been proud to see this.
The tallest structure of the Royal Center which is visible from a great distance is the Mahanavami Dibba. From the distance it looks just like an elevated platform, you are aware of its richness only when you go near it. This platform, which was used during the festival for the King to make public appearances is built in three layers, perhaps during different periods. Carved extraordinarily, the sides of the Dibba are a living photo gallery about the life and times of Vijayanagara,  showing scenes from daily lives of the people, dances, sports, festivals, massive armies marching to battle, wars – an archaeologist's delight! There are rich flowered motifs, scenes from Ramayana and other Hindu epics. I have never seen anything like this before ..
While narrating the stories our guide never made an attempt to hide his hatred towards the Islamic invaders who destroyed Hampi. He said – "This used to be one of the most beautiful palaces in the world, would make foreign travelers stands in awe when they would first see it. This city 500 years ago was inhabited by half million people, now there are just 5000.  From a bustling city, Hampi is just an open air museum now". So, this is what they did to Hampi, looted and burnt it for six months and laid it waste. I cannot say that at that moment, I did not share his feelings. Just looking at the ruins, one could imagine how beautiful this city would have been in its glorious days. How can someone have the heart to destroy something which has taken centuries to be built?
The sun was getting brutal  by this time and we were tired, hungry and dehydrated. So we decided to call it a day and come back later for what was left – The Hazara Rama Temple and Queen's Bath.
[divider slashed]
You can find the map of the Royal Center here
[divider invisible]