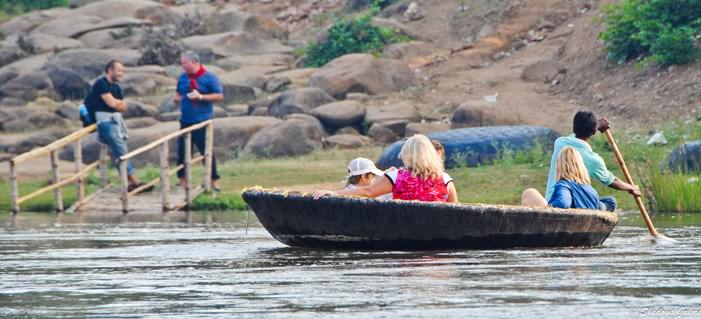 Day 3 started early again. By 7:30 AM we were ready to start our day. Targets of today: Vitthala Temple and Queen's bath, both of which won't be covered in this post. Lets just talk about our coracle ride.
There are two ways of reaching Vitthala Temple without a vehicle; you can either walk along the river Tungabhadra or you can take a coracle which will ferry you to there. Naturally, we chucked the idea of walking and decided to go the water way.
We started walking along the Hampi Bazaar and took a left turn where the signboard said Kampa Bupa's path. This path was a trail along rocky boulders which goes parallel to the river and needed to be covered on foot. At the end of it, we found ourselves at the Chakratirtha. Flanked by an old stone temple with large pavilions, this place is the valley point of two mountains, the Matanga Hill and the Rishyamukha Hill. The river Tungabhadra takes a turn to the left from this point and so this place gives a spectacular view of the turning river as well as the boulder hills in the front and ancient ruins on the rocks in a distance. The ghat is a flat sheet of rock which gradually descends into the water. This spot is considered as the holiest bathing spot in Hampi, and even at early morning, was abuzz with priests taking a dip in the river.
The sight of the Rishyamukha hill (where Hanuman first met Ram and Lakshman) and the boulders in the front, the swiftly flowing river and the ghat with people and coracles is any photographer's delight. On the rocks are carved many Shiva Lingas which are still worshiped after centuries. Just sitting at Chakratirtha is a spiritual experience, especially at a clam early morning.
The pavilion at the back was apparently built  for the use of Pilgrims who used to come for taking bath in the river. There were not many people around, only a few artists preparing paintings and sketches of the place. I went there and interacted with a few, some of the paintings were really amazing.
From Chakratirtha, we took a coracle with a boy-boatman and started. Coracle is a unique boat, shaped like an inverted bowl and made of bamboo. It goes pretty fast in a spinning motion. The small trip to the other side was beautiful. We passed through mighty boulders and our boat-boy showed us various old ruins and stone idols of Nandi on the rocks. The currents were high and at one place, we even saw a whirlpool at a distance. It was only when we got down; we saw a signboard cautioning people about crocodiles in the river!
It was time to go and meet Lord Vitthala…
Hampi Diaries – The Coracle Ride Across Tungabhadra, a set on Flickr.