Our first trip to Goa was more about getting to know what was to be seen and experienced than doing it actually. So within less than a month, we ended up making another trip, this time for an extended holiday. So during the last weekend of this September, 10 of us landed in Mapusa with our backpacks and Grandiose plans of what were were going to do for the next four days. Learning from the past, we had pre-booked our hotel rooms and found a cozy, yet economical stay near the Calingute beach.
Goa can keep you busy in varied ways. Although we had plans to cover the beaches of South Goa, yet at the end of four days we had proved to be inadequate yet again. We just lazed in and around Mapusa and were content with the crowded but happening beachfront of North Goa. These famous and equally notorious beaches are what this post is all about.
Our beach (that's what I am going to call it) was a quiet one, with just one shack called Flying Dolphin (which served amazing prawns) and a Disco which was a bit too colorful. It was very close to the beach and from there we could walk all the way to the Calingute beach.  There were vast stretches of sand with the sound of waves making me nostalgic about my earlier home in Chennai. But I knew that this was a totally different place, and a different sea. So the first fine morning, we started walking towards the Calingute beach in hope of something exciting. There were not many people near the sea, some tourists and a few foreigners trying to get a tan.
Calingute Beach
Calingute beach was a surprise, and not a very pleasant one. After the tiring walk of more than 2 km in the sand, all we came across was a seafront so crowded that it looked like a Kumbh mela of sorts, not the exact peaceful Sun and sand I was looking forward to. Whatever Mother nature had gifted to Calingute seemed to have been gobbled up by the Papa Indian tourist. The "quality" of crowd was not very good and standing there on a beach in Goa, I did not get a feeling that it was much very different from the Marina Beach in Chennai. Needless to say, I was disappointed. There were quite a few shacks but we were not feeling like going there in the morning itself. So after spending some time there, and loosing my Camera lens cap somewhere in the crowd, we walked back to our beach.
I must say that the space beyond Calingute was more beautiful that the famous beach itself. There was a place where the surface was totally flat and one could walk on the wet sand as if one was walking on water. There were a few fishing boats and sand dunes, giving a beautiful effect in the sun.
Baga Beach
If Calingute is crowded, Baga is jam packed. But I have a soft corner for Baga, partly because of the hillock that flanks it and partly because of the amazing night life which this beach offers. This is a beach on which we have gone at all the odd hours, at midnight and even at 3 AM in the morning. Baga beach never sleeps.
Talking about the night life of Baga, St. Antony's and Brittos are the heart and soul of this place. These mega shacks have an amazing food, great drinks, exciting music and provide a great time, at even greater prices. While Britto's is famous for its dessert, St. Antony's is the ultimate party goer's paradise. In my two travels to Goa, I have spent in an excess of 12 hours at St. Antony's alone and I was not bored. A tip for the guys: Its an Ogler's paradise – with the string attached – that Stag entry is often not allowed.
Another tip: If you are in St. Anthony's , do try Malibu with Pineapple juice, coconut Feni with pineapple which just tastes heavenly.
Anjuna Beach
Anjuna is the queen of the triad of the beaches of North Goa. Located around 3 km north of Baga, Anjuna has a cult following and finds its place in the pop culture with several songs and music albums dedicated to it. Unlike Baga and Calingute, Anjuna is somewhat rocky. This place is famous for the flea market where you can buy literally anything. The shacks were big and good; Curlie's where we had a dinner provided decent food and drinks and even had a disco at the upper level. Liliput is another famous shack.
Candolim Beach
Why is Candolim here? – because we wanted to go there. Why is it blank? – because even though we were just 2 km away from Candolim for 4 days, we could not get time to visit it ! While the shame is acknowledged, so is the fact that time flies in Goa 😛
Fort Aguada
Fort Aguada is not a beach, but a seaside fort located south of the Candolim beach. I mention it here because, well I want to. The structure was an old Portuguese Sea Fort and also houses an old lighthouse, the oldest of its kind in Asia  Contarary to the popular belief, this is not the fort of 'Dil Chahta Hai' (that's Fort Chopra- maybe next time). The fort was packed with people posing for photographs, half of them all set to update their Facebook profile photo the moment they went back. We did our round of photo-shoots too 🙂
Colva Beach
Colva beach was the Southernmost we could get. One fine evening the 10 of us started southwards on our bikes along the scenic National Highway 17. However, halfway through, four of us took a wrong turn and went towards Marmagao instead of Margaon. We did not mind it much because the new route took us through a mountain road and to the famed Goan city of Vasco Di Gama. We could get a look at the great Shipbuilding yard of Vasco and also a first hand look at the beautiful city. It also meant that we traveled 30 KM more and missed the famous churches of Margaon.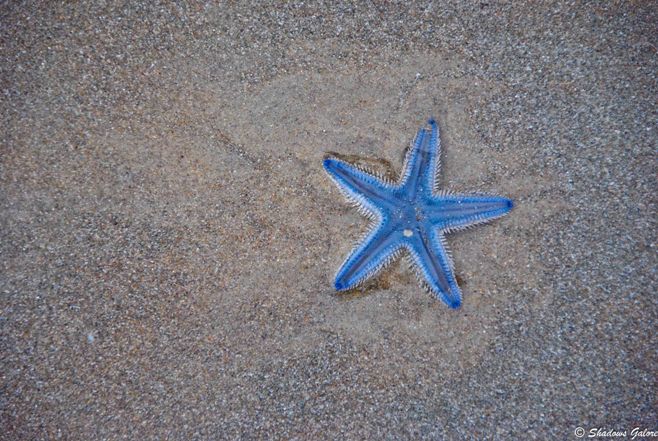 The Colva beach is a remarkable beach, perhaps the most beautiful of the lot mentioned in this story. It is a flat beach with very fine white sand, the crowd is less and even the waves are gentle. On the sand, there were numerous starfish which would lie embedded in the sand as if they were dead and then suddenly pop out. We also spotted a jelly fish lying far from the sea but did not touch it for the fear of getting poisoned (I did touch it for a second, curiosity got the better of me :P) It was the time of sunset and the sky was a beautiful mix of orange, blue and grey. Strolling on a nice, quiet and spectacular beach can lift the spirit to extraordinary levels. We even forgot that we had to go back and landed at the only shack which stood there to eat, drink and play snooker while watching the 20-20 world cup.
By the time we were done, it was almost 8:00 and the rain gods were hell bent on having fun at our expense. We made the return journey of 45 kilometers nearly blinded by heavy rains and shivering in cold. To watch each others backs, we even formulated the strategy to keep safe – the bikes would ride in a single line maintaining the same position and with a constant speed not exceeding 40 (we hardly exceeded 30). The discipline worked and by the time the rains stopped, we were safely inside the city limits of Panjim.
Finally, it was at one of these beaches, that I and Ekta decided to formally announce to the world about us. What followed were identical tattoos for us as permanent engagement rings and a mandatory relationship status update on FB 🙂
Although I am not happy with the way I have taken photographs this time, this single moment makes it memorable. Hoping to do better when we make a trip to South Goa sometime next year.