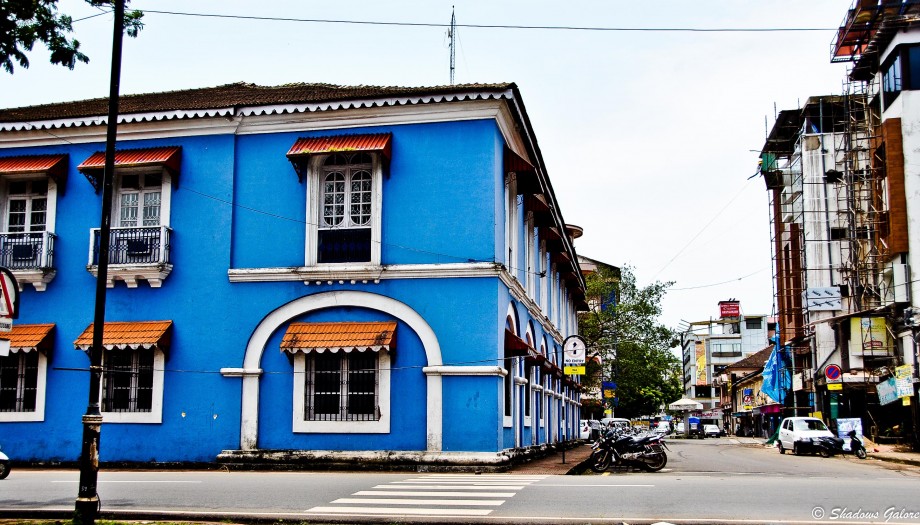 I would refer to this short trip to Goa as the precursor of my coming trips of the beautiful place, more because it only made me knowledgeable of the places I had to visit in future. Nevertheless, it was great fun and a much needed break from work.
It so happened that Ekta's friend Ankit was coming on a vacation from Dubai and wanted to somewhere great. So they along with a friend couple of them, Rahul and Sangeeta,  planned to make a road trip to Goa in the long weekend of August. I naturally piggy-backed 🙂
So on the morning of 18th August, the five of us packed ourselves in Rahul's car and started. I was the only one for whom it was the first trip to Goa. The journey was uneventful along the highway till we reached the ghats where the route suddenly became scenic. When we crossed through the small hill station of Amboli, the whole area was engulfed in thick fog and it was an amazing view outside. We passed by many waterfalls on the way, one of them being huge and others a bit smaller. We stopped to have tea at a local hotel there which was looking spooky shrouded in mist. An unexpected bonus indeed!
By the time we reached Goa, it was 7 in the evening. One mistake we had made earlier was that we mistook the so called off season of Goa and assumed that hotels would be readily available. Had to do some hard searching before we got a hotel. By the time we were free, it was 9:00 PM and we were near Bagha beach. Lesson Number 1: Always book in advance !
Coincidentally, Bose and Tulika, our other friend couple were already in Goa for past one week. So we decided to meet up in a restaurant called Infantaria. It was there that I was introduced for first time to Goan Fish Curry. A rawa-fried king with with yummy fish curry and rice – heaven beckoned ! Since I was starved for sea food after leaving Chennai, had a plateful of prawns in addition to it. Now I could figure out how my Goa trip would turn out.
From Infantaria, we went to the Bagha beach at around 10:30 PM. A sand beach with shacks on the beachfront, the most notable of them to be Anthony's and Pinto's. However, if you are looking a nice and quiet beachfront, Bagha is not for you. The place is filled with locals from all nationalities and races rubbing shoulders with locals, in most cases, with a bottle in hand. Loud music plays and karaoke is on till 2 AM. I can't say I wasn't loving it ! The bad part was that while coming back at around 2:30 we were stuck in a traffic jam.
We had grand plans for the next day and one of them was going to South Goa. We were deterred only when someone told us it was 60 km away. Lesson Number 2: Know the place before you land there. Anyway, we decided to go to Panaji and to Old Goa. Hired a bike, a Yamaha Enticer and then while the others were still fast asleep, me and Ekta rode to Panaji.
It seems that the small size of Goa has compressed its towns closer to each other. Panaji was just 10 km from where we were staying. So in less than 30 minutes on a highway, we were inside the city.
Panaji is a nice little city, quite clean and picturesque. As mentioned, we were supposed to go to Old Goa but we ended up taking a wrong turn and started in exactly the opposite direction. It was a ride which no one would mind, we were on a neat road with old Colonial styled colorful buildings on one side and a river front on the other, complete with a Promenade. In the river, there we a few 'floating casinos', big equally colorful ships used as casinos. The most remarkable of them was named Casino Royale, the ship you can see in the photographs. By this time we knew that we were on a wrong route, but we could see the signboards of Dona Paula and decided to play along. It took some time before we reached the place.
Dona Paula, nestled on a hammer shaped rock, is a former fishing village and jetty. This is a place where two river meet the sea and from a point on the rock, you can watch waves crashing against rocks on all three sides. On the same rocks are two white statues said to be that of Dona Paula, but actually of a Dutch sculpture and her lover. The place was good with an impressive jetty but not very impressive, partly because of being too crowded.  After spending some time there, we started for Old Goa which was about 15 km away.
The road to Old Goa is a photographer's delight ! You pass through a road running through a scenic lake, through streets with houses from some bygone era and beautiful chapels and villas. Ekta was busy clicking away to glory while I was driving, resulting in some great shots. At Ribandar, we stopped at a restaurant called Riverside  and had lunch – again delicious prawns, rice and Goan fish curry. They were also serving feni, the local liqueur of Goa made from cashews at a price of Rs 20/- a peg! We were so impressed that we bought a bottle instead 🙂
The only two places we could see in the magnificent Old Goa were The Basilica of Bom Jesus and St Augustine tower. The Basilica of Bom Jesus is a beautiful cathedral which holds the mortal remains of St Francis Xavier. One of the finest examples of Baroque architecture in India, this magnificent building is complete with an imposingly intricate facade, wonderfully decorated interiors and amazing murals. Even though crowded, this place offered a serene silence which is rare in the tourist places of India.
St Augustine Tower is a 46 meters high remain of the facade of the St Augustine Church built in the late 1500s. In its heydays it must have been a huge buildings with altars, corridors, galleries, dinning halls and numerous rooms. It also housed an infirmary and a convent, all in different stages of decay now. Although most of the building has collapsed, a part of the towers still stands in a bold defiance to the ravages of the nature. The green moss over its falling walls gave it a very sad and spooky feel.
By this time, we were running late and had to rush back to Bagha leaving the rest of old Goa to our to do list. Our prime activity for the rest of the day was – to get tattoos. All of us had a tattoo planned for ourselves and this was the time to live it. So we reached Cat tails tattoo  owned by a gentle Japanese lady and lined up. The next few hours were spent in silent agony as the needles carved patterns on our skin. I am going to shoot the next guy who says it doesn't hurt; well it does like hell !
For the evening, we has just one agenda – party. So we went through a very lonely and scary winding road in the middle of nowhere to the (in)famous Anjuna beach, to a place called the Curlie's. This place is just on the beach with a makeshift restro-bar on the ground floor and a pub on the first. The food was good, drinks were soul satisfying and the sheesha awesome ! We spent a lot of time there before we decided to move to Anthony's on Bagha again. At the Anthony's we asked for coffee and the waiter started laughing, saying "Sir yahan ye sab thode hi milta hai " . Still unwilling to test any more spirits, we decided to settle for breezers, till they closed down at around 4:00 AM.
We had relatively less ambitious plans for the next and last morning in Goa – to go to the Fort Aguada and do a photo-shoot. But since I woke up at 10 :00 with severe hangover, even that did not get accomplished. So we made just one round of Panaji, saw just two buildings in Old Goa and could be at the beach only in the dead of the nights ( I still don't know how Goa beaches look during the day). This is precisely why I am saying this was only a prequel to our coming Goa trips, a chance to set our to-do lists right. You gotta wait some more for the sequel 😛
Watch our Goa galleries here: 
Goa, a set on Flickr.
And Old Goa here: