"The vision of a tall-masted ship, at sail on the ocean, came to Deeti on an otherwise ordinary day, but she knew instantly that the apparition was a sign of destiny …"
This is how Sea of Poppies unfolds to you; the first volume of Amitav Ghosh's trilogy starting in the kitchen of Deeti's hut in northern India and gradually expanding to assume astonishing proportions.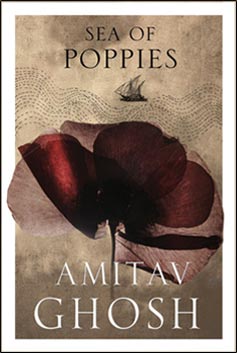 Sea of Poppies has a huge canvas. It is a collage of lives of completely different characters; the wife of a poor laborer who works in the Opium factory of Gazipur, the Raja of Raskali who is oblivious of what is going to happen to him, an Untouchable, a chaste Brahmin Clerk, an American Officer and a sailor from unknown lands and with an unknown past, a French girl and a Muslim boatman; each seemingly as different from the other as it can be, yet entwined together by a strange twist of fate. However, the protagonist of this saga is not a person, black or white, but a ship – a slave carrying schooner where the other characters meet and where the story finally unfolds and ends in an enthralling ending, seeming high on the black opium of Gazipur.
One cannot help but get awed by the extent to which the author has taken pains to collect the details of the 1800s India, a nation recently subjugated by pirate turned trader turned masters. The humiliation of a once great nation is palpable throughout the course of Ganga from the Poppy fields in Bihar all the way to Sundarbans where the river meets the sea or the Kaalapani. Though this is a Historical novel, a work of fiction, but one cannot fail to see how closely it links to a relatively unknown past of India.
Once aboard the ship, the author craftily makes you a part of its cargo. At this level, the story starts affecting you as though you are seeing it with your own eyes. Through his words you live their lives; sometimes the Girmitiya cargo of the ship, sometimes the Lascars engaged in their day to day activities of the ship and sometimes the two prisoners, poles apart but bound by a common fate, on their last voyage to an unknown land.
Sea of Poppies is a work of art which is explained by its nomination for a Booker prize. For me it was an experience in itself, a journey in the past of my country, an insight into how my people suffered. I could not help but being overwhelmed by its sheer magnitude and the sensitivity with which it has been handled. I thoroughly enjoined reading it and recommend it strongly.
Image Courtesy: Word Salad
Details
| | |
| --- | --- |
| Book: | Sea of Poppies |
| Author: | Amitav Ghosh |
| ISBN: | 0143066153 |
| ISBN-13: | 9780143066156, 978-0143066156 |
| Binding: | Paperback |
| Publishing Date: | 2009 |
| Publisher: | Penguin |
| Edition: | 1stEdition |
| Number of Pages: | 528 |
| Language: | English |
| Format: | A |
| Awards: | 2008 Short Listed Man Booker Prize for Fiction |