Siem Reap -Day 2
Banteay Srei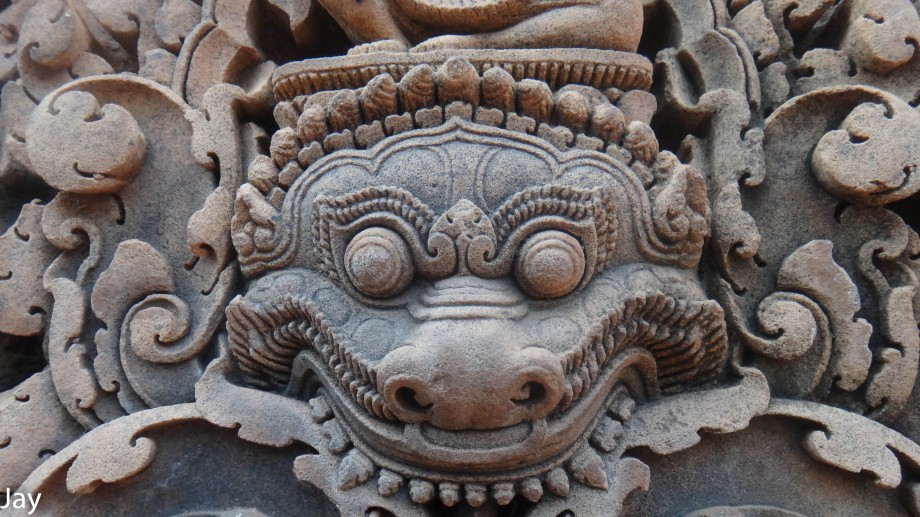 After Puru and BerT took the land route to Thailand, I had until the afternoon to explore the man-made wonders around. I planned to see Banteay Srei and Preah Khan, and squeeze in any other spots en route. En route to Banteay Srei, we checked out the 'state temple' of Pre Rup. As with other un-maintained stuructures here, it appears to be a crumbling bunch of stones stocked together.
Though the carvings are now faded with time, the structure in iteslf is interesting as it is a temple mountain. After the steepest  flight of stairs I ever encountered in my short life, we were at the base of the main tower. The morning air and sun created a soothing ambiance and the view around was amazing. And yes, I was wondering how to get down .
After a clumsy climb down the steep stairs, we were off to Banteay Srei. The name literally translates to 'Citadel of Beauty'. It houses what is probably one of the most intricate carvings anywhere. The lime stone carvings show scenes from Ramayana and Mahabharata and other ancient Vedic mythology.The stone structure reportedly emits a sort of 'glow' when the sun is low.
Its best to enjoy the place when there are less people around as within 15 minutes of being there, the whole place was teeming with tourists. Also there are a few locals who will try to offer bargains on books and DVD. I bought a book after a kid chased me all around and wouldn't take no for an answer. Well, persistence paid off, for him at least.
After an hour here, we went to the nearby cafe as we were famished. The place served egg omlettes, with carrot stuffing which were rather delicious. After a quick meal, we planned to rush to Preah Khan but managed to squeeze time for Banteay Samre on the way. This place is fully restored but has relatively less visitors due its 'isolation' from the tourist circuit. Built in the same concentric rectangular fashion as other bigger complexes, Banteay Samre is definately worth a vist if you have the time.
Preah Khan
Moving on , we got to Preah Khan. The place used to be overrun with vegetation but ongoing restoration have reduced nature's  hold over the area. There are still a few evidences of vegetation over the rocks .A complex layout of buildings and passageways, statues of Garuda, the headless guards,the 'alien' carvings , Preah Khan is a place which will appeal to the adventurer within you.
The place is built similar to Ta Prohm but on a smaller scale  and has the same 'Tomb-Raider' aura without the crowds. The grounds are quite extensive and you will get the true feeling of being an explorer as you clamber over rocks and down passageways that suddenly end.
Banteay Srei and Preah Khan are the two places which deserve a visit if you plan a Angkor trip.
Mini Angkor
There was still some time left and we visited the 'mini Angkor' created by a local 'sculptor'. I guess there are more than one such models and I evidently picked the wrong guy to visit as the models were ill maintained and definately did not justify the US$3 fee.
It was time to take the flight to Bangkok after two amazing days in Cambodia and the feel of striking off an item from my Bucket list was great. Next stop, Thailand.A new place, newer adventures and the 'Teacher scam' awaited us.