When one usually thinks of Bhigwan, it is the magnificent lake and the bird sanctuary that comes to mind. However, this trip of ours was different. We stayed there for close to 3 days and did not even once venture near the lake. This time the goals were different, we were on the trail of the Indian Gray Wolves.
The Trip
I had been eyeing the stories and photographs of wolves sighted in the Saswad grasslands for quite some time, almost managed to make a trip a year ago but kept getting canceled. So, when Colonel Raut suggested that we plan a trip to Bhigwan specifically for the wolves, I was rather surprised. Never knew even Bhigwan had wolves and that it was possible to get a sighting. I readily agreed, and we reached out to our contacts out there and set up a rough itinerary.
Bhigwan is about 90km from Pune and excellent road quality ensures that we can reach there in a little over 2 hours. There are a number of resorts and guesthouses near the lake that cater to tourists and bird photographers. These lodging places also serve as the base for the wolf expeditions. The place where wolves are usually found is another 50 km from Bhigwan, beyond Walchandnagar, and can be a good 1-hour journey from the base. So we woke up real early and started by 5 AM in order to reach the place by the time the first light came in.
It had rained heavily the previous night and the roads were full of mud. This made our approach difficult as the vehicle kept getting caught in the treacherous black mud, bogging us down. The sun was yet to rise, we had crossed a wasteland and passed through sugarcane fields towards an open tract when the driver whispered – Wolf!
The Indian Gray Wolf
A subspecies of the Gray Wolf, the Indian Gray Wolf, or simply put – the Indian Wolf (Canis indica) is a relatively more common type of wolf found in the Indian subcontinent. It is similar in appearance to the Eurasian wolves, albeit smaller in size and with less fur. A creature of the grassland, it travels in packs that rarely exceed 6-8 individuals and hunts from dusk to dawn. These animals are blessed with supreme speed and stamina and can hunt anything from rodents to small mammals, often adjusting their tactics depending on the size and speed of the prey.
In India, the wolves are distributed across the states of Gujarat, Rajasthan, Haryana, Uttar Pradesh, Madhya Pradesh, Jharkhand, Maharashtra, Karnataka, Kerala, and Andhra Pradesh). Mahuadanr Wolf Sanctuary in Jharkhand is the first, and only, wildlife sanctuary dedicated to the Indian wolf.
A Species Under Great Threat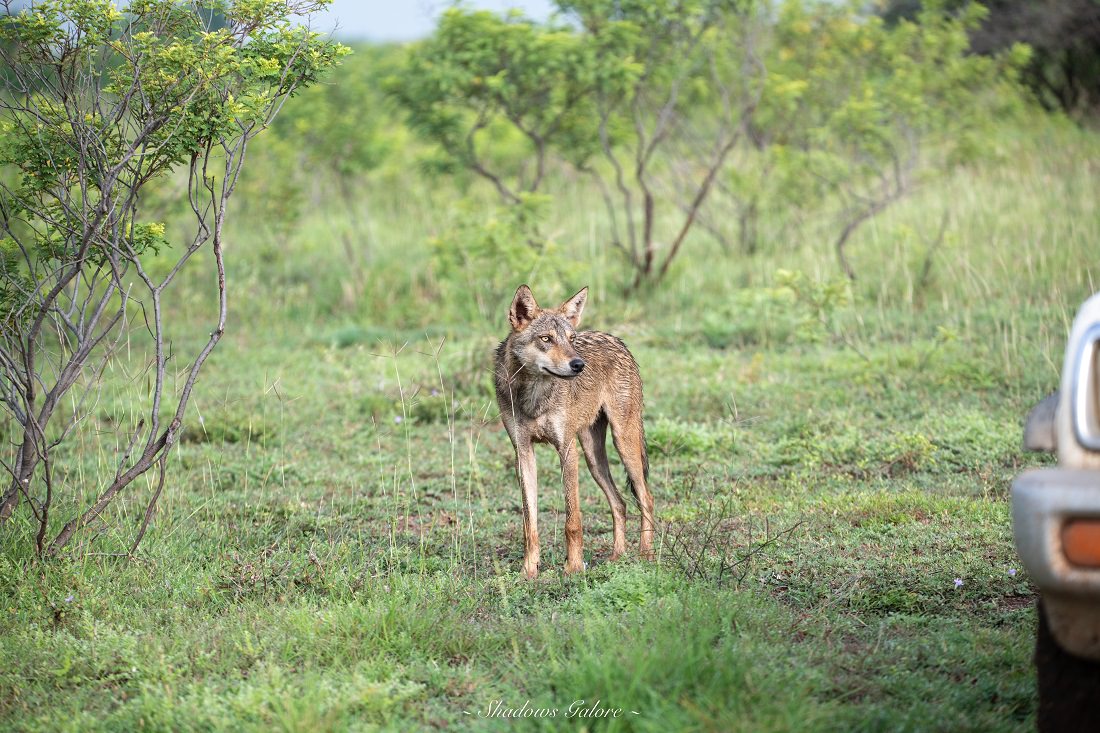 Packs of Indian Grey Wolves once roamed freely all across the Indian subcontinent. They have been a part of the native culture right from the Panchatantra. In fact, the traditional Hindu society considered it taboo to kill wolves, even if they had a fearsome reputation for preying on children.
However, the British had a different opinion of these primal predators and they considered the wolves as a threat. As a result, rampant bounty hunting of wolves ensued during the Raj. It is estimated that between 1870 and 1920, more than 100,000 wolves were hunted down. This led to a steep decline in the population of the species in India, so much so that they reached the brink of extinction.
Today, the Indian Wolf is an endangered species, with only 2000-3000 left in the wild. Of these, most live outside protected reserves, close to human settlements, grasslands, and agricultural tracts. Owing to a scarcity of game, they often tend to prey on livestock, thus exposing them to potential man-animal conflicts.  [Read more here] 
Wolves have a reputation for being very clever. They have a fighting chance to bounce back from the abyss if there is a systematic effort to conserve them while protecting the interests of the villagers. With some determination, they will hopefully find a way into the next generation.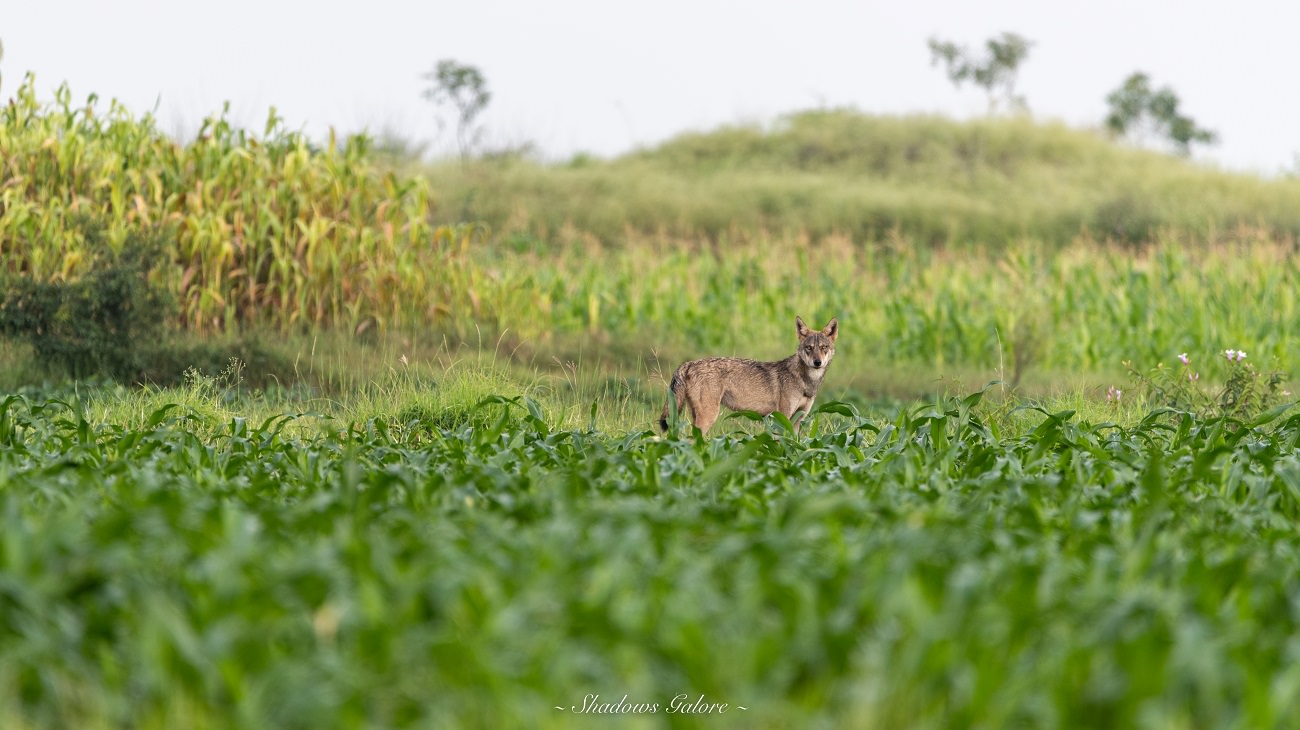 A smaller wolf, probably a sub-adult, stands in an agricultural field and looks at us from afar. 
For the next two days, we kept navigating through muddy roads, crossing farmlands and hillocks, getting stuck in the mud, and starting again in a search for the wolves. It was a rewarding experience, getting to witness a day in the life of these beautiful animals in their habitat. We came back with a lot of photographs and enough video footage to keep us busy through many weekends, but more importantly – an understanding of why are wolves significant and why must we save them.
While the wolves in Bhigwan seem quite comfortable around humans, we are still duty-bound to respect their space and try not to disturb their habitats. Most of the area around there does not belong to the forest department and is private land, and this makes the responsibility of an individual with a camera more important. From what I noticed there one morning, some of the photographers should try to become more ethical when it comes to wildlife. Simple things like not misusing a 4-wheel drive to get too close, not behaving rashly, or not making noise while the animals (or birds) are around, help. After all, if the greed is not extinguished, an unscrupulous wildlife photographer is no different from a poacher.
The Wolves Of Bhigwan – Video
I will go to Bhigwan again, spend more time with the wolves this time, get learn about them, and maybe even have enough material to make a documentary on them. Bhigwan is much more than just the lake and flamingoes. In fact, in those sugarcane fields and grasslands, we saw as many species of birds that it warrants writing a separate piece about them. Coming up soon…