The hype around whale watching got us when we were in Galle. This prompted adjustments in the travel plan to include a day for chasing whales. Since the whale watching tours were to start at around 7:00 am, we had to leave Galle early in the morning and reach Mirissa after a 45 minutes' drive.
Mirissa is a Goa-isque beach town on the West coast of Sri Lanka, about 60 km southwards from Galle. It has a beautiful beach and is a perfect place to spend a relaxed day near the sea if you have not been to the resort town of Bentota already. One of the prime attractions of Mirissa is whale watching, of course, owing to its location, but we found some other places of interest as well.
Dozens of double-decker motor boats take off from the Mirissa harbour and take the tourists deep into the sea looking for the magnificent mammals on a trip that lasts 5-6 hours. While the trip is interesting in parts, it can be taxing on body and mind because of crowded boats, loads of seasickness and the general monotony of sitting for hours looking at nothing but water.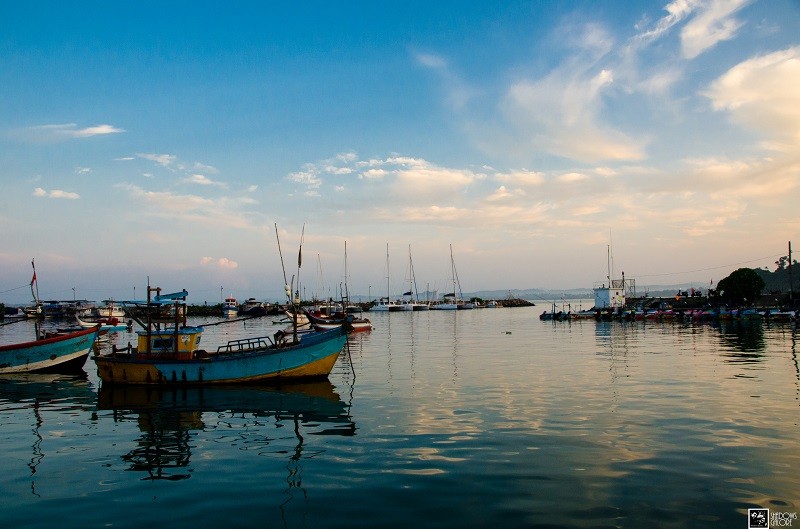 Mirissa Harbour looked pretty in the early morning sun.
It was a mixed experience for us – the crew was friendly, the boat was crowded, the weather hot – made worse by the thick life jackets we were wearing, and we did not feel at the peak of our health after the first 2-3 hours. Even though we were assured that the chances of spotting a whale were close to 90%, our rotten luck made sure that we did not see any. However, there was a good sighting of dolphins jumping in and out of the water near our boats. Thought the ride organisers make sure that they adhere to the norms set for whale watching – like maintaining the necessary speed and distance, there is still scope for improvement.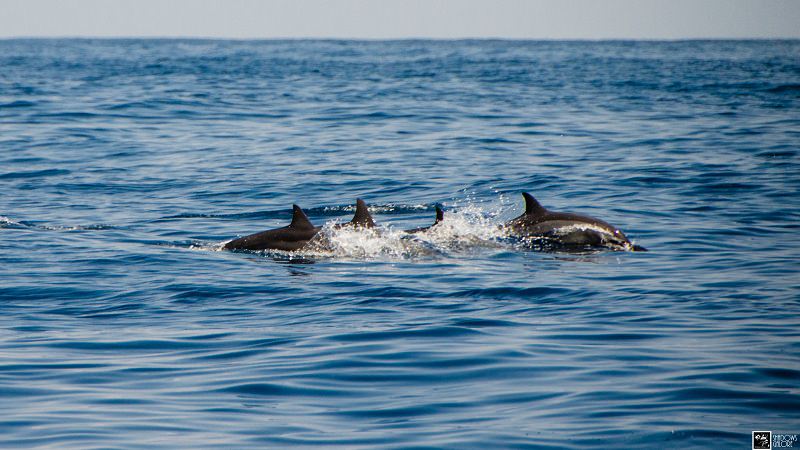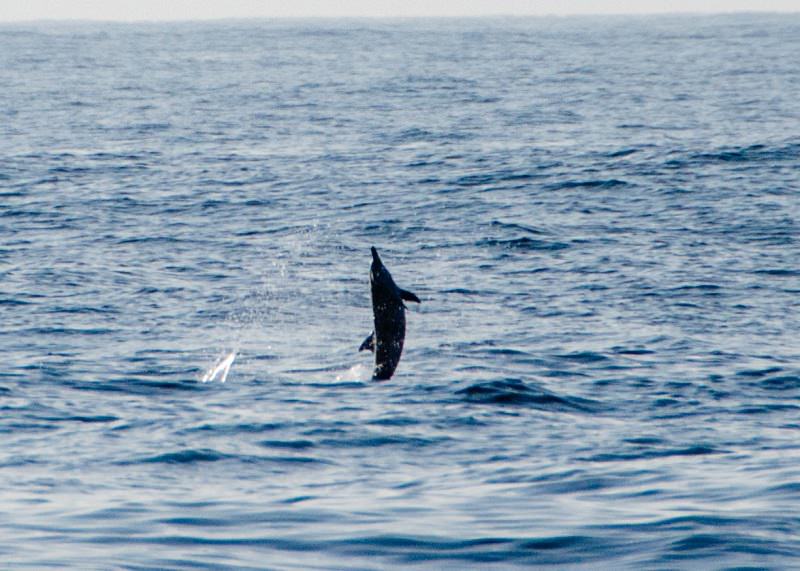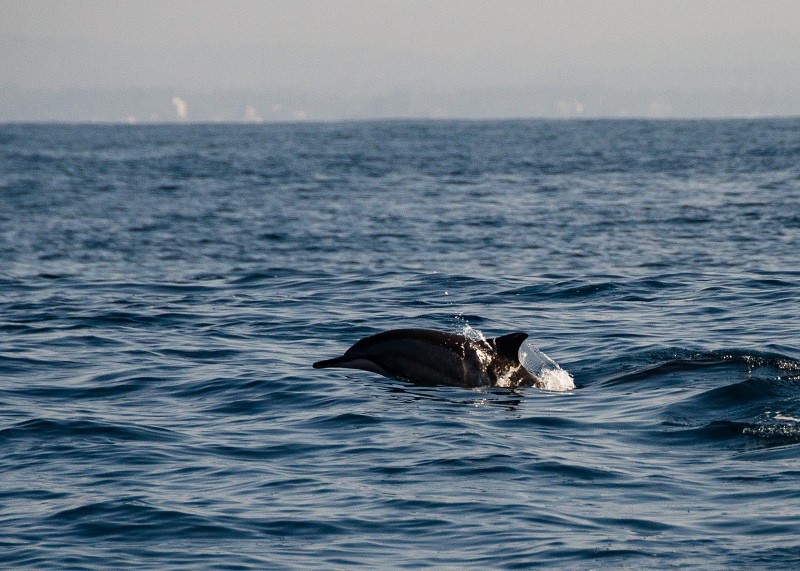 The water was often turbulent but at some places, it became so still and became glassy that it looked spooky. Those were unusually silent zones of the sea and I could not understand what was causing this to happen.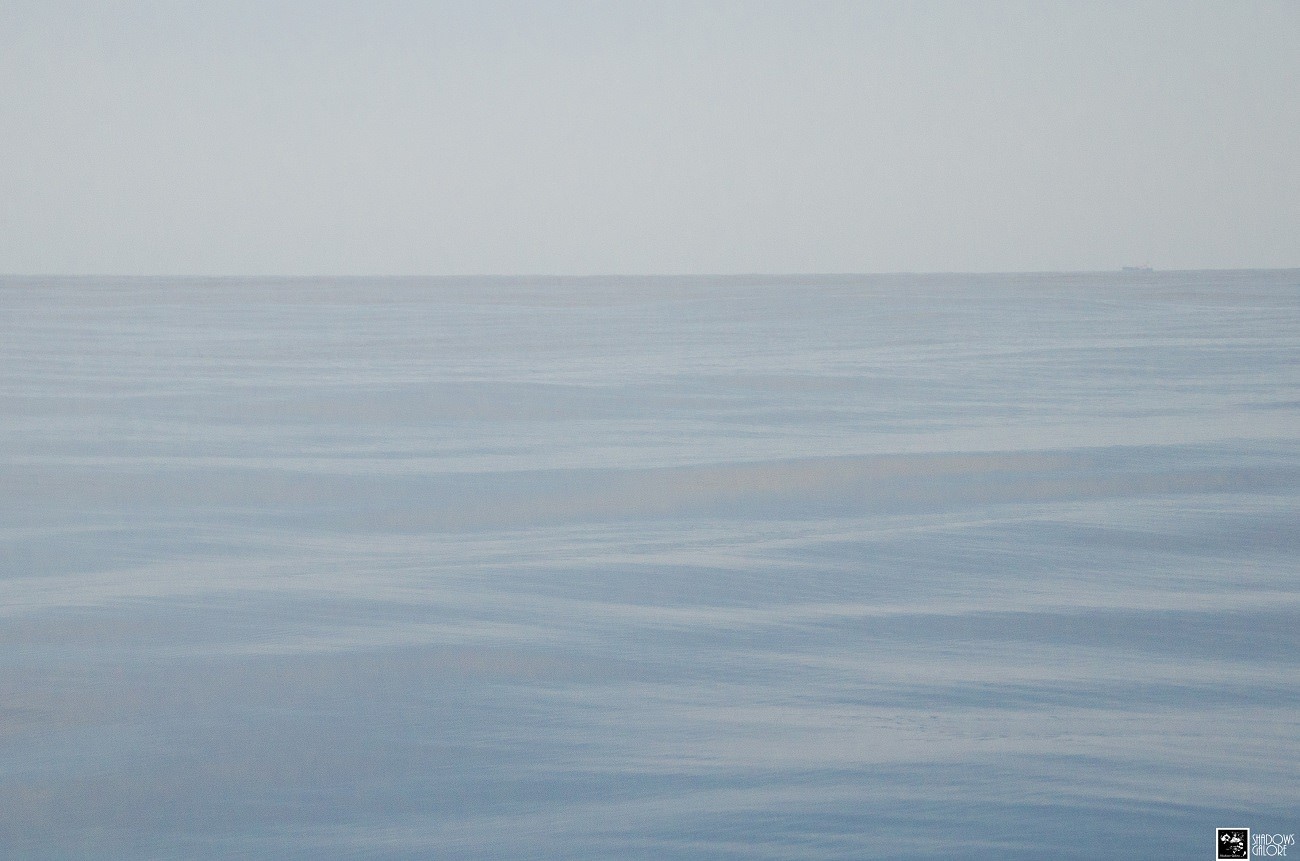 Glassy waters of the sea. Just felt like sharing what we saw there…
Personally speaking, I would not recommend taking this gruelling (for some) tour into the sea unless one is a passionate aquatic life fan/ photographer. The trip gets too tiring and just eats up your whole day. Long after we had reached land (Yay!), we were feeling ill and dying to get to the hotel and crash on the bed. Ultimately, thats what we did and got up only an hour before the sunset. 
Catching the Stilt Fishermen in 'action'!
Loxely, our driver cum guide, informed that we could get an opportunity to see the stilt fishermen in action nearby and we were perfectly game. We do not actually get to see them fishing, the abundance of fishing trawlers has made them move towards more lucrative options, it is mostly a bunch of fishermen or village folks who give a demo by posing on the stilts.
Contrary to popular perception, stilt fishing in Sri Lanka is not an ancient tradition. It began during World War II when some ingenius fishermen started drawing a verticle pole with an attached crossbar into the waters near the coast and fish when the tide was high. This method soon became popular and stayed relevant till the Tsunami of 2004 which caused this practice to cease for some time. Since then, stilt fishing has been on a gradual decline and fishermen have moved on to fishing boats and trawlers. It is still a pretty sight to see fishermen, wearing traditional hats, perched on the top of their stilts – an icon of Sri Lanka…
Image: Jayaraj S. Twitter: @sjayaraj999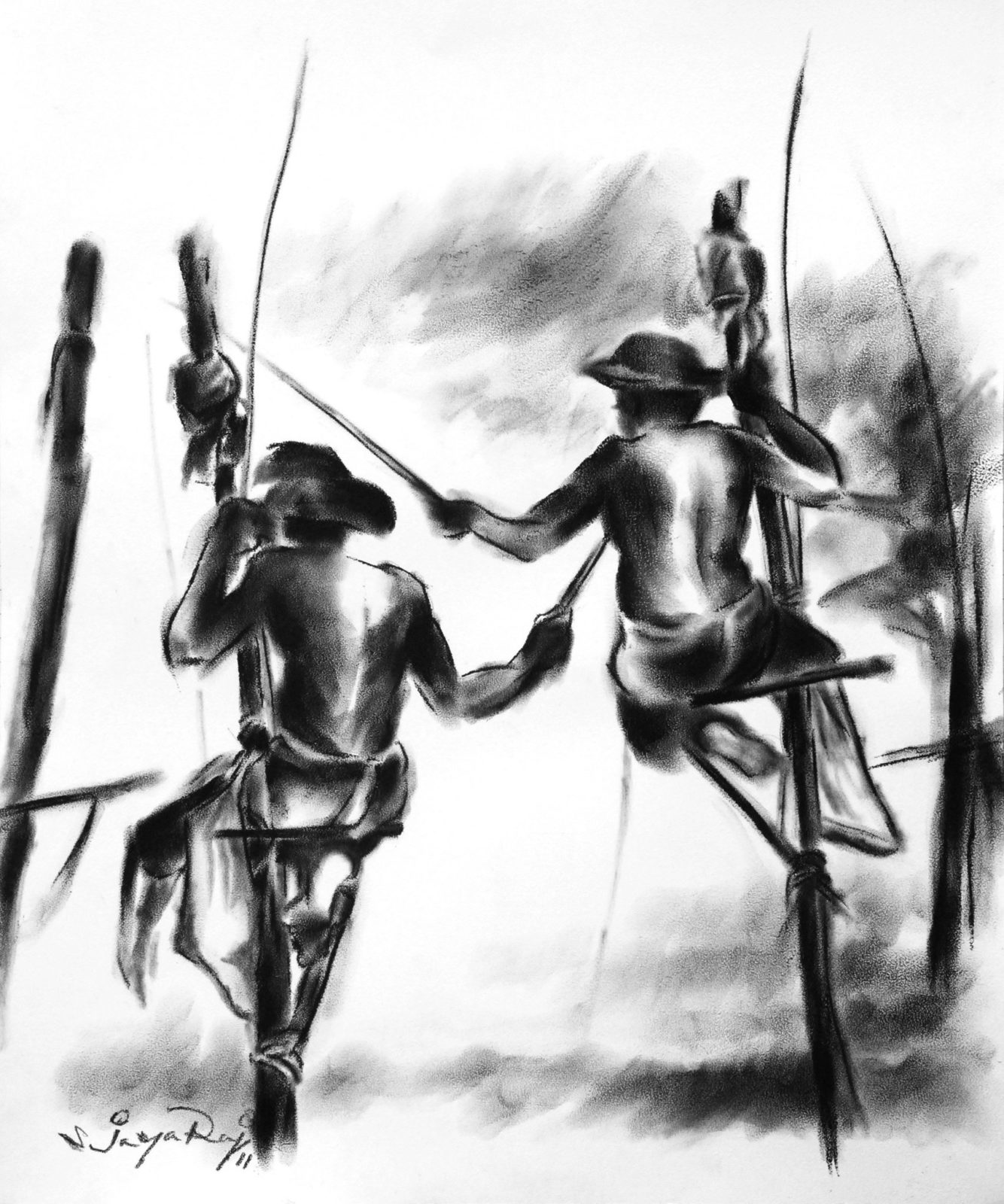 Well, something is better than nothing. Afterall, the image of fishermen perched on their stilts in the sea was one of the attractions that drew us to this part of Sri Lanka. So a brief search later, we met a group of men who were willing to show us how is it done and get photographed, for a 'small tip'.
Light was fading fast and waves were rising on a rocky shore as we got down thigh deep in the water to take the photographs. Some hit and trials (and a wet wallet later), we had the photograph that we wanted. The day was not a complete write off after all!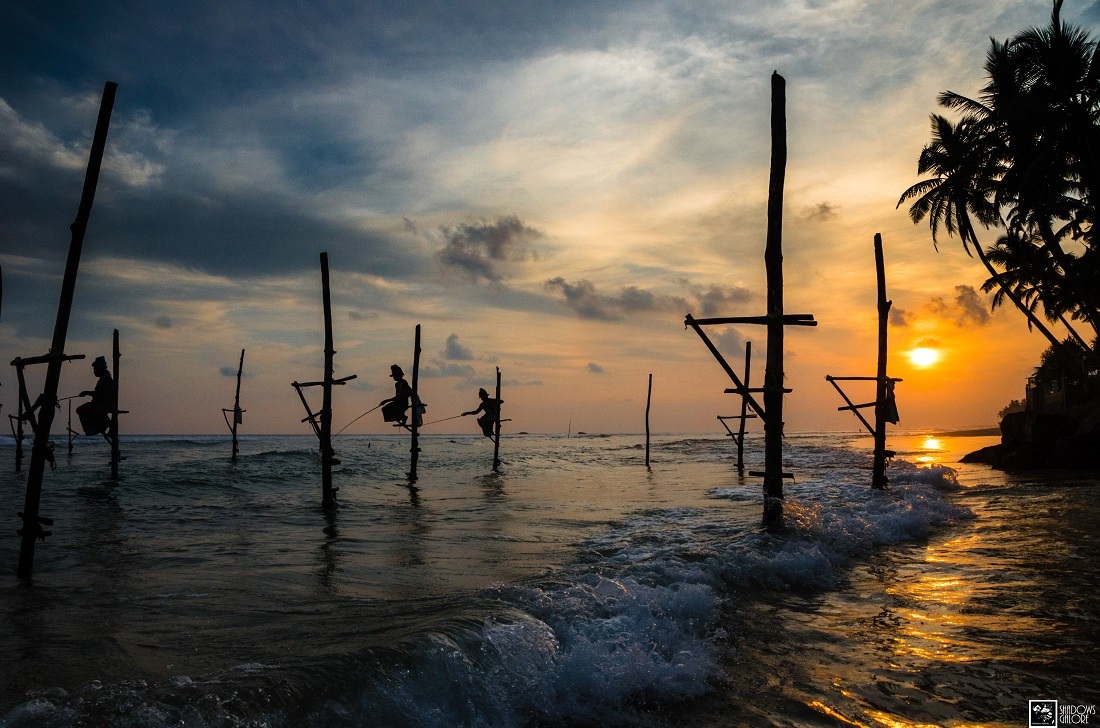 The photograph of fishermen posing on their stilts on the waves against a setting sun… this made our day! 
It was nearly dark by the time we reached the Mirissa beach, the lights on the shacks came up and music had started playing. The beach is good, clear waters, white sand and neat as far as we could see, a reminder of Goa in many ways, minus the crowds. We were not in a mood to get into the water and chose to have a quite evening in the first shack that we came across. A candle light dinner facing the sea was a good way to spend time, food was good, drinks better and service slow enough for us to relax.
The day in Mirissa was over…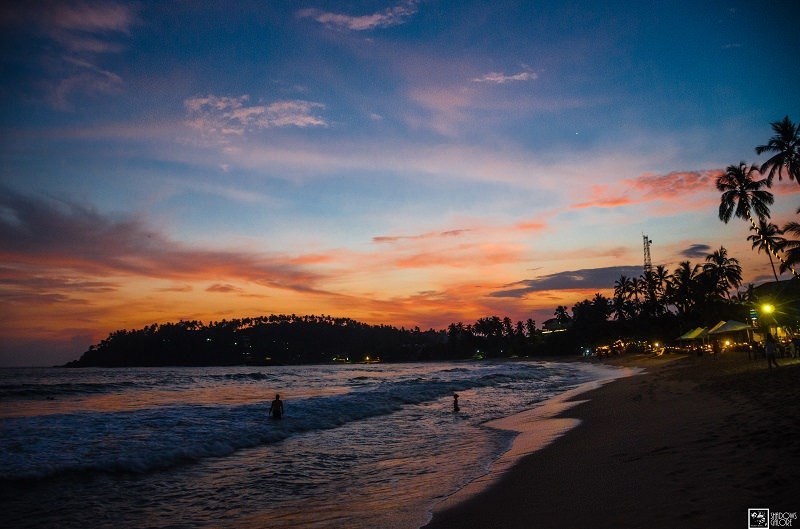 The Mirissa beach at dusk…
Did you like this short experience of Mirissa?
Interested in knowing how we planned our Sri Lanka trip?