I firmly believe that one can never be too old to be an Alice in the Wonderland, never too late to be a child in the midst of the wonders of today and yore. As I wandered like an awestruck child in the corridors of Narendra Bhawan Bikaner, every nook held a new surprise, every corner made me stop and gawk, and a feeling of wonderment and nostalgia engulfed me.
The Inspiration
Shri Narendra Singh Ji, the last king of the erstwhile princely state of Bikaner, was born at the time when India was at a crossroads, moving from the days of Kings and Queens of the Raj towards freedom and democracy. He grew up in an independent India which was undergoing sweeping changes and chose a more contemporary lifestyle, in line with the changing times, with just the right amount of tradition. He was fond of travelling and in true Bikaneri tradition, was a renowned animal lover, caring for hundreds of animals udner his patronage.
Built in the 1930s, Narendra Bhawan was the residence Shri Narendra Singh Ji until his passing in 2003 before it was reborn as a hotel, and today stands as an eclectic ode to his life, travels and taste.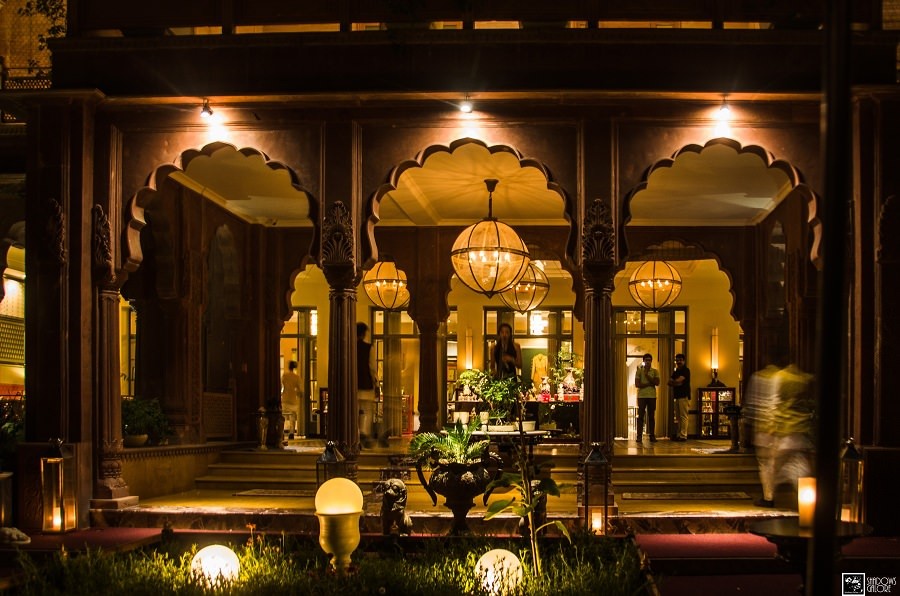 The Décor
Made of red sandstone, the rather traditional and tough exteriors do not give an indication of the treasures that lie within its walls. High towers, Rajput arches and delicate jaalis are reminiscent of the elegant havelis of Rajasthan and may give an idea that it will be another of those traditional heritage hotels. The interiors, however, are a different story altogether.
"Curiouser and curiouser!"
'Eccentric' aptly describes the décor of Narendra Bhawan; just like its former master, whose quirkiness shaped its inception. While the designers took bits and pieces from the memory of Narendra Singh Ji, they were not content with just recreating history. Instead, they tried to visualize how the place would have been if he had been living here and created a home instead.
"If Narendra Singh Ji had been alive today, how would have he lived?"
Kings lived in palaces and commoners in houses; at least that is what we have read in books. This place, instead of being a palace, was the residence of the king, and hence more intimate than its more famous cousins are. It is unabashedly (and tastefully) flamboyant, and fuses with his memory to an extent where the man and the building are no longer separate entities and the building becomes an embodiment of the man himself, in glass and stone.
The front porch is shared by a driveway laden with a canopy of creepers, flanked by two camouflaged jeeps, and an outdoor dining area called the Gaushala, a place where the cows owned and cared for by Narendra Singh Ji were kept. There is a vintage teal (thanks, Charu!) Morris standing in a corner in case jeeps are not your type.
The veranda (there is no official reception desk) is where the exploration starts, a tribute to the heritage of Bikaner combined with connections from all over the world. Subtle hints are thrown everywhere to the memory of Shri Narendra Singh Ji, his love for animals, the places he travelled to, and the flavour of those times – red stone pillars over a floor made of Jaisalmer and Portuguese tiles, artefacts from Europe and China and Bombay Art décor creating an interesting montage. Framed photographs of the royal family, corners dedicated to the collection of books he read, objects and even toiletries. Were he to walk in suddenly, am sure he would feel completely at home.
An antique bright red baby piano, named Edith, sits prettily in a gloriously lit corner of the internal verandah, the corner I loved most. Hand-painted on it is the lyrics of the immortal song by Edith Piaf – Non, Je Ne Regrette Rien…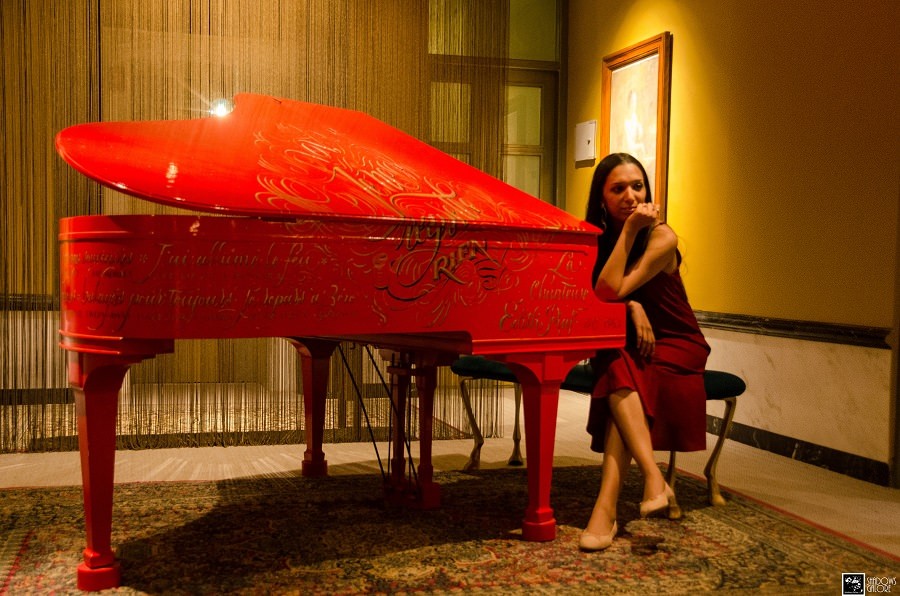 Non, Je Ne Regrette Rien…
This is Edith, and accompanying it is our friend Nikita from Pen Twister who graciously agreed to pose
Upon arrival, we were welcomed with a glass of gin and tonic (which I quickly got addicted to) at the drawing room. Clad in gold and pearls, this could serve as the living room of its previous owner where he would retreat with his friends in the evenings for some light conversations over smoke and drinks. There are imposing chandeliers in crystal and fineries of all kinds in all corners. The anteroom was complete with a billiard table, a few vintage copies of the Playboy magazine, and even a stuffed relic from some hunting expedition of the past.
The quirkiness is omnipresent, be it the long corridors on the upper floors, or those little corners with bookshelves, or even the winding stairs lines with frames from the Victorian past. All you need to do is have a lot of time at hand, and you can just keep exploring this wonderland for hours.
The guest rooms and suites of Narendra Bhawan are inspired by life in a royal residence, the military traditions of the house of Bikaner, and evolution of the Republic of independent India.
While the Residence rooms represent the life and décor of a royal Indian household, the Prince rooms illustrate an acceptance of the modern ideas of the West. Among the other rooms are the Regimental rooms – an ode to the Colonial military life, and the India rooms – indicating an era where India started looking towards the future while still very much attached to her past. The largest and the boldest are the Republic suites – showcasing the modern India which does not shy away from charting her own path.
Each of these rooms is a designer's dream come true. Tastefully furnished with design and colour palette that demonstrate great attention to details, these residences are a joy to look at and live in.
I stayed in one of the Prince rooms, beautifully decorated with a liberal dose of mirrors, velvets and very cosy décor reminiscent of the youthful demeanour of the 60s. Unfortunately, the hectic schedule meant that the only time I spent there was when I was either too tired or too drunk (or both) to truly appreciate its charms. Loved it immensely nonetheless!
The decor at P&C and exclusive dining rooms
For foodies, Narendra Bhawan has great dining options, one of the best I have experienced in Rajasthan. The flagship restaurant is known as P&C (Pearls & Chiffon), dining room that identifies itself with the elegant ladies of the house who used to be clad in signature Chiffon sarees and pearl necklaces. P&C boasts of a great chef who conjured amazing signature dishes for us, many of which were best in class! Here, we had two of what is called the 'Food Meditation' sessions, about which I will write in another post. The experience each time was great!
Mad-Hatter (remember Johnny Depp) is the in-house bakery which serves soul-satisfying confectionary, puddings and pies of all sorts which I loved even without having a particular fondness for sweets.
On a pleasant evening, the Gaushala is a perfect place to spend time outdoors and sip some of the best cocktails one can find in Bikaner. My absolute favourite was the Black Russian, while some others vouched for Tiger Lily. In the middle of the hi-fi cocktails, the humble gin and tonic hold fort firmly, certainly the best I've ever had.
Chalte chalte…
Having returned from Bikaner and back to the real life in Pune, when I look back at the weekend I spent at there, it makes me oddly nostalgic. We had some good times there, the company was great – amazing bloggers and journalists (ended up making some good friends), and our hosts – Abhinav from PR Pundit, and Siddhartha, Ram and others from the hotel were just perfect.
If mere architecture and décor made great hotels then the lives of hoteliers (and guests) would have been much easier. The people at Narendra Bhawan go a step beyond plain hospitality and results are delightful. Of the 100+ staff members of the place, there is hardly anyone who does not charm you with a genuine smile everytime you come across them. There is so much positivity around that a lot of it automatically passes on to you. The reason why I feel nostalgic because one is bound to miss the days of happiness. Narendra Bhawan made me happy, and that's something not every establishment can do.
I will stop here and let the rest of the Bikaner story come up in later posts. The Royal Explorations, Merchant Trail, Food Meditations … there is a lot to come!
Till then, Jai Jai!
Customary Disclaimer: Our travel and stay at Bikaner were hosted by Narendra Bhawan. However, as always, the opinions mentioned in this article are our own, based on our own experience there.