Our stay at the Denwa Backwater Escape in Satpuda remains a fond memory when it comes to our stay in Jungle Lodges and when we decided to visit Panna National Park, Pugdundee Safari's Ken River Lodge was the obvious choice. So we called them and thankfully accommodation was available, so we were all set for the first leg of our trip.
Located on the side of the river Ken (Karnavati), one of the cleanest in India, the Ken River Lodge is a perfect getaway to escape from the madness of the cities and get into the jungles of Panna. It gives a chance to stay close to nature in rustic yet comfortable beautifully crafted rooms. Located around 80 km from Satna and 26 km from Khajuraho, the lodge is easily reachable and offers pick up and drop service from these places.
Accommodation
The lodge has 6 village style huts and 6 cottages. All accommodations are air conditioned, offer hot/cold water and boast of all modern day amenities. Cottages should be preferred by families as they are bigger with a separate living room, kitchenette and an open deck. The ambience is carefully done with just the right mix of comfort and the rustic feel that befits a jungle lodge.
Plans
Similar to other Pugdundee properties, Ken River Lodge also offers three different plans –
JUNGLE PLAN
Stay inclusive of breakfast, Lunch, Dinner.  All day complimentary tea and coffee service. One shared morning and afternoon park activity (Jeep Safari or Boat Safari) including of park entry fees and guide charges.
AMERICAN PLAN
Stay inclusive of breakfast, lunch and dinner. All day complimentary tea and coffee service.
INDIAN PACKAGE
The Indian package includes two plans – Limited Jungle plan and Jungle Plan. Both plans include meals, refreshments, and in-house activities like nature walk, bird watching, cycling, etc. Limited Jungle plan includes one shared Jungle activity while Jungle plan offers two. We preferred the Indian package since it seemed more cost effective to us.
Activities
The fun of staying close to nature is enhanced by the variety of activities that the lodge offers –
• Nature Walk
• Boat Safari
• Night Safari (subject to availability)
• Jungle Jeep Safari
• Village Safari
• Bush Dinner
• Culinary Workshop
• Picnic at the Farm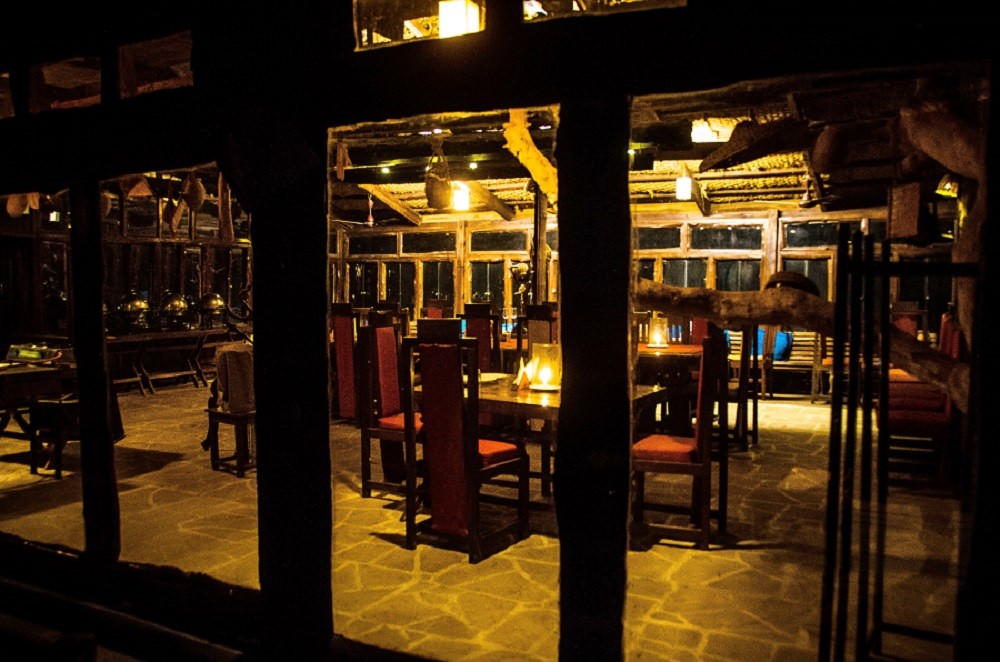 Dining
The Tree House 'Machaan' Restaurant is one of the prime attractions of the Ken River Lodge, offering a beautiful view of Ken and the rocky wilderness beyond. It serves vegetarian and non-vegetarian Indian fare which is quite delicious while being light on the stomach. Breakfast, Lunch, Dinner and Evening snacks are available for in-house guests as well as casual visitors on a day trip to Panna.
Our Experience
Since it was just the two of us, we decided to go for one of their huts. It has the feel of a typical Jungle lodge, complete with a fireplace, an anteroom and a bathroom almost as big as our bedroom in Pune. The interiors are tastefully done and have a colonial feel about them, all you need to do is be a little imaginative and you can transform into a Shikaari during the days of the Raj. For work, you have a sizable writing desk, or you can laze outside on one of those deck chairs, and do nothing at all. We made a mental note to get us a cottage similar to this in the Himalayas when we are finally ready to retire and enjoy the life of muflisi.
Like other lodges of Pugdundee, there is no TV in the room and the only noise you would get is of the rustling of leaves, chirping of birds and nocturnal interruptions of crickets. I do not think you are going to complain.
Our favourite spot at the lodge, apart from our cottage, was at the Tree House. One can sit there for hours, looking at the gentle turquoise waters of the river Ken, read something and sip coffee. The staff is very friendly and keeps coming back to check if you need anything. While we were not busy doing nothing, we would walk down a small gate to the banks of the river and loiter there.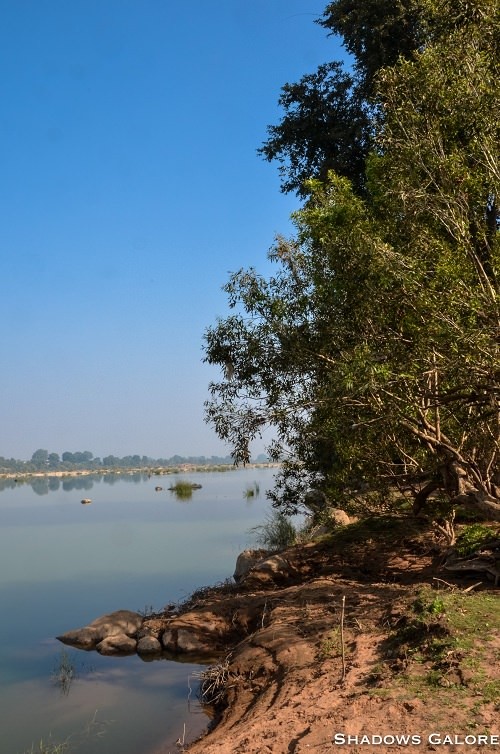 Overall the stay at Ken River Lodge was a good experience. We recommend this place if you are planning a stay near Panna National Park.
Disclaimer: We stayed at Ken River Lodge as part of an invite from Pugdundee Safari to come and experience their lodge. However, all opinions are entirely our own and have not been influenced in any way.