Of the many impressive scenes from the Grand Budapest Hotel, there one in particular remains etched in my memory – The camera opens into the hotel lobby, and the high energy of the place filled shuffling feet, urgent gestures and smiling faces is quickly established in all its cinematic brilliance. At Crowne Plaza Jaipur, every time we came out from the elevator and walked towards the lobby, that scene from the film played in my mind, and I looked forward to witness that energy once again.
About Crowne Plaza Jaipur
Crowne Plaza Jaipur has opened  very recently off the Tonk Road, just opposite to the Jaipur Exhibition and Convention Centre. The proximity to the airport makes it a good choice to have a comfortable stay in your hectic routine. Under the Umbrella of the IHG group of hotels, it already stakes its claim as one of the top business hotels in Jaipur, and rightly so.
IHG Rewards Club
We were hosted at the Crowne Plaza Jaipur as part of an invitation to experience the IHG Rewards Club Program. The IHG Reward Club offers a loyalty program where the club members can earn reward points with each stay in the IHG Group Hotels spread across the world and can then redeem those points to receive benefits and discounts.
More details about the IHG Rewards Club can be found here.
Disclaimer: Some of the photographs and data related to the Crowne Plaza Jaipur have been sourced from the Hotel. However, all opinions are from our own experience at the place.
Rooms
The hotel has 218 well crafted rooms including 20 suites. The rooms are divided into different categories based on their size and features  – Superior, Deluxe and Club.
The Suites at the hotel have unique design and located to the sides of each floor thus offered an excellent view. The best rooms are the ones with sit-outs where one can enjoy a cup of coffee overlooking the pool or the garden.
Wellness Facilities
Crowne Plaza Jaipur boasts of some great wellness facilities for the well being of mind and soul on a stay away from home.  It has a mighty gymnasium, fully equipped  with cardio and weight machines, some of which were better than what we have used so far. The in-house swimming pool has an impressive ambience and has a separate pool for kids.
The hotel also has on-site spa from Sohum which offers Thai, Balinese &  Swedish massage with amenities like steam, sauna and hydro therapy. IHG Reward Club members are offered a complimentary foot reflexology treatment at the spa.
Business Services
Hotel offers indoor and outdoor banquet venues which give flexible option for any kind of meeting. The state of the art, pillar less banquet is 19,500 sq. ft. and can accommodate 1200 people. Uninterrupted internet service and availability of office equipment needs like copier, printer, scanner along with its proximity to the airport make Crowne Plaza the perfect choice for your meetings.
There are multiple dining options at the hotel that will suit everyone. One can try local Rajasthani as well global cuisine at Sirocco, an all day buffet and À la carte.
Enjoy some Chinese traditional with authentic Szechuan delicacies at the House of Han restaurant. It takes special pride in its dimsums, prepared under the supervision of an expat chef from China.
AIRE – Next to the pool, lies AIRE, an open air Skybar and Grill that serves amazing grill and finger food to enjoy with some great cocktails.
ConneXions Bar is an award winning restrobar intended to add some spice in the night-life of Jaipur. Perfect for an evening out with friends, be it for music or watching sports.
Our Experience at the Crowne Plaza Jaipur
About IHG Rewards Club
First of all, a word about the IHG Rewards Club – To be honest, we are more of the hostels kinds of travellers, mostly because our frequent trips do not allow us luxuries of staying in big hotels. However, once in a while we decide to pamper ourselves with some luxuries like stays in great hotels and treating ourselves to good food and some more pampering in spas etc.
This trip's experience at the Crowne Plaza Jaipur wowed us in more than one way. We were gifted the Club membership of the IHG Rewards Club and the difference it made was apparent from the moment we set foot in the hotel lobby. From priority check-in, to complimentary session at the spa, and a cake waiting at the desk in the room saying "Welcome", all of it made us feel very special. We have been so impressed with the difference this membership made to our trip that we are going to retain it and make great use of it.
Now coming to the hotel, Crowne Plaza Jaipur is a very young hotel which started just a few months back. New establishments are either full of positive energy or are still struggling with the teething problems. In this case, I am delighted to say that this particular hotel surprised us with the kind of great experience it offers to the guests. Everything about it is so fresh, polite and well thought of, that sometimes you stop and doubt if it is for real.
One experience that I have of big hotels is long dark lobbies with artificial lights and hence it came as a surprise when the walkway to our room was lit with bright sunlight; the architects of the hotel have made sure that they make best use of natural sunlight, thereby not only keeping the energy costs and carbon footprints low, but also maintain a cheerful disposition. This is just one of the many examples of "being well thought of" that I saw at this place.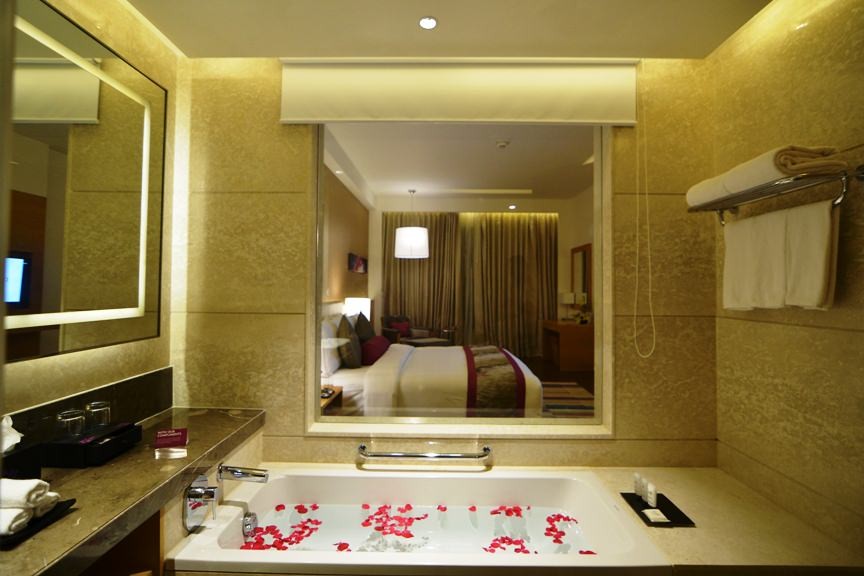 One thing which we are very particular about in a hotel is the bathroom, and the one attached with our room was a delight ! Very spacious and well lighted, again with natural light for the day, with a separate shower cubicle and a good sized bath tub, it was a beauty which I miss after coming back to Pune. All the toiletries that may be needed, including the kits were made available and were of best quality. 5/5 !
While travelling, we love trying out different kinds of food. This trip was no different and we tried quite a few places. Sirrocco treated us with delicious Risotto and the exotic Chilean Sea Bass on one day and authentic Rajasthani spread prepared by their proud Rajasthani chef.
AIRE was high ay ambience and served delectable cocktails and grills. Sitting under the stars and enjoying some good food is a pleasure in itself. The bartender demonstrated the making of Fiery Irish Coffee and a Kiwi Cocktail.
The dinner House of Han was a good Chinese fare. Driven by guilt for having messed up our diet plans by overeating, we chose to be sparingly in our appetite there and settled with some light but delicious dishes. The waiter served us Jasmine tea in an extremely long nosed kettle, a replica from the distant past of China; small experiences which we tend to remember for long. The best things about the dinner at House of Hans was that Ace Shooter Rajyawardhan Singh Rathod was having a quiet dinner with his family on the table just next to us !
A word about the staff of the hotel as they are the real assets that make or break an establishment. The people at Crowne Plaza Jaipur were very polite, friendly and always very helpful. They were prompt to get our car bookings or getting any room service. It feels great to be always greeted with a smile 🙂