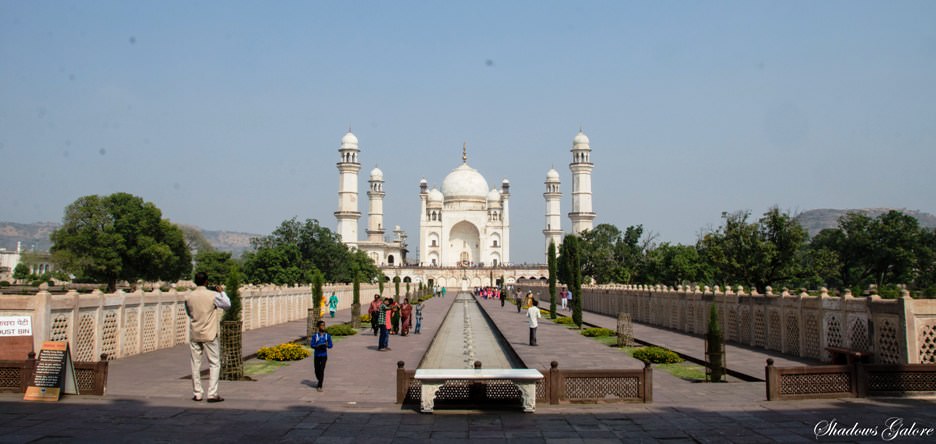 Azam Shah wanted to bring a grand mausoleum in the memory of his mother Rabia-ud-Daurani, something which would rival the great wonder built by his grandfather. However the stingy Emperor had no money to spare for his son's grandiose dreams and agreed to sanction a measly 7 lakh rupees. The finally outcome, in the wake of severe budgetary cuts, could only be a strikingly similar but vastly inferior replica of the Taj Mahal, Bibi ka Maqbara or the Dakkhani Taj.
Aurangabad is about 5 hours drive from Pune via the Ahmednagar Road and by the time we reached, the noon sun was glowering at us with a misplaced anger, ignoring totally that it was supposed to be Winter. Being Saturday, the place was quite crowded with tourists as well as hoards of school kids who seemed to be on school excursions. There were no long queues however and within no time, we had taken out tickets, entered the majestic gates and were looking at the fine monument.
The construction of the mausoleum took 10 years, 1651-61 AD and was completed at a final cost of Rupees 6,668,203 and 7 annas. The chief architect was Atta Ullah, son of the architect of the Taj Mahal, and Hanspat Rai worked as the Chief Engineer. The marble for construction was brought from Rajputana. Jean Baptiste Tavernier, a French trader and traveller, mentions in his accounts, seeing a train of 300 oxen carts laden with marble en-route Golconda from Surat.
The mausoleum is built on a high square platform with four minarets at the corners. The main body is square (Taj is Octagonal) with a marble dome over it. The mortal remains of the Queen are at the basement level which is out of reach for tourists but can be viewed from the ground level through an opening. The artwork on the walls and dome is quite intricate and the lattice windows on all sides are a marvel to look at.
Though there was some crowd at the monument, it was fairly well behaved. We spent some time exploring the monument, read the inscriptions and did what we do best – take photographs.
Bibi ka Maqbara suffers with a handicap which will ail it forever, a near constant comparison with the Taj. However its relative humble disposition does not rob from it, its own beauty and a definite elegance. If you are visiting Aurangabad, do make it a point to visit this place and pay homage to a son's love towards his mother.