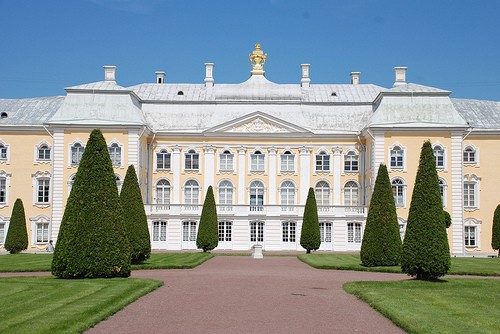 The Peterhof Palace (Dutch for Peter's Court) is a series of palaces and gardens located in Saint Petersburg, Russia, built on the orders of Peter the Great. The palace along with the city centre is recognized as a UNESCO World Heritage Site.
History
Peter the Great was fascinated by the West and tried to imbibe many western customs in his court. He played an active role in the layout and design of the Peterhof ensemble that he started in 1714, which continued to be developed after his death. Western European influence is abound in the Peterhof. In 1721 Peter the Great also founded the Peterhof Fabric that later became the "Petrodvorets Watch Factory – Raketa" producing the famous Russian watches under the brand "Raketa" in honour of Yuri Gagarin since 1962.
It was during the World War II, the area was extensively looted and vandalized in spite many attempts to bury the treasures. It was renamed to Petrodvorets following World War II because of anti-German sentiment till 1997.
Overview
Peterhof is divided in two parts:
New Petergof is in the area with the palaces and parks.
Old Peterhof is that area to the west, on the way to Lomonosov.
Peterhof Ensemble
Peterhof Ensemble is a collection of palaces, cascades, fountains and gardens. The Great Palace is the focal point of the Ensemble.
Upper Gardens: The Upper Gardens form the land approach to the ensemble. Originally this garden was functional in nature and was used to grow vegetables and breed fish, till it was converted into a formal garden by the middle of the 18th century. The pathways in the garden are decorated with statues and vines. Entry is free.
Lower Gardens: The Lower Gardens is the centerpiece of the Peterhof ensemble. Built in a symmetrical design, this beautiful garden is flanked by palaces and cascades. Entry is 200 RR for Russian and 450 RR for non-Russian visitors.