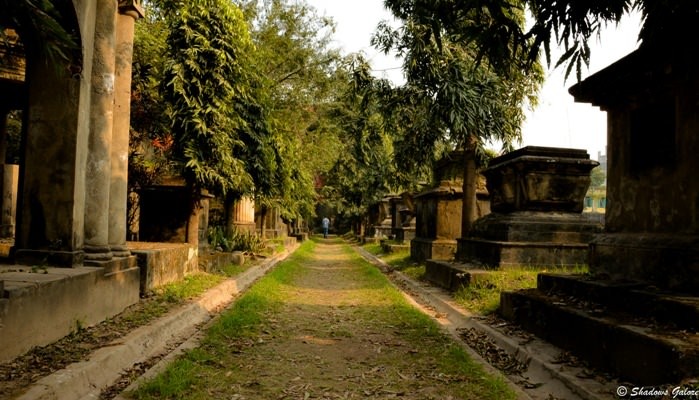 As I stood there looking at all those tombs, I was asking myself – Who were they ? Where did they come from ?

Why were they here ?
"In the midst of life, we are in death", read an epitaph at the South Park Street Cemetery. Lying close to the busy Park Street of Kolkata are men and women from the small but closely knit British community of Bengal in the 18th and 19th century, the pioneers of what later became the British Raj.
What was I doing here ?
I came here out of my curiosity to see who lay in this forgotten land; my fascination with graveyards and tombstones may seem a little weird to others, but these places give us a rare insight into knowing those who were there before us. Dragged my friend Devendra with me and he showed a great interest in the place. The entry was free and we just voluntarily paid Rs 100 for a booklet on the place which proved to be quite useful. A lot of information in this post is taken from the booklet and it is strongly recommended that you buy it if you visit the cemetery.
Calcutta of those days was much different from the cacophonous metro we see now. Park Street was then called the Burial Ground Road, later renamed after a deer park built by Sir Elijah Impey, and was a raised path on a causeway in the middle of marshy land and patches of jungle. Warren Hastings used to hunt tigers near what is now the Free School Street near the Maidan. Centred around the Dalhousie Square between the Mission row and the Hooghly river, lay the hot and stifled lives of the European community. On a quest to win a fortune for themselves and England (mostly the former), they had none of the facilities modern India can provide, and no immunity to the tropical diseases which were otherwise business as usual for the natives. Malaria, typhoid and other diseases of Bengal took a great toll on them and it is no surprising that most of the tombs have people who could not even reach their forties. South Park Street Cemetery provide a rare and rather humane view of this side of the forerunners of the rulers of India. They too had their share of sufferings, the biggest of all – to lay buried alone in a land far away from home.
A look at some of the names engraved on the tombs will be of immense interest for those interested in the history of India. In this calm of oasis within the chaos of modern Kolkata lies Sir William Jones, the prodigious scholar, polyglot, Indophile and the founder of the Asiatic Society. In a corner lies the squeaking white decorated grave of Henry Vivian Derozio, an iconic radical thinker, poet and the soul of the Young Bengal Movement. Then there is Maj Gen Charles Stuart, also known as Hindoo Stuart, an officer of the British East India company and one of the White Mughals, who was a rarity in the way he embraced India and its culture wholeheartedly. Those with a literary bent of mind will start with an exclamation to realize that Walter Savage Landor's Rose Aylmer person, a girl who was taken away by cholera in 1800 at a young age of 20. So is Lucia Palk, the heroine of Kipling's 'City of Dreadful Night'. Lady Anne Monson, a great-granddaughter of Charles II and Elizabeth Sanderson, the most beautiful woman of Calcutta are also buried here.
Other important names we could notice were Lt. Gen. Sir John Cleavering (Army officer), Col. Robert Kyd (botanist and founder of Calcutta Botanical Garden) Lt. Col. James Lillyman (builder of Fort William) and Lt. Col. Colin Mackenzie (Surveyor General of India and Orientalist) and many more whose memories live on the various statues and streets named after them in Calcutta . We noticed some famous surnames like Forbes but were not sure if there is a connection with the current Forbes, though B.C. Forbes was indeed a Scot.
The cemetery is the final resting place for not just the high and mighty of the society; it also has graves of the commoners – breeders of cattle, jail-keepers, silver-smiths, teachers, postmasters and soldiers. Many of the graves belong to women and children, their innocent lives nipped early as they tagged along with their men – a forgotten price paid for the British conquest of India. As indicated earlier, the average life expectancy for a European in Calcutta in those days was 3o years for men and 25 for women. One of the most remarkable is the grave (no 363) of an unknown woman (d 1825) whose epitaphs says just this much – "A virtuous mother". There are family mausoleums too, having graves of many members of the same family.
As I looked at the tombs I could not help but wonder if their descendants still live in some other part of the world, and if they know  that one of their kin is lying here on the last journey. It was a sad and humbling experience. We stayed in the cemetery for a couple of hours, looking at the tombs and reading the epitaphs. For all our money and power, this is going to be our final destiny – getting lost in the dust we came from.
A list of all those souls who have been interned in the South Park Cemetery can be found here. If one of yours is buried there, please pay them a visit and lay a flower at their grave. I am sure they feel a little lonely out there…