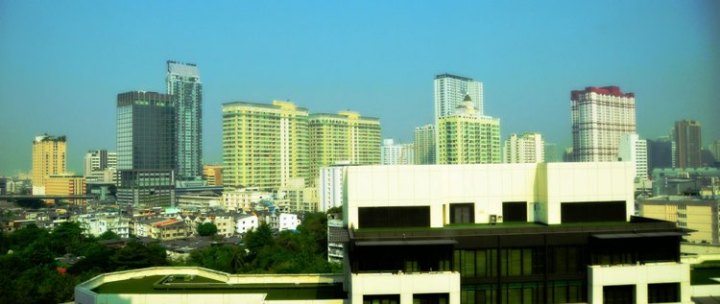 It was a pleasant surprise to get an email to attend a Thailand FAM trip organized between 11th Dec to 16th Dec 2013. The itinerary included places all over Bangkok and Kanchanaburi and looked very appealing. Puru had already been to Thailand a year back so I 'volunteered' to be the one to go on our behalf, spirited by the dreams of a shoppers' paradise. With this post, I am starting a series of travelogues on this incredible trip. 
The hotel booking and tickets were promptly sent after we sent the confirmation.  Some frantic and heavy duty packing later, I was all set for the journey, a little nervous and very excited. Four Bloggers from India were invited to participate in this trip and experience the Thailand's culture and history and the Thai way of living.  I was to travel with two other associates from Mumbai by Thai Airways. The flight was comfortable and we reached the swanky Suvarnabhumi Airport of Bangkok at around 6 in the morning.  After getting the currency exchanged, we got our visas on arrival processed. The normal tourist visa for Thailand costs 1000 THB but if you are in a hurry, you can also opt for a fast track visa instead of waiting in a queue at just additional 200 THB. As it was quite early in the morning, there were no queues and the whole process got completed sooner than expected.
After collecting out bags, we moved towards the exit and were greeted by our tour guide Poom, an enthusiastic lady eager to show us around. Her knowledge of Thailand's history and anecdotes made our trip all the more interesting.
Our hotel for most part of the trip was Siam Kempinski, part of an European chain of luxury hotels and the only one in Thailand. It is located in the Siam area and surrounded by the top malls of Bangkok. We were welcomed with lemongrass cool drink and escorted to our rooms. This gem of a hotel was a delight to stay in, with very cozy rooms and a delightful mix of ascetics and luxury.
Before I start my story, let me introduce you to the amazing people who made this trip memorable. The blogger group included Priya, Prachi and Ankita. We were accompanied by Pooja (representative from BlueSquare Consultants) and Suladda (representative from TAT). Poom, our guide, was the icing on the cake. It was awesome travelling (esp. shopping!) with an all girl gang.
As everyone was tired, so we decided to meet at 12 PM to start our Day 1 of the tour.
This trip to Thailand I just blogged about was courtesy the Tourism Authority of Thailand (TAT).