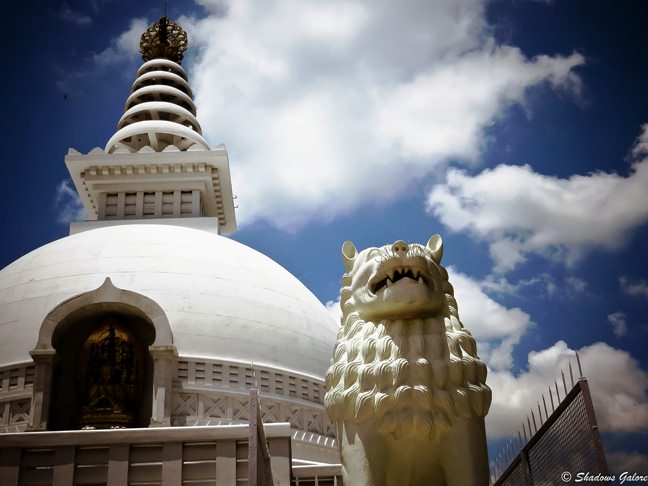 When Ekta and I went to Patna in August, the weather was unusually hot for late monsoons and we could hardly go out. However we did manage to visit Rajgir and Nalanda from our list of  "To visits" in Bihar. This post is about our trip to Rajgir; not many people know about this place and even fewer know how important it has been in the History of India. So here is a small tribute from me towards the glory of this place.
Bheema, Jarasandh, Buddha, Mahavir, Bimbisar and Ajatshatru .. Rajgir or Rajgrih (abode of Kings) is the common link which binds them all. It was a royal city surrounded by seven hills, which served as the capital of the Magadh empire from the time of Mahabharata to 5th Century BC, when the Magadh King Ajatshatru decided to shift the capital of Magadh to Pataliputra (now Patna). It was here that Gautam Buddha spent his summers meditating on the peak of the Gridhakuta (Vulture Peak), and the First Buddhist Council was held under Maha Kassapa. Lord Mahavira spent 14 years of his live in Rajgir and Pavapuri, the place where he attained nirvana is not far from here. Today this quaint, slightly forgotten town lies between those mountains with its ruins, a frail shadow of all it has that has passed by it in the last 35 centuries.
The road was decent and we almost passed by the Ganga swollen with flood waters, almost reaching the road. We stopped at just one place for some delicious kachori -channa and jalebi (Bihari style). Ekta, in her supposed prudence, opted for sandwiches and it was only when my steaming hot kachoris arrived, that she started regretting her decision. She ended up finishing my plate and I had to order another one for myself.
Rajgir used to be a popular tourist destination till a few decades ago but suffered during the lawless days of the Lalu-Rabri rule and was almost abandoned by the tourists as it happened anywhere else in Bihar. The hills were taken over by gangs of bandits and Naxals, and these places became out-of-bounds for decent family folks. However, things have taken a drastic turn with a change in government and it was a pleasant surprise to see the place as crowded as I had seen it during my childhood.
As soon as you enter Rajgir, it makes you aware of its historical importance. A great stone cyclopean wall, built more than 3000 years ago still winds around the town and here and there you would find stone structures from an era long bygone associated with names which are etched in the glorious history of Magadh. There are remains of the Ajatshatru fort, the last Magadh king of Rajgir who lived in the same days as Buddha. There is the akhaada of Jarasandh where he was killed in a wrestling duel by Bheema, the Jeevakameavan garden where the legendary Ayurveda physician Jeevaka treated Buddha … this place seems to be neck-deep in legends and tales which shaped the history of India.. memories so vivid that the wheel tracks of the chariots long gone by still exist and the rock caves are engraved with mysterious Shankha Lipi (Shell script) inscriptions which are yet to be deciphered.
Our first stop was Venu Vana (Bamboo Forest). To the uninitiated, it would look like another nondescript garden with a big pond in the middle. However, some 2500 years back, it was the site of a garden of bamboo foliage gifted to Buddha by the Magadh King Bimbisara, and used to be the favorite residence of Buddha during his stay in Rajgrih. The seemingly unimportant pond was the one in which he would take bath daily before starting his day.
Just behind Venu Vana is the Japanese temple, a big white temple in the Indo-Japanese style. As we went inside, we could see a big statue of Buddha sitting in the Lotus Position, on hand up in blessing. The inside of the temple is very quiet and is dedicated to world peace. It has a modest gallery of photographs and posters depicting the horrors of the nuclear catastrophe in Hiroshima and Nagasaki and makes an appeal for total nuclear disarmament.
After the Japanese temple, we started for Virayatan, a Jain social centre established in the 1970s. This centre runs an eye hospital, an orthopaedic centre where corrective surgeries for polio are performed and other social efforts. However, what had drawn us to Veerayatan was the Brahmi Kala Mandiram, an art gallery which hosts many hand-made murals and models showing scenes from the Jain texts and propagate the idea of non-violence and compassion. The stories and these models based on them give a great insight into the life in India 2000 years back. Unfortunately cameras are not allowed inside the gallery and we do not have any photograph to show how wonderful this place really was.
The day was getting unbearably hotter and we decided to skip a few places and go straight for the Vishwa Shanti Stupa. However, we had just enough time to visit the Maniyar Math and Son Bhandar. Built in the Gupta Period, Maniyar Math is a mysterious place of worship believed to be dedicated to Naga Shilbhadra, and has also been a Buddhist stupa sometime in the past. The guard standing there implied that the cylindrical stupa now serves as a wishing well for the locals where they throw money and offerings to the Snake god and wish for their happy life.
Son Bhandar is another monument of Rajgir shrouded so deep in myths that it has attracted scholars and treasure hunters (!) for a long time. It is actually two caves situated on the foot of the Vaibhava hill, not very far from Jarasandh ka Akhaada. Legends say that the treasure of Bimbisara was hidden inside this cave by his wife and then sealed with a spell. This legend became so widely accepted that during the British Raj, an effort was made to blow open the cave with cannon to get the treasure. However the effort failed and all we have now is a still standing door apparently sealed by rock and with an impression made by the cannon ball. More plausible accounts attribute these caves to the Jain Saint Vairadeva in the 1st century AD. The eastern cave has beautiful murals in stone depicting the Jain monks. There was more of that Shell script on the wall which according to a local, was the key to the treasure, if it could be deciphered.
The Vishwa Shanti Stupa (World Peace Pagoda) was our last destination in Rajgir. Built in 1969 with Japanese collaboration, this Stupa is on the Ratnagiri hill, in front of Buddha's favourite Gridhakuta hill. The stupa can be reached either by foot or by a rope way. We decided to take the rope way as old as the monument itself. This ropeway has single chairs dangling precariously from the rope and looks much more scary than it actually is. However it saves a lot of time and gives some breathtaking view of the surrounding country side. The Stupa is a beautiful monument in dazzling white, dedicated to Indo-Nippon friendship and world peace and is one of the 80 peace pagodas built by Japan to assert their new-found identity in the aftermath of the World war 2. Images of Buddha are inscribed in gold on four sides of the stupa and there is a walking gallery circumscribing it. A small temple stands on one side where prayers were going on when we visited. However when I had visited it as a child, I remembered seeing Japanese monks chanting the prayers. This time they were nowhere to be seen. We spent sometime there to sooth our minds and bodies and then came down the hill via the same ropeway.
So this was Rajgir for us. Though we could not visit some famous places like the Hot Water Springs, Gridhkuta hill or Peepala caves, yet it was a great insight into the past of this glorious town, and of my state. Next destination was – Nalanda.