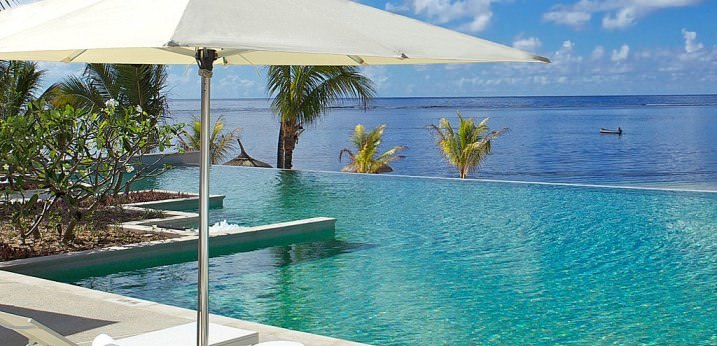 Sitting prettily on a powdery white sand beach and a tropical lagoon,  Long Beach Mauritius is a luxury resort on the East coast of Mauritius. One of the newer additions to the Hoteling scene of Mauritius, it is one of the most promising resort on the Island nation and is fast becoming a favorite of tourists.
First Impression
Contemporary and upscale,  the idea for Long Beach has been woven around the concept of Italian Life. It offers pizzeria style living amidst sun and sands. At the heart of the resort is a lively central piazza complete with restaurants, bars and shops. The architecture is modernist and the buildings look distinctly Mauritian with  their natural form and sublime décor.
Stay
Long Beach has 255 rooms arranged in three crescents. All the rooms are equipped with air conditioning, a terrace, 42″color TV, Wi Fi Internet, mini bar and electronic safe. Each room has a terrace or a balcony with a view of the Indian ocean. The rooms are designed to bring an ascetic appeal to the comfort and can easily accommodate a small family of two adults and a child.
The different categories of residences are as follows:
Standard: Contemporary and chic, these rooms provide a comfortable stay with amiable environment. 116 of these rooms are sea facing.
Superior: One level above the former, these rooms provide an intimate private terrace overlooking the ocean. There are 108 Superior rooms.
Family: Bigger in size, the Family rooms have a master bedroom with a king size bed and an ante room for children. There are 29 Family rooms.
Beach-Front Deluxe: The most luxurious of all residences, these suites are right on the beach facing a little creek.
Dining
Long Beach boasts of having some of the best restaurants in Mauritius. There are five restaurants; while three are located at the pizzeria, two are on the beach.
La Marché  serves English and Continental food in a personal and relaxed ambiance with diffused lighting, and a subtle décor. Sapori is an Italian flavoured restaurant with a delicious offering of pizzas, pastas, seafood and salads. Hasu is a restaurant envisioned as a fusion of the Japanese and Italian cuisines. It has a sushi bar, a gril, a Yakitori counter and private areas for eating in the Japanese style. Chopsticks is a Chinese restaurant in the trademark Chinese style – warm and relaxed with a charming fusion of the East and the West. The recipies have been creatively remixed to suit the tastes of the guests without losing their original flavours. Tides is a chic joint at the beach and serves signature Mauritanian dishes, with subtle dose of spices, salads, grills, fish and lip smacking desserts.
The Shores bar is located right at the Piazza overlooking green lawns that streatch towards the beach and the sea beyond. It boasts of an extensive menu with tempting tropical cocktails topped with live music and DJ. The Tides Bar offers a view both to the pool and the beach and has a creative menu with all kinds of drinks from the world around and features local cocktails made from the best Mauritiun rum.
Indulge
The white sand Long Beach is a beautiful spectacle, equipped with comfortable loungers where one can relax in the shade of the palm trees. The beautiful lagoon provides some breathtaking view of the landscape and one can just settle down in one of the many daybeds and spend time doing nothing but enjoy life as it passes by.
The Sea Spa is a unique spa with a distinct Mauritiun flavor. Peaceful and calm, with rock walls this spa is located at a deliberate isolated place to instill a sense of tranquillity in anyone who visits this place. It as 12 treatment rooms, a relaxation zone, a boutique and a beauty saloon offering hair and skin care.
For those who love action, there are a range of watersports available at the beach, many of them offered complimentary to the guests. Diving lessons are also given here and if one wants, one can go for deep sea fishing. On the land, there is a tennis court, sportspitch, a fitness and yoga center. There is even a beautifully landscaped 18 Hole Golf course, Le Touessrok.
Important Information
Address: Coastal Road, Belle Mare 742CU00, Mauritius
Phone:+230 401 1919