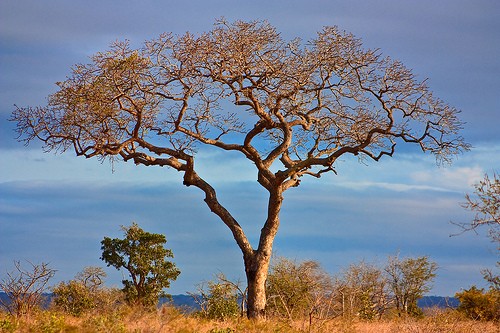 Kruger National Park located in the north eastern parts of South Africa is one of the largest game reserves in Africa. It covers an area of 19,633 square kilometers and is a protected area since 1898. Kurger has been designated as an International Man and Biosphere Reserve by UNESCO.
Overview
The Kruger National Park is a living memorial to President Paul Kruger and those who have upheld his vision of a protected wilderness reserve which will forever remind us of that which we are so dangerously close to losing.
Dutchman François de Cuiper was the first European to lead the a Dutch East India Company expedition to explore this region, but they were attacked and driven away by local tribes near Gomondwane. It was only in around 1838 that the Voortrekker expeditions led by Lous Trichardt and Hans van Rensburg were able to successfully venture in this area.
In the early times, many Europeans and farmers were lured to Lowveld in rumours of gold and valuable ivory and skins. This caused a number of killings and hunting for animal skins and horns.
President Paul Kruger was informed about the rapid destruction of wildlife in the area by hunters, which led to the establishment of a protected area for wildlife in the Lowveld region by the Transvaal parliament.
Paul Bester, the first ranger, who made his residence in a rustic rondavel (hut) which is now the site of the headquarters camp. The fascinating history indicated stone age hunters traversing this region to hunt to habitation by modern day men who have left fascinating rock paintings all over the Republic of South Africa.
Kruger is the flagship of the national parks in South Africa. There are an impressive number of species of wildlife, unmatched anywhere else in the country: 336 trees, 49 fish, 34 amphibians, 114 reptiles, 507 birds and 147 mammals. Other than flora and fauna the park is a living museum of human history, with archaeological treasures ranging from Bushman rock art to an Iron Age village.