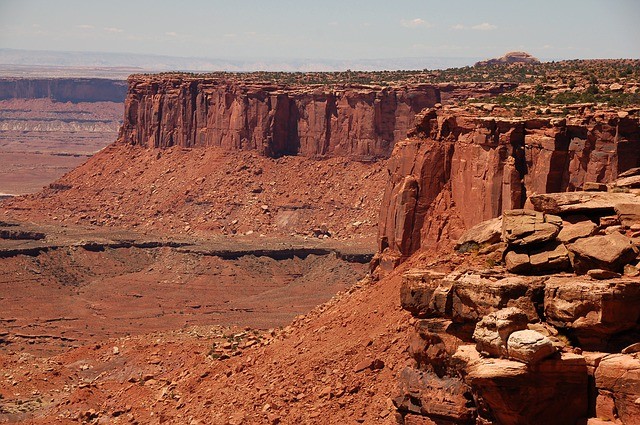 Grand Canyon, a steep sided canyon carved by the Colorado River in Arizona, United States. The Grand Canyon is contained within and managed by Grand Canyon National Park, Haulapai Tribal Nation and the Havasupai Tribe. Preservation prompted by President Roosevelt, the Grand Canyon region is approx. 277 mi wide, 18 mi wide and over a mile deep.
History
The canyon was created when  the Colorado River and its tributaries cut their channels through layers of rock while the Colorado Plateau was lifted up. Millions of years of erosion by the river has given the canyon its present form. The canyon has been inhabited by Native Americans while the Pueblo people considered it a holy site and made pilgrimages to it.
Overview
Hikers, Mule Riders and River Runners usually visit the Inner Canyon which is the area below the rim. It is a paradise for people interested in backpacking, river trip across the Colorado River or mule ride to the Phantom Ranch.
Ways to get across the Canyon :
Hiking – Hikers usually do a overnight trip to cover the 21 mile trek with vertical decent of 1 mile.
Automobile – One can get across the Colorado river via the Navajo Bridge, downstream from Lees Ferry.
Air Strip – no longer available
South Rim
Days and Time
All Year, 24 hours a day
North Rim
Days and Time
15 May to 15 Oct
Day use available from 15 Oct to 1 Dec/ till Highway 67 closes
Entrance Fee (valid for 7 days – both South and North Rim)
Vehicle
US $25 per vehicle
Individual
US $12
People coming by foot, bicycle, motorcycle and non-commercial groups.
Annual Recreational Pass
US $50
Valid for 12 months. Admits purchaser and 1 accompanying person
America the Beautiful Annual Pass (National Parks and Federal Recreational Lands Pass)
For Public
US $80
For Military
Free
Senior Pass
US $10
Disabled
Free
Volunteers
Free
Free Entrance (2013)
21 Jan  (Martin Luther King, Jr. Day)
22-26 Apr (National Park Week)
25 Aug (National Park Service Birthday)
28 Sep (National Public Lands Day)
9-11 Nov (Veterans Day weekend)
Backcountry Permit required for –
overnight hiking
overnight horseback riding
overnight cross-country ski trips
off-river overnight hikes by river trip members
overnight camping at rim sites other than developed campgrounds
overnight camping on the North Rim during the winter season
Colorado River Trip Permit required for –
All non-commercial river trips
Read more about permits here
Note:
A free shuttle bus system operates in the Grand Canyon Village area. Make your visit easier by parking your car at the Visitor Centre and using the free shuttle buses to get around the village.
Reservations are strongly recommended during spring, summer and fall
South Rim entrance permits can be bought at the following locations –

Flagstaff, AZ – Flagstaff Visitor Center
Williams, AZ – Williams Visitor Center
Valle, AZ – Chevron Travel Stop
More places here