The Pueblos blancos, or white villages, of Andalucía are one of the region's best-kept secrets. Sure, people have heard of them, and sure people have visited them. But they're not that well-known, and they often get left behind when tourists hit the major cities of the South, like Seville, Granada and Córdoba. These pueblos blancos, which pop up all around the Costa de la Luz, are characterized by their bright, white-washed walls and red or brown tiled roofs. Take the time to discover the pueblos blancos, and you won't be disappointed. Walking through these pristine white villages is a true step into untouched Spanish culture and a little peek into a simpler past.
Must-see pueblos blancos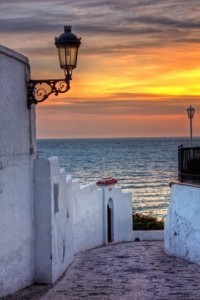 Arcos de la Frontera is a treasure of a village located in the southern province of Cádiz. Like many of the pueblos blancos, Arcos de la Frontera is built atop a hill, overlooking the sprawling green surroundings. Climb your way up this village, and take your time doing so, because these villages are meant to be savored and appreciated, and visit one of the many beautiful lookouts for a spectacular view.
Zahara de la Sierra is another beautiful pueblo blanco located in Cádiz, and it just so happens to be near the outskirts of the Parque Natural Sierra de Grazalema, a beautiful national park for hiking and experiencing the lush outdoors. Within Zahara, you'll find picturesque narrow streets, beautiful buildings, delicious food and a lovely small-town feel with friendly local people. There is also the historic remains of a Moorish castle from a time when Arabs ruled in Southern Spain and a bright turquoise man-made lake that's worth seeing, too.
Ronda, which is a pueblo blanco located in the province of Málaga, is known for many things, but its stunning Puente Nuevo, which plunges straight down the Tajo de Ronda gorge, is perhaps its most famous trait. Also worth noting in this remarkable little village is its bullring, which was Spain's very first.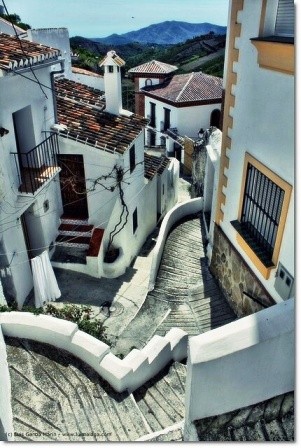 Setenil is an exquisite piece of history built right into the rocks. Located just 15 kilometers from Ronda, this white village is famous for its stores and homes built right into the mountains within the city. It's a bizarre and wonderful sight to be seen, and it's definitely a pueblo blanco worth a visit. Take your time wandering through this little village, and savor its little shops. You'll find little treasures within these rock-walled stores – spices from the South of Spain, delicious olive oils and many other little trinkets.
A Guest Post by Katie Stearns from Spain