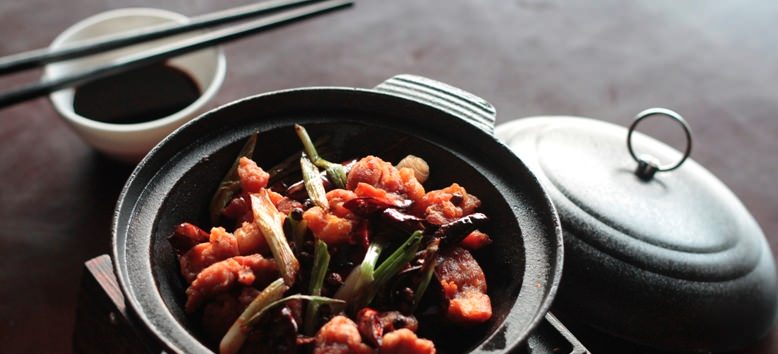 Asia Seven, Amanora Park Town, Pune, is a Pan Asian Cuisine restaurant serving cuisine from  China, Japan, Korea, Thailand, Vietnam, Malaysia and Myanmar. The folks invited us to have a dinner with them, to showcase the sweeping changes they have brought to their place, it was an offer we could not refuse. So one Monday evening, we were at their place to have some fun and good food.
When we arrived there, we were greeted by Amit Gupta, AVP. It was fun talking to him and getting an insight about the changes that took place in the restaurant. The restaurant retains its Eastern appearance, and the decor with a semi open kitchen which looks quite laid back and chic. However they have revamped the menu; instead of the regular menu with the names of the dishes and their prices, what they have now is a scientifically designed pictorial menu where one can actually see what their order will look like. While this menu works well for the uninitiated, it also acts as a visual appetizer. However, it makes the chef's work more challenging as the serving needs to look like what has been shown in the menu.
The Asia Seven team has gone to great lengths to make their offering stand apart. They apparently made many visits to the streets in China and elsewhere and did their shopping for the spices. We got a taste of their shopping when  the spices from the markets of east were brought to us. What I remember vividly was a distinct szechwan pepper, a local anesthetic of a spice which leaves a tingling feeling in the mouth for a long time.
We also got a chance to interact with Chef Vineet Manocha and the Head Chef Chow Man. Reputed as a perfectionist, Chef Chow has come all the way from Hong Kong to make the restaurant as authentic as possible. Chef Vineet reminded me of Matt Preston of Masterchef Australia and was very patient with my incessant questions on cooking, and running a restaurant.
Food
The last time we had been to Asia Seven, the experience had been just satisfactory and we were curious to know what actually had changed there. For the next hour or so, the invasion of chicken, fish, prawn, lobsters etc on our table made sure that we would be able to realize and appreciate fully the impact of those changes.
The first to arrive was sushi; I have always been wary of this Japanese dish made of cooked vinegared rice and fish (raw) and had refused to eat in the past.  With the sauce, it tasted good, albeit something which I would eat more for the experience than the taste.
The starters were impressive. The crystal dumplings, we were told were made of starch, were perfectly cooked and tasted delicious. The charcoal grilled lamb, prawn har gow and spicy mee krop were quite good, however what I loved most was a simple dish of Sichuan chicken, which was perfect. From the vegetarian side, the silken tofu stood out with its texture and taste.
Asia Seven has indeed made big leaps in it's menu and it was clear with the array of dishes that came afterwards. We were surprised with an enormous portion of 'lobster cooked in authentic Chinese stock'. Cooked perfectly and dressed impeccably, it was a dish which I can still vividly remember. The braised pork with some sauce and tenderloin were excellent. The photographs may tell you more about the delights I am talking about.
Though I was too full to have any rice or dessert afterwards, from others reactions it was mostly good. Expect to have dished with exotic names like "Fragrant steamed lotus leaf fried rice" or a simpler "Steamed jasmine rice". You can also have a "Jasmine tea flavored Panacotta".
Verdict
Very often, more than just good food, what a restaurant must offer is experience. The folks at Asia Seven were successful in providing an enriching experience of 'Pan-Asian' cuisine, the tagline on which they have positioned themselves. This time, we were quite happy with our dinner, much more than we had been around a year back. If you wish to have a taste of East Asian food in Pune, this place is a good bet.
Information
Highlights: East Asian Cuisine | Dine In | Serves Non Veg | Bar Available
Open Hours: 12 Noon to 4 PM, 7 PM to 11 PM (Mon-Wed), 12 Noon to 11 PM (Thu-Sun)
Address: Amanora Park Town, Hadapsar, Pune 411028.