"Death has become so predictable that I have neither the youthful reverence of it nor the middle-age fear." –Happy Birthday.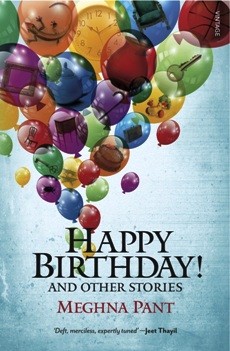 This is one of the quotes from the book "Happy Birthday" by Meghna Pant.  The quote aptly tells you what the novel is all about. It is the sad reality of the times we live in. Most of the stories are based in either Mumbai or in America. The thirteen stories in the book have one theme, and that is the human nature. The nature which is neither truly evil nor truly good. It has shades of grey, rather than being black and white.
She weaves a tale with such intricacies that you are left spell bounded and would not be able to keep the book down till the time you have read the last word. The stories will leave you with a poignant reminder of the world we inhabitant and the people we share it with.
Although the title and the cover may suggest that the book is bubbly and full of happiness. The opposite is more likely. They have sadness in them but I didn't find it depressing as it revealed the true nature of people and also how the times have changed. The stories are believable and morose. They don't have a happy beginning or a happy ending. What they have is trueness, and the reality we choose to ignore.
From the story of a father who doesn't know that his son belong to him or the future father in law or the woman who has everything but still is fed of life. The stories are about the love parents have, the confusion children feel or the way elderly are living. Every one of the story is written with much deftness and are so close to real life that you believe that it can happening real life too.
Happy Birthday is one of the best reads in recent times I have come across. It will give you a message or a question. It might not give you happiness but will give you lots to contemplate upon. Meghna Pant is one of the authors who I love to read after her first book "One and a Half Wife" and she doesn't disappoint with her second one either.
* This is a Guest Review by Cliche Writer
BOOK DETAILS
Publisher
Random House India
Imprint
Vintage Books
Publication Year
2013
ISBN-13
9788184004038
ISBN-10
8184004036
Language
English
Number of Pages
296 Pages