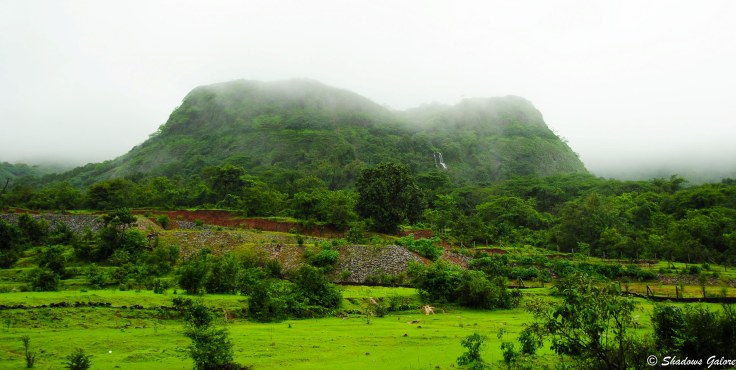 So it was another weekend and we had Ekta's mom and aunty at home.  Since they wished to see someplace good near Pune, we thought of taking them to Tamhini Ghat, which we had thought of going last year but could not.
Our Sunday outings have not been very pleasant due the unruly crowds that throng the picnic spots on holidays, so we decided to try a Saturday. The crowd was definitely less this time but cannot tell for sure if there were any other variables involved. So one rainy Saturday morning, we started.
Tamhini Ghat
Tamhini Ghat is a mountain passage which cuts the Sahyadri range to join Pune and the Konkan region. Located on the crest of the Sahyadris, Tamhini Ghat is famous for its natural beauty with high mountains, green valleys, lakes and waterfalls.
One drawback for anyone going to Tamhini from Magarpatta is that, unlike Varandha Ghat which is accessible via Katraj, the route requires one to make a full round of the Pune city, over to Chandani  Chowk and then to the Ghats. The road is too narrow and though we did not feel it in the morning, while coming back there was a huge traffic jam.
From Chandani chowk we went towards Mulshi Dam and continued on our course. The road was quite bad for a large part of the journey and was almost non-existent at some places. The view started getting increasingly good, with towering mountains crowned with thick clouds and lush greenery all around with just the right amount of mist, to make it look beautiful without obscuring things. At one point we came across a wall like cliff of mountain from which many waterfalls were coming down, making it an incredible sight.
We stopped at a place where a big waterfall happened to be just besides the road, making a lot of noise and looked awesome. Not many people were at this place so we strolled about a little, had a look at the valley below and took photos till it started raining again.
At this point we decided to return as the rain turned heavy. The return was a little difficult as the visibility became very poor with the combination of rain and fog. By the time we reached Lavale, the rain had stopped so we decided to go to Lavasa which is 30 km from there.
Lavasa
Lavasa is a privately managed and planned hill city often labeled as India's newest Hill Station since the British left the shores. After its completion, it will consist of a number of towns spread across seven hills of the Sahyadris. While the ecological impact is a controversial question, the town is nonetheless beautiful.
The road from Lavale to Lavasa is very beautiful and much well maintained than what we had for Tamhini. We passed through stretches of greenery, small villages and then reached the dam from where the ascent to the hill started. The road started getting steeper and was ridiculously vertical at some places, so much so that our humble Indicab started coughing and sputtering. When we reached the gate of Lavasa, the fog was so thick that it looked like late evening during afternoon. It was drizzling slowly and visibility was quite poor. We reached a place from where one can get a great view of the lake below and the township of Lavasa along its banks.
Lavasa is going to be an impressive city when it gets completed. The town hall area and a beautiful promenade along the lake and the colorful houses can be from any beautiful town in Europe. A great place to take photographs and be photographed, it has a number of shops and good restaurants, a refreshing change from the wilderness of the surrounding. Look at the photographs and tell us what you think of Lavasa.
[divider dotted]
Route Map