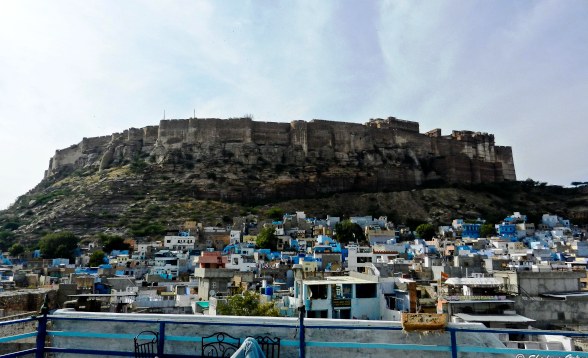 After a day long journey through the ravines of Aravalis and the increasingly arid plains we reached Jodhpur on the evening of 21st February '13. We had booked a room in the Shivam Guest House near the Ghantaghar Market (Clock Tower Market) of old Jodhpur and were quite happy with our choice.  Through the narrow lanes of the old city, one could easily walk in and out of bygone centuries. We spent a lot of time just roaming around in those streets where getting lost looked like the easiest thing to do.
The Clocktower or Ghantaghar is a prominent landmark in the city. However, more important is the market, the Sadar Bazaar which seems to wrap itself around the tower. This bazaar is dusty, crowded, chaotic and at the same time, an explosion of vibrant colors, smells and sounds. This market seems to have somehow retained its haat culture and is a brilliant opportunity to shop, eat and take photographs. And that's precisely what we did, while Ekta indulged in the shopping of colorful handicrafts, bandhej and bandhni, I took photographs.
There was a rooftop restaurant in our guest house giving a splendid view of the Mehrangarh fort which seems to rise on a hillock in an otherwise flat terrain like a mushroom cloud. The fort was bathed in golden lights and looked spectacular. On the other side was the famed clock tower, beautifully illuminated in changing lights. Between these two, one could sit for hours looking at life, as it went on, in the old Jodhpur. Late in the night, I tried my hands at a short time-lapse video of the Clocktower, watch it and let us know if it has come out well.
While Jaipur is known as the Pink City, Jodhpur is called the Blue City. The city got its name from the Brahmins deciding to paint their houses indigo many centuries back, maybe with the thought of maintaining their separate identity or to simply keep their homes cooler under the unforgiving sun of the Thar. However soon the rest of the population followed suit and the color indigo or blue came to be associated with the identity of Jodhpur.  As the sun goes down, it imparts a surreal blueness to the city and the houses seem to glow before the city decides to call it a day …