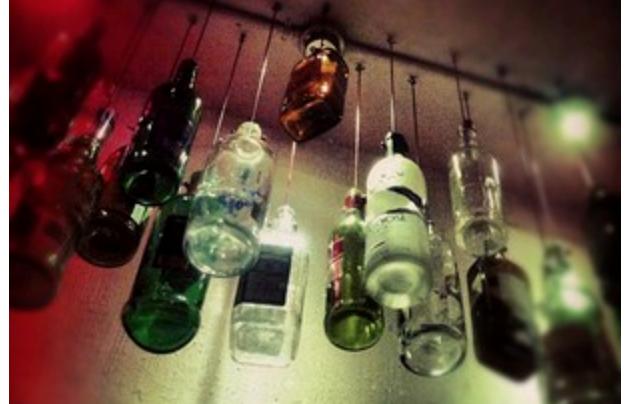 Meeting fellow bloggers is always a pleasure, as one is always happy to meet more of one's own kind. So when we got an invitation from Farrukh for the Bloggers' Evening at Terttulia, there was no missing it. As expected, it turned out to be a good evening where we met some blogger friends, old and new.
Terttulia is a Catalan word which means a friendly get together. This place is located on the South Main Road, Koregaon Park. Reaching the place is straight forward but first timers like us could surely get confused without a bigger sign board.
This Tapas bar is a unique place to hang-out with different seating styles. In terms of ambiance  it almost gets everything right and I agree to others' opinion; that once inside it feels more like a chic Goan shack than a restaurant in up-market Pune. The outdoor sitting is under the tree with a bar by the side, the dim lights and surroundings perfect for an evening with friends. The indoors have two kinds of seating, regular tables and high chairs and a big canopied kindda bed for a big group to hangout. This is the area where the club DJ stands and plays some good numbers to suit the mood. However, the only problem is that sometime the decibels of the music playing make it difficult to make a conversation.
So after exchanging pleasantries with Imrun, the young owner of the place and other bloggers, we all settled down on our seats and were served the welcome drinks. I was particularly tired after a long day in office and a couple of refreshing lime mint martini and orange mojito later, felt more alive. To top it up, we were treated with a live demo on how to prepare those awesome cocktails by the shy bartender Bala. To my surprise, the drinks were pretty simple to make and tasted really good.
Then came the food (yumm..!). Terttulia has a café type of menu, not essentially having a main-course but offers a wide array of different and delicious dishes. For the next one hour we kept getting overwhelmed by platters of Portobello olive feta, Mini quiche spinach n roasted corn, grilled chorizo, fried calamari, Sautee basa, oven baked prawns. In spite of this heavy duty starter, we were shameful enough to order some more starters with even more mushrooms and broccoli. To add to the delicacies we also ordered karari Roti a huge roti very similar to our very own Guajarati khakara, nicely garnished and tasted great. Puru found the pork ribs, as put by him, just heavenly.
By the time our Eatathon ended, we just too full of all kinds of foods and drinks. I was thoroughly satisfied with this evening well spend, and glad to find another great place to Pune where we can be sure of having fun evening.
Information:
Address: 393 Sanas Corner, S Main Rd, Kavadewadi, Koregaon Park, Pune, Maharashtra 411001
Image Courtesy: Farrukh, Terttulia