Oskar is born with the intelligence of an adult. At the age of three, he looks at the world of the adults with contempt and thinks this world is not worth living; he decides to stop growing. Does this sound interesting enough? Read on.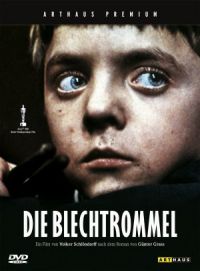 Based on a German novel of the same name, Die Blechtrommel or The Tin Drum is an unusual film. It is the story of Oskar Matzerath (David Bennet), who is to be born with the intelligence of an adult. While still in his mother's womb, he looks at the outside world skeptically and realizes that he is totally willing to go out. Grudgingly and without his consent, he is born without his own will. On his birth, he is promised that he will be given a tin drum as his third birthday present and in anticipation of that, he somehow bears the world for three years and grows up. Finally at his third birthday when he has his drum, he decides that the world of adults is not worth entering into and just stops growing. So he decides that he will remain three all his life and keep beating his drum all the time to drown away the idiotic sounds of the world.
It is through the big blue eyes of Oskar that we watch the story unfold; and the story is incredible enough. Oskar's mother Agnes carries on her discreet affair with her Polish cousin Jan (who is Oskar's real father) while his apparent father, Alfred becomes a Nazi sympathizer. When the war breaks out, Jan gets killed in the German attack on Danzig. Agnes passes away soon after and Alfred marries a teenage girl named Maria who becomes Oskar's first girlfriend and the mother of his child. Oskar is saddened to see that despite his reservations, the child keeps growing and shows the intent of becoming an adult. He joins the Nazi army as an entertainer along with a band of midgets. The movie ends with the Soviet occupation of Germany, the death of Alfred and for reasons best known to him, Oskar's decision to resume growing again.
One hell of a plot, isn't it? The first scene in which I first sat up and took note has Oskar sitting there in his mother's womb with a big frown on his face. It is apparent that he is not very happy with the state of affairs and given his way, would have never came out in the world. I have never seen anything this bizarre in many films. As NY Times put it, this film is a well-ordered chaos, a serious adaptation of a gargantuan novel.
David Bennet, in the role of Oskar, is the heart and soul of this film. With his big expressive eyes and perpetual adult frown, he has lived the role as it should have been. I got to know that he was 12 when the shooting for this film started, and went on to play the role of a 3-year-old toddler. I  doubt that it could have been done better. The other characters have their day under the sun and noteworthy are Agnes and the Nazi midget couple.
The film is so eccentric, bordering to insane, that it may not go well with everyone. The director apparently never wanted it to provide entertainment. However, as a piece of art, this is a masterpiece. Even though the film is about a small child, its canvas is huge. Though its commotion, there is plenty of symbolism in all its subtlety and the director forces you to go through varied emotions without you even knowing it; leave alone, becoming a willing accomplice. The Tin Drum comes crashing on you like a flood of lights, sounds and shadows and washes you away. Long after you are ashore, all you can remember is a pair of big, expressive eyes filled with surprise .. and contempt.
| | |
| --- | --- |
| Name | The Tin Drum (Die Blechtrommel) |
| Language | German |
| Year of Release | 1979 |
| Director | Volker Schlöndorff |
| Cast | |
| Alfred Matzerath | Mario Adorf |
| Agnes Matzerath | Angela Winkler |
| Oskar Matzerath | David Bennent |
| Maria Matzerath | Katharina Thalbach |
| Jan Bronski | Daniel Olbrychski |
| | |