Bird watching is something most boys and men like to do. But it will definitely raise a few eyebrows if one were to put that down as a hobby in one's profile. Well I happen to put it down as one of my hobbies for the birds I like to watch are the ones belonging to the avian kind. Though I have always liked to watch birds casually, I was introduced to more serious bird watching on a trip to a place called Devarayanadurga. We identified 40 species of birds and I was a definite convert. From then I usually try to carry my binoculars and Dr. Salim Ali's book of Indian birds whenever I go on a vacation and try to identify bird species.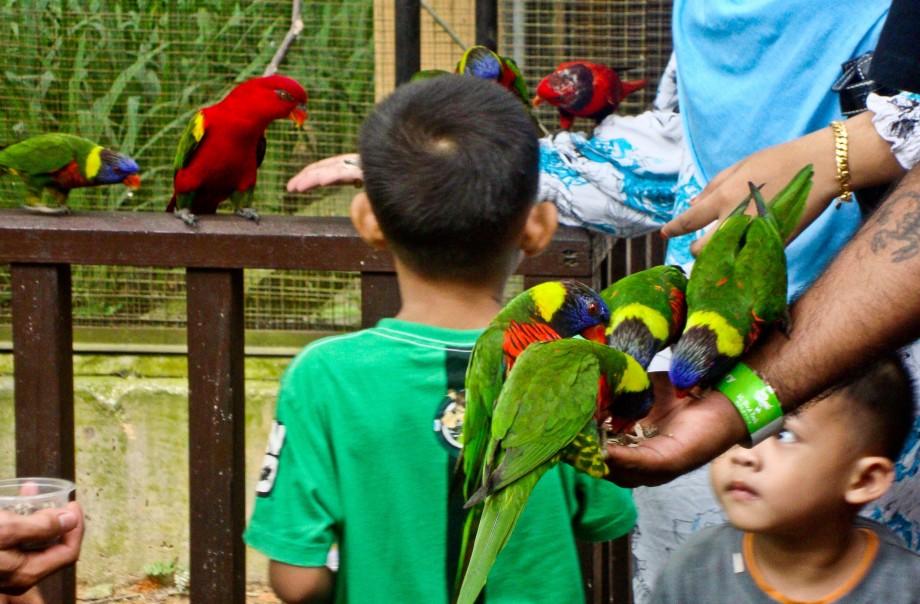 Usually it is a tough task to identify birds in the wild as one gets only fleeting sightings of the bird. With my amateur camera, I can't even imagine capturing pictures. All I can do is to trust my memory and try to identify from the book. Compared to seeing birds in the wild, things seem too easy in the zoo and somehow it does not feel real. Also what good are photos of birds inside a cage? The bird park in Kuala Lumpur was one place that provided a best of both worlds. The birds are enclosed within the limited auspices of the park covered with lush rain forests. But still it is not a cage. There is sufficient space for the birds to fly around freely. And the best part is we are inside with the birds. So it is easy to observe the birds from real close quarters.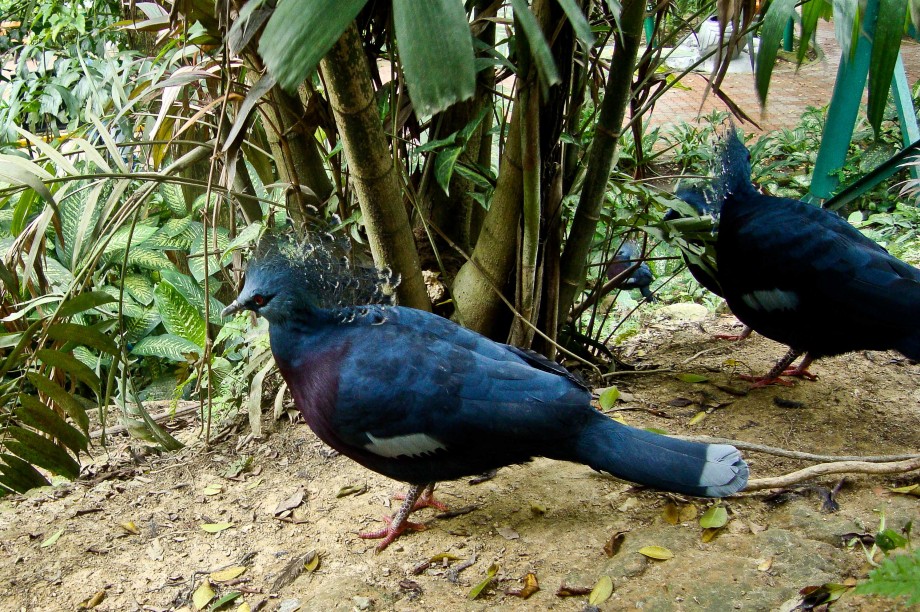 We took the hop on hop off bus from our hotel and reached the park by around 11.00 am. There were an orchid park, a butterfly park and the bird park very close to each other. We had only 7 hours as all the parks closed by 6.00 pm. So we decided to skip the butterfly park and see only the other two. We decided to spend half an hour in the orchid park and the rest of the time in the bird park.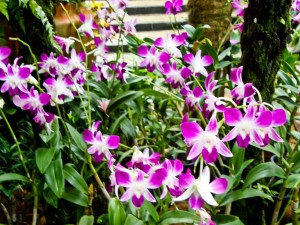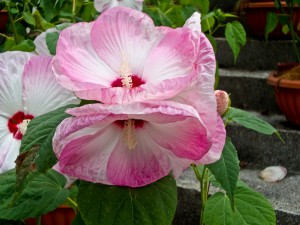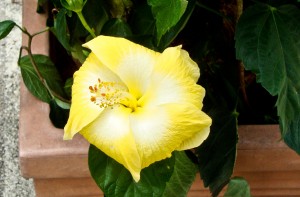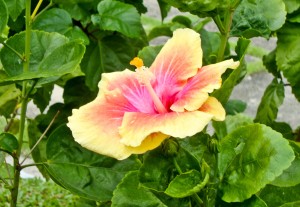 The orchid park had some really amazing species of hibiscus in various colors and orchids. We managed to spot a few butterflies also there. Once could also buy Orchid plants to take home. I was reluctant to buy though, because I was not sure of the customs regulations on import of plants.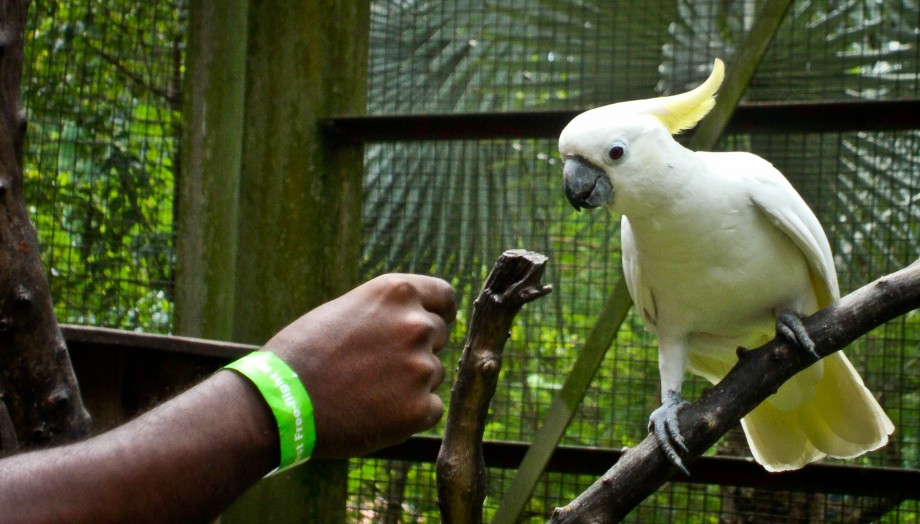 Then we moved on to the bird park. The brochures looked real exciting with schedules of eagle feeding, Lorie feeding, hornbills feeding, stork feeding etc. I was wondering what these Lories were going to be. The lorry I knew was a term for a huge truck usually meant to carry garbage: definitely not something you want to see inside a bird park. These lories turned to be beautiful parrots. For two Ringets, we could buy seeds and the birds came and ate them from our hands. They were very tame and not at all scared of humans. As I was watching a few other guests feeding the lories, my wife called out to me. I turned and saw a beautiful parrot sitting nicely on my wife's head with wings outstretched. I thought she wanted me to take a photo and I grabbed my camera. Before I could take a snap she had shooed it away. Apparently she had been scared and had called me to shoo the bird away and not for taking a photo. But I felt I had missed a snap of a life time.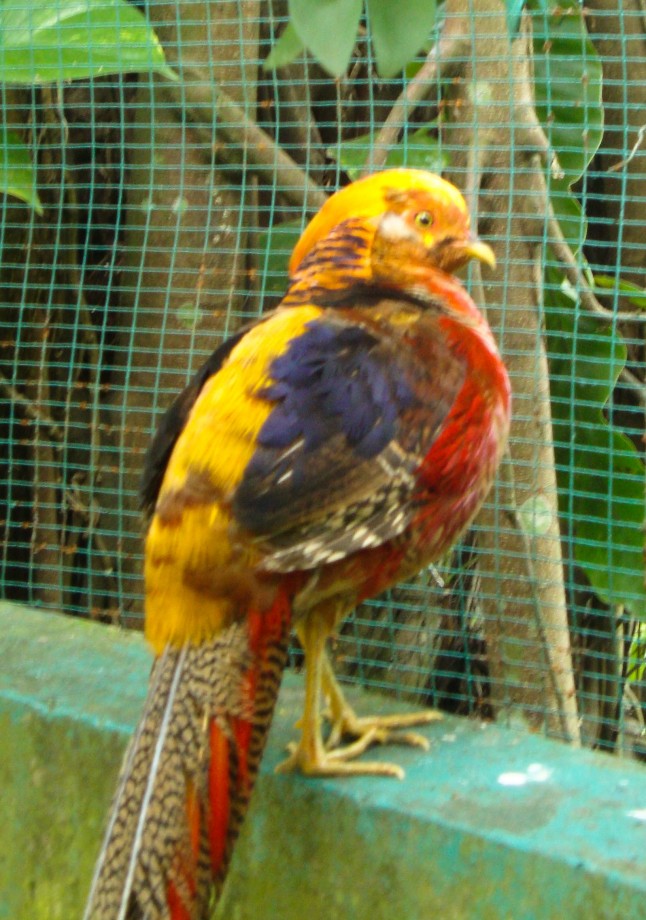 If I were to start listing the birds we saw, one blog post won't be enough. There were hundreds of species of birds. Many of them were real exotic species I had never seen before. I can't even remember what all species we saw. They had 4-5 zones separated from each other housing different kinds of birds. Most birds were flying free within the zones and it was a delight sitting and watching them in all their finery. The carnivorous birds such as owls were of course kept in cages. Possibly they were dangerous to some of the other expensive birds. The bigger ones such as cassowary, emu and ostrich were probably dangerous to humans as well. One of the birds I really loved was the scarlet heron. I was just enchanted by the pure scarlet color. But unfortunately my hands shook and I could not get a good picture. I also like the flamingoes a lot. It reminded me of the croquet game in Alice in wonderland where a flamingo is used as a mallet.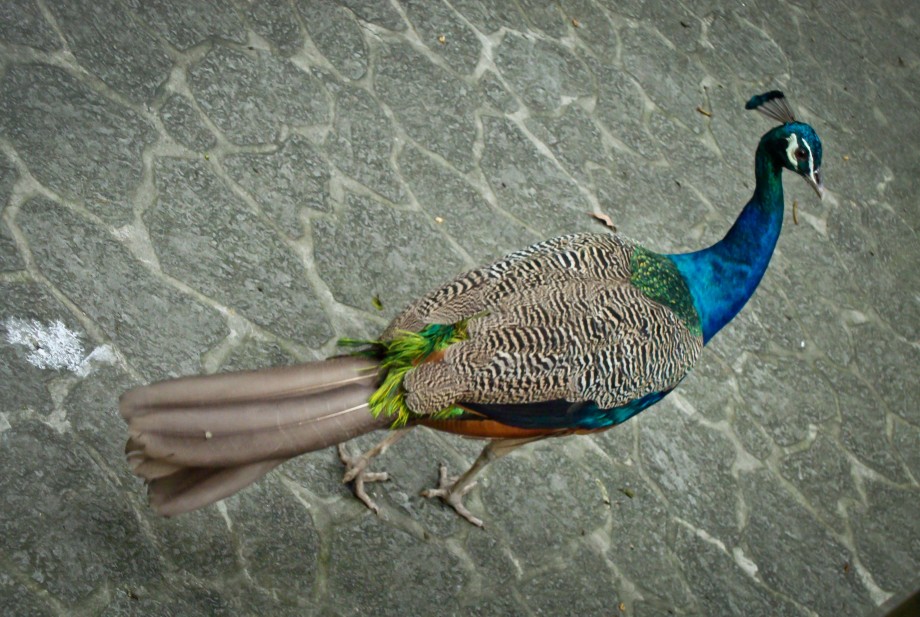 I have still reserved the best part of the trip for the last – the bird show. We went early and sat down to get a better view. Soon the whole place was filled with school kids. A plain looking Malaysian woman in khaki came up on stage. I would not have given her a second look if I had met her on the streets. But once she started speaking, it was a different story. Most of the performance was done by a couple of macaws. And there were a few minor tricks involving a pelican and a kite. The birds were of course very beautiful. But there was nothing exception in what the macaws did as such. I have seen better performances in circuses. What made the difference was the lady's commentary. Her voice was filled with so much passion that the whole show looked 3-4 times more interesting than it actually was. The children just literally ran amuck in their excitement. Actually the content of her commentary was also not anything out of the way, but it was the passion in her voice that made the difference. She must be doing the same thing twice every day. I wondered how she managed to maintain so much passion.
Soon it was 6.00 pm and we went and got on to the hop on bus, satisfied at having had full value for our 45 Ringets.
==
A Guest Post by a management consultant from Bangalore who blogs under the pseudonym 'The Fool'. Interested in trekking and bird watching. Writes fiction, poetry, analysis & musings, book & blog reviews and humorous/philosophical narrations of personal experiences. Check his beautiful blog here.