From Anuradhapura we proceeded towards our last destination before we went back to Kandy, Dambulla. But before that, we needed to eat something. So Suresh took us to the new Anuradhapura town where we had a great lunch. During the chit-chat, he said that the city hospital here remained busy throughout the year when the war was going on, but now everyone was in peace. So much for this peace!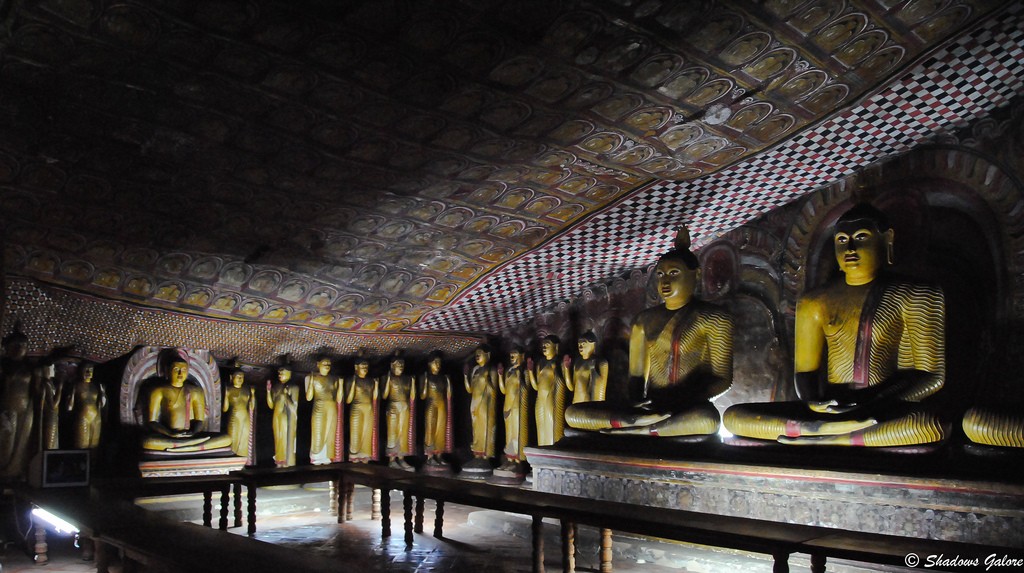 Anyway, after the delicious lunch, we started for Dambulla. As usual, I spent the time dozing off and woke up only when we reached the place. Here we got to know that the Dambulla caves were not included in our circular ticket of the Cultural Triangle and we had to shell another LKR 1200 each for the visit.
Dambulla is a giant rock going to a height of more than 160 feet. It is said that King Walagamba took refuge here in 1st century BC for 14 years and when he got back his capital Anuradhapura, helped build the first cave temple here. With time there were additions in the 11th, 12th and 18th centuries and now there are 5 rock cave temples at the site housing numerous statues of Buddha and several small stupas.
One by one we went through the caves. In the first cave, there was a large statue of Buddha in reclining position with both legs one over another denoting death. In another one, the legs were apart and eyes were half open denoting slumber. There we stupas said to be containing the ashes of monks and statues of kings, yakshas and other gods not to forget the beautiful wall paintings from the bygone era. It was a different world inside.
Outside there were small ponds in which water lilies and lotus galore. Took photographs of one lotus, said to be the favourite of Lord Buddha. Here we came across a strange phenomenon. The caves were built at different times from each other. The cave temple built in the 18th century was in a state of disrepair with paint peeling off the walls and painting disfigured, it looked much older than the cave which was built in the 1 Century BC and had its colour as bright as they may have been 2000 years back. Was wondering who was technically superior, the Industrial age experts or those unknown craftsmen of the distant past…
There is something with corridors which attracts me. Loved the long corridor and the external structure of the caves. It was built in a style unknown to me but the long corridors and their slightly mystical appearance looked so charming.
After spending a lot of time at the top, we came down. By this time we were very tired and the only wish we had was to get back to our hotel in Kandy and crash in the bed.
At the bottom of the Dambulla rock is the Golden Temple made of bright colours with a Golden Buddha sitting atop. The temple was bright and looked good but somehow I was not impressed, maybe because of the build quality or maybe because it looked so out of place in the serene surroundings, almost gaudy. Anyway, visited this also and got done with it.
With Dambulla, it was time to sign off and say Good Bye to the Cultural Triangle of Sri Lanka. In just 3 days we visited 5 different cities and 5 different UNESCO World Heritage Site. It gave us a wonderful insight in the cultural and heritage of our neighbor Island Nation about which our awareness is woefully less. More than anything, I was amazed by the friendliness and hospitality of the people of Sri Lanka. Everywhere we went, we were welcomed with smiles and politeness. If you are a Sri Lankan reading this post, let me conclude by saying a big Thank You. Cheers!!
————