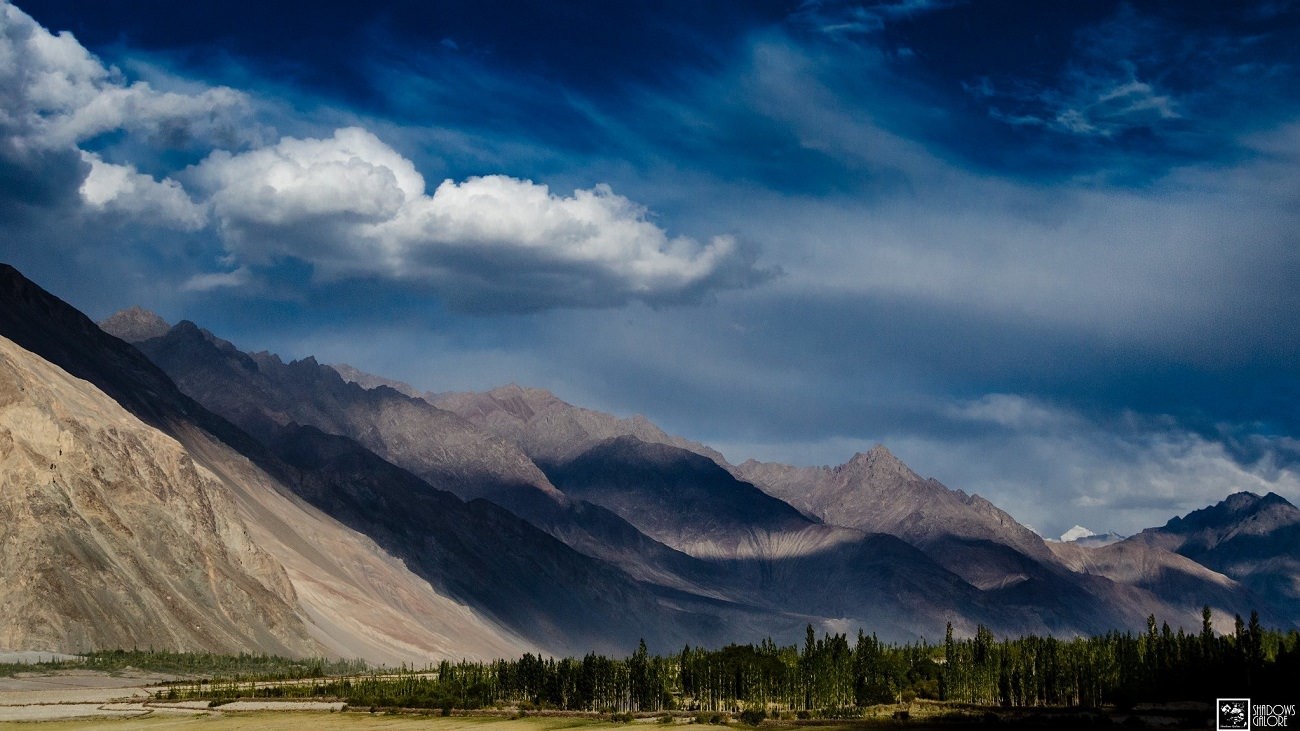 "In any place where they fight, a man who knows how to drill men can always be a King. We shall go to those parts and say to any King we find — "D'you want to vanquish your foes?' and we will show him how to drill men; for that we know better than anything else. Then we will subvert that King and seize his Throne and establish a Dynasty."
– Daniel Dravot, The Man Who Would Be King
Don't get me wrong, for I had no dreams of staging a coup and carving out a kingdom for us when we went to Turtuk. However, as we rode along the river Shyok in the rocky wilderness, it was hard to put a finger on why I was reminded of the adventures of Peachy and Danny from the 1970s classic. The road to Turtuk itself was a foray into a world hitherto unknown to us, and to most Indians, a peek a boo into a civilization that is so different from ours, so exotic, and so rich!
This trip was not even part of our initial itinerary. In fact, we hardly knew that a place called Turtuk existed, let alone realise who awesome it is, and decided to visit only after our travel agent nudged us a little about it. As it turned out, I ended up visiting this place twice in a matter of two weeks and loved every moment of it. Read on…
Who Are The Balti People?
The Balti people are an ethnic group of the Tibetan stock with a pinch of Dardic blood who inhabit one of the remotest regions in the Indian Subcontinent, Gilgit-Baltistan. They speak Balti, a sister language of Ladakhi and follow the Shia school of Islam with elements of Sufism, Bon and Tibetan Buddhism intermingled in their traditions.
The Balti people are sturdy and the mountains give them a rare physical vigour and beauty that is usually gone from us city folks. Their most charming feature is an open smile that is found in plenty and comes without strings attached. Their friendliness and generosity are enough to warm the hearts of the visitors.
Nature's blessings have made Turtuk an oasis of green in the middle of a barren landscape and the villagers make the best use of the resources at hand. They grow barley and buckwheat and rear yaks and sheep as the main livestock. Turtuk is also famous for its walnuts and apricots, precious commodities that they take special pride in,
The most loved sport of Turtuk is Polo, played in the old polo grounds since time immemorial. In fact, our friend Khan Saheb used to be an ardent polo player himself!
At the fag end of the 1971 war, dispatch of the Indian army under the legendary Col Chewang Rinchin made a bold attempt to capture some strategic areas to safeguard Siachin and Ladakh and ended up bringing 804 sq km of land in the Indian control.
Fed on propaganda about the viciousness of the Indian soldiers, the women and children of the village were hiding in a nullah nearby. Soon after consolidating his position, Col Rinchen made it a point to allay the fear of the residents, assuring them that no harm will befall on the village under his command. He made sure that essential supplies were provided to the villagers until formal arrangements were made and took good care of their safety.
From an account by Claude Arpi, a French Journalist, Col Rinchen addressed the villagers of Turtuk, "We welcome you again to the Indian nation after 23 years. Bring back your womenfolk and children. They are like our mothers and sisters. I will be responsible for their safety, if there is any misbehaviour on the part of any soldier or civilian who has come with us, I shall take disciplinary action against the person who misbehaves. I want you all to settle down as free citizens of India where people of different religions live and work together in peace and harmony,"
The army kept its promise, evident even today.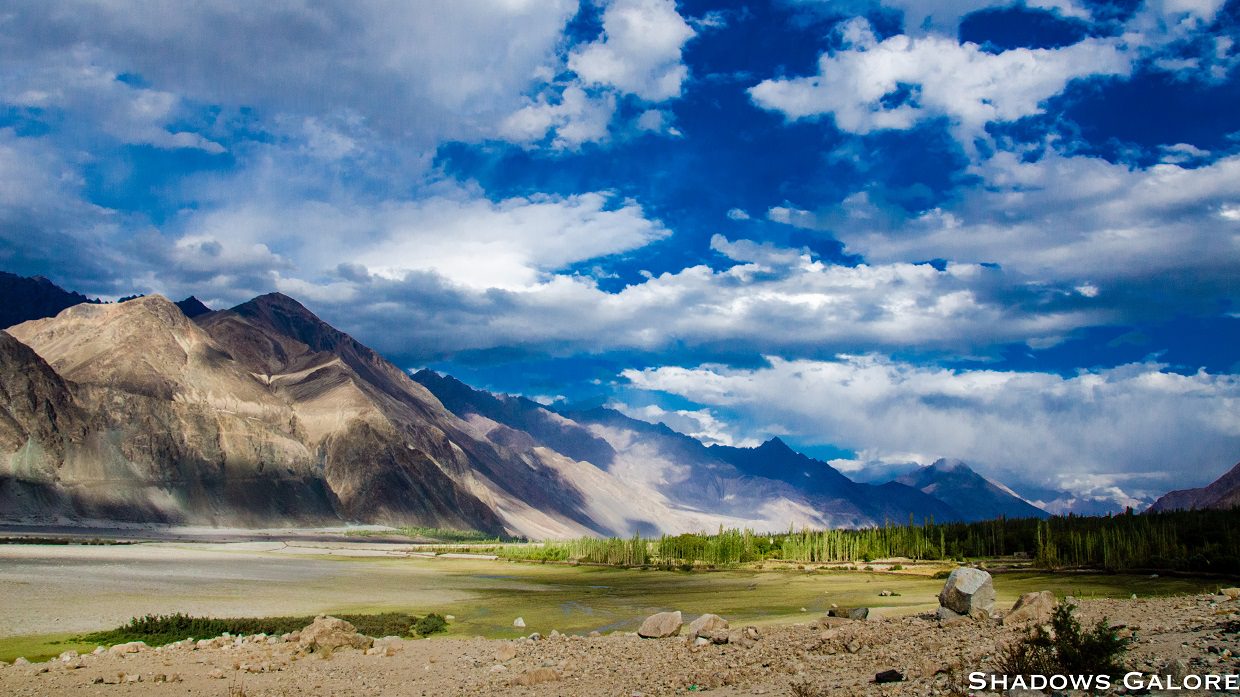 The region between Nubra valley and Turtuk feels like a rocky desert stretching between two Oasis. One gets acutely aware of the remoteness of the region during the drive from Hudner to Turtuk. There are hardly any villages on the way and traffic is thin. For most of the time, there is just a rocky landscape for company, with a brief but welcomed interjections by Shyok. The military build-up in the area is palpable and we passed through countless bunkers and artillery positions as if those were the most common things that we see in everyday life.
As we approached Turtuk, Khan Saheb pointed out towards remnants of walls and fortified positions upon the mountains. These were Pakistani positions during the war and as we passed those, we were actually crossing what once used to be the Line of Control and into a territory that was held by Pakistan till 1971.
Apart from Turtuk, at least three other Balti villages came under the Indian influence – Tyakshi, Chalunkha and Dhotang. We could see Chalunkha at a distance, an orchard of walnut trees in sharp contrast to the barrenness around. 
But how many men have been where we've been.. … and seen what we've seen?
Turtuk is inhabited on two sides of a mountain stream, joined by a rope bridge that can carry only men and beasts. As such all the vehicles coming to the village, be it two or four-wheelers, have to be parked near a small parking lot next to the bridge. While the village is on the other side, accessible by a flight of stairs, this side has the King's palace, an ancient mosque and a couple of cafeterias.
We decided to see the village first and after clicking a few customary photographs at the bridge, went up the stairs to be greeted by a sign welcoming us to the heritage village. In front of us were green fields, some pretty houses made of stones and the equally pretty Turtuk beyond, sprawled in the shadows of mighty mountains.
A walk through the narrow lanes of Turtuk is like stepping back in time when life used to be simpler and free of those gadgets and vehicles that clutter our daily lives. A maze of stone-paved pathways, only wide enough to let two persons cross with a smile and a nod without actually brushing with each other, passes through quiet stone houses that seem to have been there forever. While there have been new constructions in the village, many of the structures seem frozen in antiquity. This delicious exotic time warp is difficult to explain in words.
There are many places of interest to see in the village, most notably the mosque, a palace, a Buddhist monastery, polo ground, a natural freezer that the villagers use to store food, a Balti Heritage house, a watermill and sprawling fields which bloomed with white buckwheat flowers when we visited there. Apricots and Walnut trees are commonplace in the village and a woman gave us some fresh walnuts that she had plucked from a tree in her garden. Since Khan Saheb was a local, we had an added advantage with the people who are very friendly anyway. It was a great experience learning about their lives.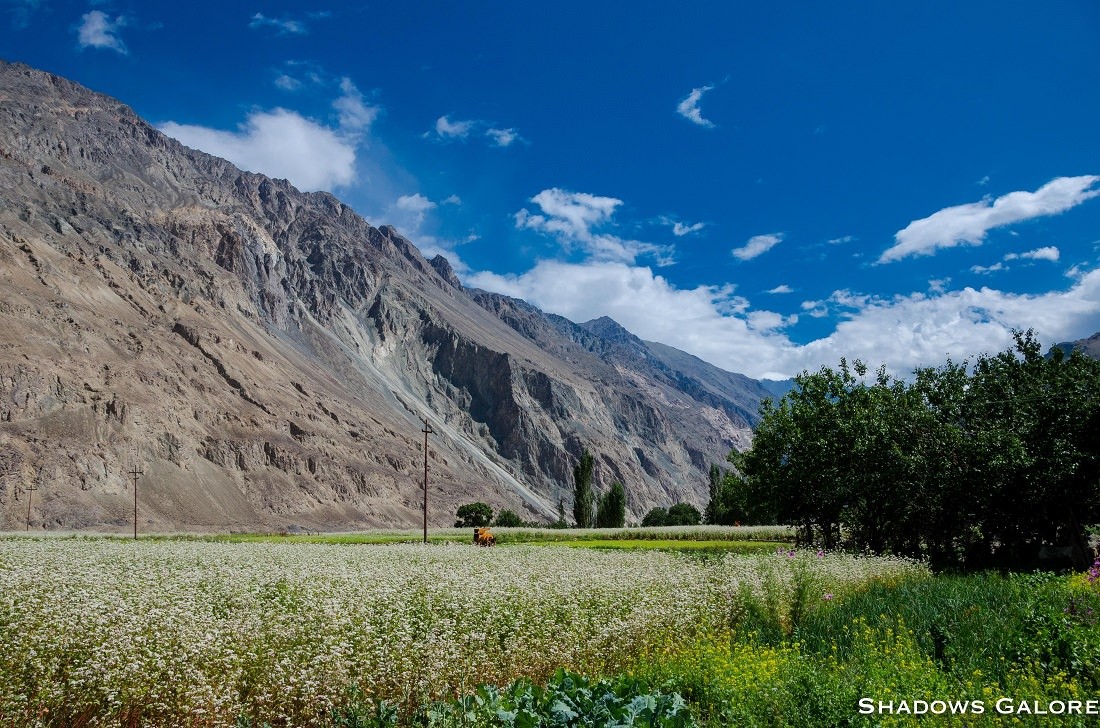 The Balti Heritage House deep inside the village is a precious museum of the slowly fading Balti way of life and is doing a great job in giving us a peek into how it would be to live in a traditional household. The two-storied house is made of wood and stone and is at least 200 years old.  The family that owns this house still lives here and the owner Mr Mohd. Ali Mansoor saheb was kind enough to show us around. When you visit Turtuk, do try to visit the museum and support it financially by purchasing a ticket. This heritage is too precious to be allowed to be lost.
A People Divided By Borders
The schism of 1971 brought a lot of challenges for the people of Turtuk. Families were split and those who were studying or working in other areas of Pakistan were left stranded on the other side of the LOC.
At the local blacksmith, we learned about someone who had come to visit his brother from Pakistan after trying for many years. It was almost time for him to go back but he did not want to. Unfortunately, there was no other option and some goodbyes, however sad they are, are mandatory.
Some wounds take generations to heal and that is the case with some of the people here as well. Visiting one's relative means going through a tedious visa process, travelling to Islamabad and then to Delhi, Leh and from there to Turtuk; when in reality, they live just a few miles apart. I hope the governments take a more pragmatic view and make life easier for those who want to see their loved ones once again.
While Turtuk is predominantly a Muslim village, it has an ancient monastery which was renovated by the Ladakh Scouts and is now maintained by the army and villagers. A trail goes via the Old Polo Ground through the woods and towards a small hill on which the monastery is located. We were able to catch sight of many varieties of birds on our way and even encountered a giant Yak, which was fortunately on the other side of a wall and decided to ignore us. 
The path through the monastery is by another flight of hundred-odd steps and it can be taxing on the lungs if you are not at a reasonably good fitness level. There was no one in the monastery when we reached there and we just stayed long enough to catch our breaths and look at the surrounding. The view of the Shyok valley and the Karakorams is breathtakingly beautiful. Those dark mountains that you see in the photograph above are in Pakistan. 
A view of the Shyok Valley and the Karakoram from the monastery. 
A Fulfilling Lunch At The Balti Kitchen
All the walking and hiking had made us very hungry so we decided to stop at the Balti Kitchen located in the middle of the village and fill our bellies. This beautiful restaurant run by a local family not only serves delicious Balti meals but also sells dry fruits, honey and other herbs that you may want to carry home with you. 
We tried khisir, a kind of pancake made from buckwheat and dipped in the accompaniment of curd and walnut paste. I have forgotten the name of the curry that we ordered along with it but it was equally yummy. Another must-try in Turtuk! 
An Interview With The King
The Yabgo Palace on the other side of the stream was our last pitstop in Turtuk before calling it a day. The palace was built by a chieftain of the Balti-Yabgo sometime in the 16th century and had been the seat of the minor kings of Turtuk since then. A modest establishment, the palace showcases the history of the Yabgo kingdom. 
At the palace, we had the privilege of talking to Yagbo Mohd Khan Acho, the current King of Turtuk, who gave us a good insight about their history, way of life and current status. He had to fight a prolonged court battled to recover the palace which the Pakistani army had captured and they practically ruined it when they finally left. For some weird reasons, we did not take many photographs of the palace except the grapes that were hanging from vines on the terrace of the palace. Maybe, we were very tired. 
As I sit here on my desk, writing about Turtuk and thinking about that place, it feels almost surreal that such a place exists for real in today's world. This quaint little village on a far-flung corner of India makes one questions one's life-choices. Life for the people of Turtuk is not easy, away from urban amenities and sandwiched between two neighbours at loggerheads. Yet, they smile when they see you and talk in the softest, kindest of way. In pursuit of happiness, they seem to be way ahead from us. I just hope that they manage to preserve their culture and heritage and do not lose their unique identity to rapid globalization. 
Somehow, I feel there is another trip of Turtuk that we need to make, more because we lost all our video footage in a freak accident. Maybe someday…
Leh
Diskit
Durbuk
Skuru
Bogdang
Turtuk
Hope this post inspires you to visit Turtuk. 
Do respect the local traditions, wear appropriate clothing and take permission before taking photographs of people, especially women and children.