Err, no. Triple Temptation is not something that you will find in travel guides for this region. We just coined this term for three beautiful beaches that we visited – Harnai, Murud and Anjarle. A few days back, my childhood friend Butool and I were brooding over a getaway to some beautiful retreat in Konkan and zeroed onto these beaches near Dapoli after much deliberation and arguments. These places are relatively nearer to Pune and not very difficult to reach.
The Trip
We started early on Saturday, woke up at 4 am and were on the road before the clock turned 5. We had hired a cab for the trip so there was no tension of driving. It took us nearly 6 hours to reach Dapoli (blame that on frequent tea breaks and incredibly bad roads) and we were at our resort by 11:30 am.
By 2:00 pm, we were well fed and snoring. We slept till well into the evening and woke up to realise that the first day of our trip was already done and we were yet to start at all. With just enough light to take the final shots for the day, we ran out and did some exploration of the surroundings. Later in the evening, we drove to the Murud beach and had some sweet corn (as consolation). By 7:30 pm most of the shops started downing shutters and we had no option but to go back, get drunk and sleep.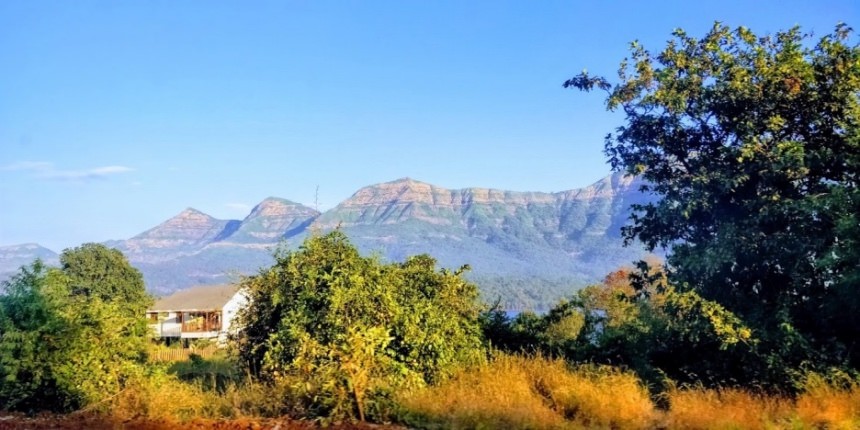 We woke up very early in the morning and headed straight to the Anjarle beach. Some Yoga at the beach was mandatory so we complied with the fad before getting tired quickly and heading back to the resort for breakfast. It was going to be a long day and we even had to make up for the time lost to laziness the day before.
Miles to go, before we sleep (again)…
Anjarle
We stayed on the fringes of the Harnai village on a lavish property called Kaular Athaang and our balcony had an amazing view of the Anjarle beach. We could see the confluence of a rivulet with the sea at some distance. The stream was almost dry when we arrived but filled up dramatically with the high tide by the evening.
We took a ferry (40 rupees only) to get across to the beach. It was devoid of any human presence (thank heavens for that) and we had the whole beach to ourselves. The sand is very loose and our feet kept sinking in it, making it very difficult to walk. There were a lot of birds feeding on fish and crabs. Do not expect any photographs as they kept running from here to there and were difficult to capture on mobile phone cameras. Though the waves were not massive, we had a fun time playing in the water.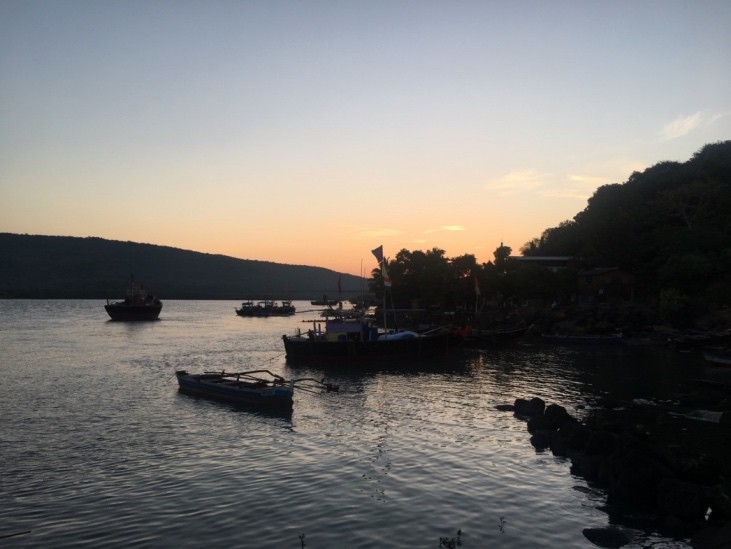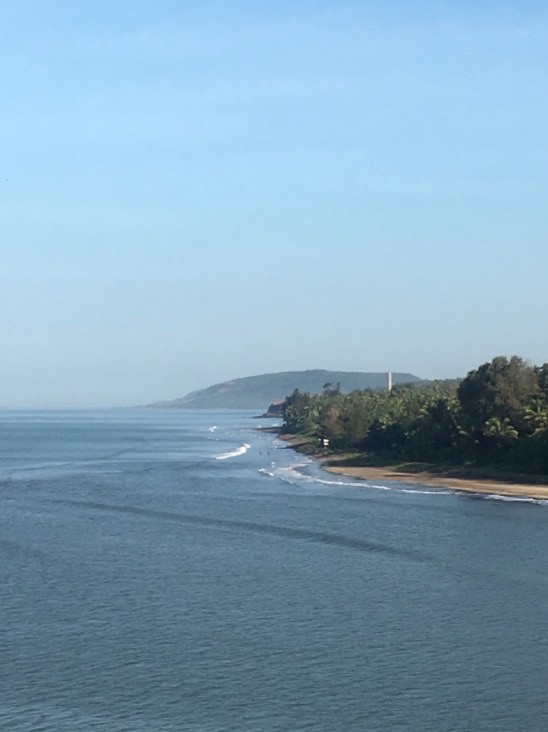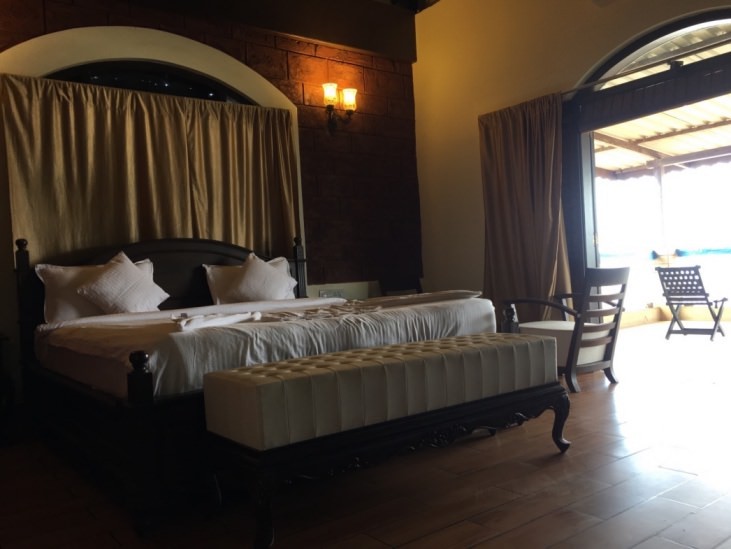 Murud
The Murud beach is the most serene amongst the three that we visited. It is also the most popular among the tourists and had lots of people. Though we visited the beach twice, our timings were not quite right. At night, it looked a beautiful shade of white under the moonlight but there was nothing to do there as everything shut down a bit early. The sweet corns were delicious though!
The next afternoon when we visited the place again, the sun was too harsh! Though the views made up for it, we wished we would have gone there earlier. The beach is quite long and one can enjoy high waves. It also has some water sports, hawkers selling food items and if nothing else then a leisurely stroll is always a pleasure.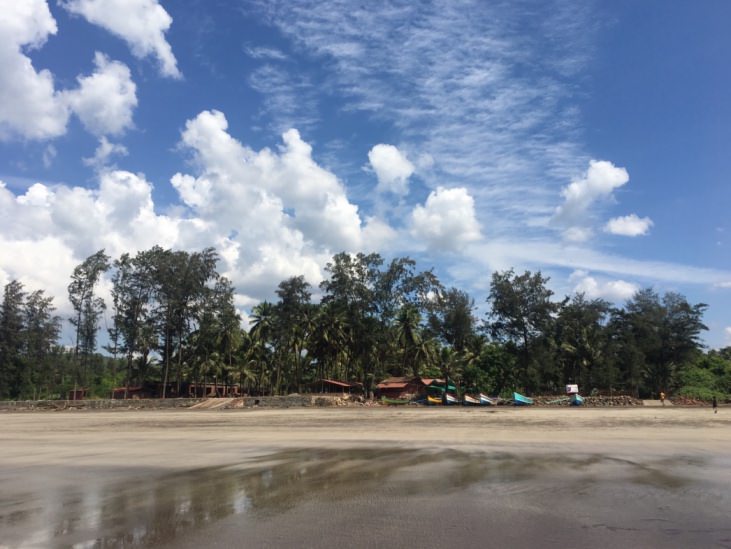 Harnai
When your school teacher complained of the class resembling a fish market, she was actually talking about Harnai. This beach is actually a big fish market. The fishermen bring their catch ashore twice a day – mornings at 8 am and evenings at 4 pm and the hustle starts. Big boats transfer the crates to small boats that are then brought to the beach and auctioned. The big fish can command very high prices at these auctions; we were told that the prices can go as high as a couple of lakhs in some cases. Smaller fish and other products of the sea – pomfret, surmai, prawns, eel and others are sold at wholesale rates. The crates are then packaged, packed with ice and sent to all parts of Maharashtra and nearby states. We decided to buy some dry fish to bring home and brought a bagful for just 20 bucks after some haggling.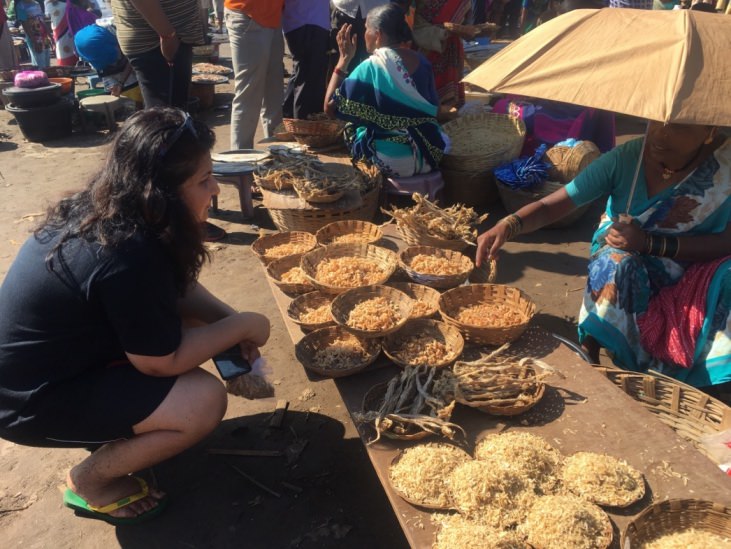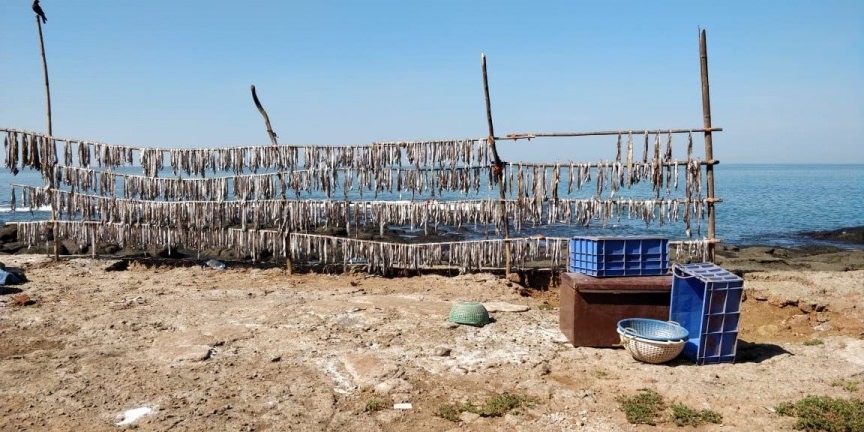 The most picturesque part of the trip was the top view of the Harnai village. Located near clear blue waters, the village has closely packed huts with thatched roofs and serpentine lanes, all visible prettily from a hillock next to it. There were a mosque and a temple in close proximity, underlining the peaceful coexistence that these communities live in. This was the parting shot that we captured before bidding adieu to Konkan, with a promise to be back again soon.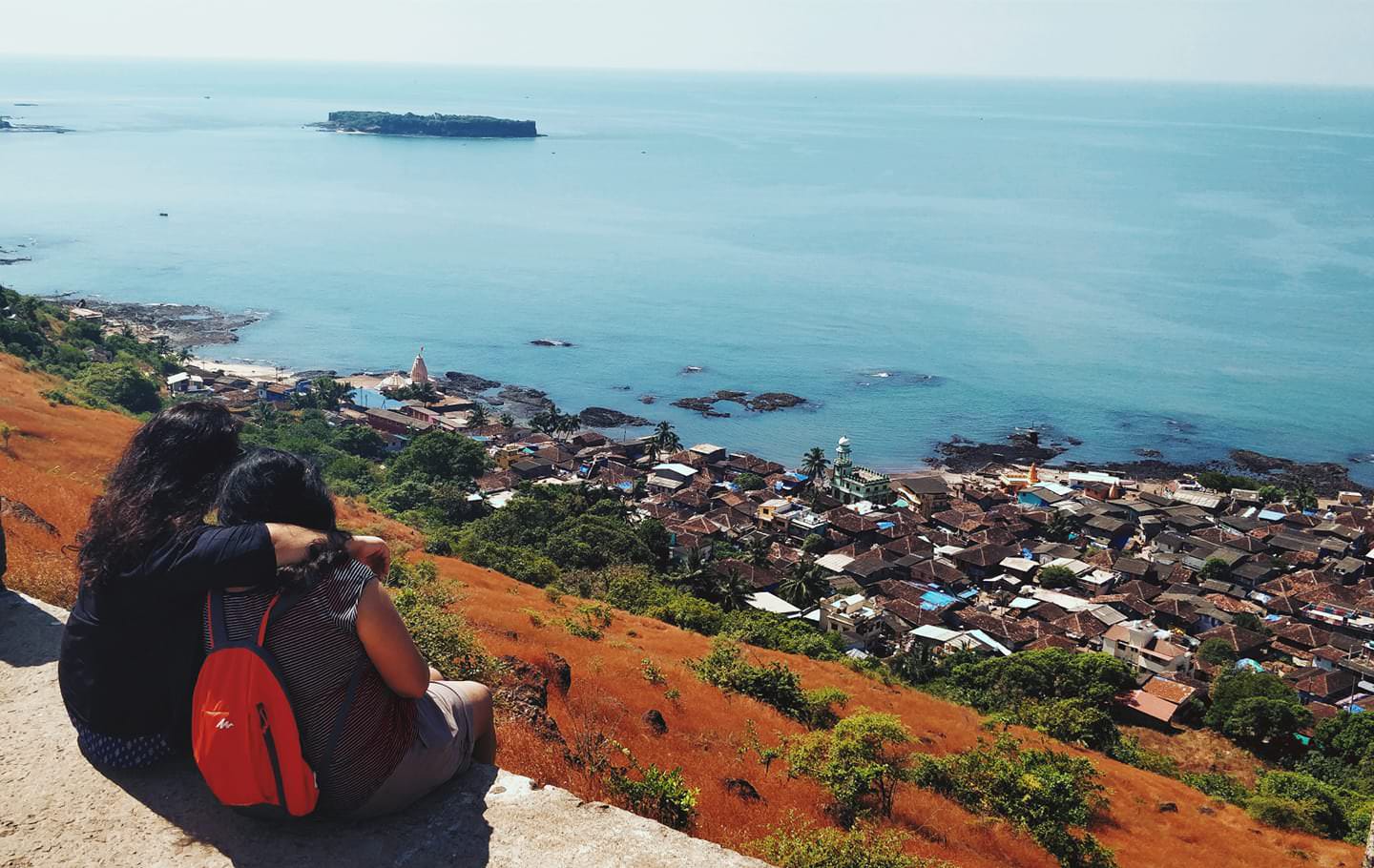 The Video
A picture is worth a thousand words, and a video is even more interesting. We compiled a short and sweet video of this trip to the Triple Temptation and hope you will like it. Do show some love!