We stayed in Ubud for three days and wished that we had  stayed more, for this beautiful town opens up to you in the form of a beautiful lotus. The more you explore, the more it astonishes you.
Ubud darshan started with food (what else?). We were already famished by the time we threw down our bags. Instead of eating at the guest house, we thought of exploring a little and found a good restaurant by the side of a cliff and paddy fields. I had ordered a crispy roasted duck and they took the word crispy very seriously, it was the crispest thing next to a Lays chips that I have eaten, and tasted yummy. A full stomach enabled us to appreciate the beauty of the town better.
High Priest Rsi Markendya arrived in Bali from Java and meditated at the confluence of two rivers and founded the Gunung Lebah Temple. The town that developed around the site soon gained prominence as a town of physicians (Ubad = Medicine). In the coming centuries, as the Islamisation of Java forced the aristocrats, priests and artisans towards Bali, many temples and monasteries were established.
An important turning point came after the 1930s, with the coming of acclaimed artists like Walter Spies and Rudolf Bonnet . Some of the greatest artists of Bali gathered in Ubud and it saw a revolution of sort which catapulted the town as the soul of the Balinese art and culture. Artists like Tjokorda Gde Agung Sukawati and the Dutch painter Arie Smit, who arrived in the 1960s, add much to the glory of this town.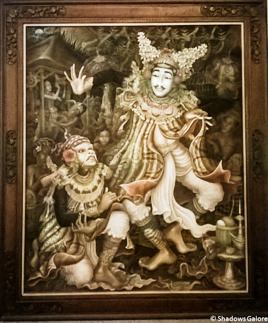 Balinese Art at Museum Puri Lukisan
Ubud is famous for its museums and art galleries, so we decided to visit one and came to Museum Puri Lukisan. Located on Jalan Raya Ubud, it is the first museum of the town and dedicated to modern Balinese art. As we entered the gates, it felt as if we entered an oasis of calm, far away from the noise of the street. Even the mercury seemed to drop by a few degrees with its lotus ponds and fountains.
Established in 1956 , the museum was founded to preserve and exhibit modern-traditional Balinese art and has one of the finest collection of paintings and wood carvings of the Balinese Modernist era (1930s – 1942).  It has a collection of paintings by Rudolf Bonnet and Tjokorda Gde Agung Sukawati and a walk through its galleries make one realise why is Bali so famous for its art.
The museum is equipped with a restaurant, souvenir shop and a Wood carving workshop where you can learn some of the art by paying IDR 450,000. Interestingly there is a new gallery dedicated to the art of Marketing. It was a good familiar feeling to see Kotler's book showcased as an artefact.
The paintings depict the life in Ubud and stories from old epics like Ramayana and Mahabharata. They details are striking and so is the choice of colours and saturation, a distinct blend of South and East Asian art. The more you look the more you seem to find.
It was an afternoon well spent. We loitered around like two kids who have suddenly been transported to Narnia. When tired, we sat at the pond watching the colourful fish while a gamelan musician played his wooden instrument somewhere.

Balinese Dance at the Ubud Palace
After the crispy roasted duck induced late afternoon sleep, we woke up after the sun had gone down in the west. Since not much was to be done in terms of sight-seeing, we decided to go and watch Balinese Dance at the Ubud Palace, which was quite near to our guest-house. As you walk towards the palace during the evening, there are several boys who stand on the pavements selling ticket for the dance program. It is important to make sure you check their ID and buy the right ticket. Also, even though the program starts at 7:30 PM, it is better to reach early if one wants to get good seats. We were a little late in reaching there and all chairs in the front had filled up. Fortunately there were carpets on the floor and as people started sitting on floor, we got places in the front row along with some Bengali bhodrolok.
The spectacular show started with the traditional Balinese gamelan music, with artists playing musical instruments which we had not seen before. Some looked like drums while a few others resembled santoor and flute. However the music was very different from what we had heard till and very melodious. This was followed by a Gabor (welcome) dance by a troupe of very lovely women in glittering costumes and dancing in perfect symphony. They had very graceful movements and the almost hypnotic music added to the effect. For the next 2 hours, we were enthralled by the dance performances and story telling ranging from elegant court dance, to young warriors and old man in a mask. It was a great experience to see how they are proudly preserving their culture.
Since we were in the first row, managed to take some good photographs and a video, hope you like them. This dance is one of the highlights of the culture of Bali and should not be missed if you visit Ubud.
Into the Monkey Forest
Believe it or not, Ubud has a tropical rain-forest hidden right in its heart. Known simply as the Sacred Monkey Forest, this  mini wildlife sanctuary is spread over 10 Hectares and is home to more than 600 long-tailed crab-eating Macaques and over 115 different species of trees. There are also temples, bridges, water streams, and ravines which are believed to harbor human and animal spirits.
The temple which makes the forest sacred was built somewhere around 1400 AD by the Pejeng Dynasty and have a number of statues of ancient gods and demons. We were also able to identify statues of Ganesha and Hanuman. These temples, strange stone idols and dense foliage give the forest a very Indiana Jones-ish feel.
Talking about the monkeys, well they were numerous and quite demanding, often aggressive. Some tourists were trying to provoke them, which is not a very wise idea as these monkeys are known to attack and bite tourists and can be the carrier of various diseases like rabies and hepatitis. But if you do not disturb them and do not carry a food item, they usually keep to their own.
More photographs from Monkey Forest.
Walking in the Ubud Market
When we were not engaged in some activity, we would spend our time taking a walk in the Ubud market, finding new places to eat, trying new dishes and ogling at the various craft shops and galleries. Ubud is a great travelling destination which shops selling souvenirs, sarongs and art works, but need to be willing to bargain hard. Jl Raya Ubud and Jl Wanera Wana were our main areas of operation. Since it was the time of the Galungan festival, we could witness the traditional lifestyle of the Balinese, praying at the temples, looking beautiful in their traditional dresses. We loved Ubud !