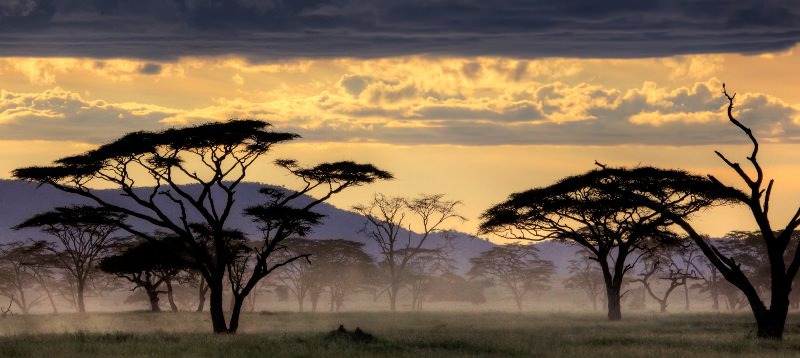 Immortalized by the innumerable documentaries by National Geographic, Tanzania is known for its ecologically significant wildlife parks and reserves. It is most famous for its wild life and is home to the big five animals – Lions, Rhinos, Elephants, Leopards and the wild buffaloes.
The most famous of the Tanzanian attractions is a visit to the Serengeti National Park. The name Serengeti meaning the endless plains in Maasai Language, aptly describes the vast stretch of Savanna grasslands. Located in the Serengeti ecosystem in The Mara and Simiyu regions, the national park is famous for the white bearded wildebeest, zebras, African Leopards, Black Rhinos and Nile Crocodiles.
The biodiversity and ecological significance has made the Serengeti National park to be listed by the United Nations Educational, Scientific and Cultural Organization as a World Heritage Site. It is designated as a Category II protected area under the system developed by the International Union for Conservation of Nature.
The best time to visit Serengeti is from June to October as the weather is sunny with no rainfall. It is a good time to experience the wildebeest migration in the western corridor and predators. Also, animals are easier to spot due to thinning vegetation.
There are many ways to enjoy the scenic Serengeti. One of the famous attraction is the Hot air balloon safari to enjoy a bird eye view of the park.  One can also take a walking safari, go on a picnic, enjoy game drives or experience the bush lunch/dinner can be arranged with hotels/tour operators. Apart from these the best and a cost-effective way to experience the wilderness is to go camping at one of the nine campsites. One needs to obtain permission from TANAPA or the nearest park warden before going on camping inside the park. The permit costs USD 30 per tent.
Things to carry while going camping in the Serengeti National park –
– It is always advisable to carry loose and comfortable clothes. It is always dusty there.
– Good shoes and a pair of sandals/ flip-flops
– wet and wind jackets
– Toiletries and medical supplies. Always check the medicines you take before you leave. Don't forget to take mosquitoes repellents.
– Torch and other photography or videography equipment
– Binoculars!!
– you must carry sleeping bag, tent and ground mats. It is always advisable to hire or buy used camping gear. after the trip you can always sell it online here.
Do enjoy the best safari and camping experience at the Serengeti National park on your next visit to Tanzania.