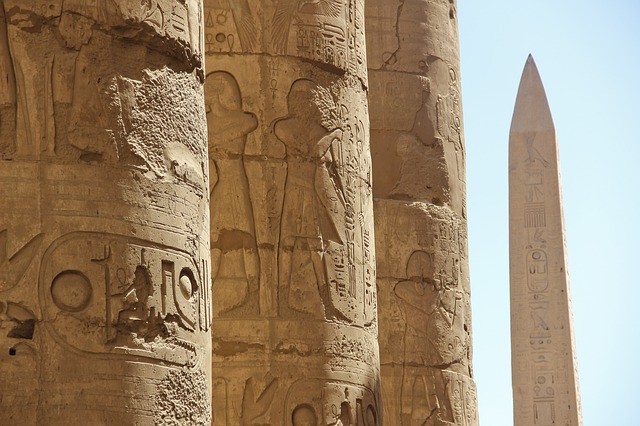 Luxor Temple is an ancient temple complex located on the west bank of Nile in Egypt, in a city now called Luxor after it. This city and complex which was once part of the famous ancient city of Thebes is around 3500 years old and has served as an important centre of Egyptian power and culture since the days of the New Kingdom. Luxor Temple has been designated as a World Heritage Site by UNESCO.
Overview
The Luxor temple is built and restored with sandstone from the Gebel el-Silsila area (referred to as Nubian Sandstone). Similar to other Egyptian structures, the technique of symbolism or illusion is used here. At the Luxor temple, the two obelisks (the smaller one closer to the west is now in the Place de la Concorde in Paris) at the entrance were not at the same height, but they created the illusion that they were of the same height due to the distance creating an illusion within the layout of the temple. Symbolically, it is a visually special effect to emphasize the heights and distance from the wall and thus enhancing the existing pathway.
Muslim population has settled in and around the temple since the medivial times which has accumulated centuries of rubble around the temple area, to the point where there was an artificial hill some forty-eight or fifty feet in height. The Luxor Temple had started to be excavated by Professor Gaston Maspero in 1884 after receiving the order to commence his work.
The excavations were carried out intermittently until 1960. The accumulated rubble had actually buried 3/4 of the actual temple with the courts and colonnades that was the main centre of the Arab half of the Modern village. Maspero took the job of Mariette Pasha to complete the task. He moved barracks, stores, houses, huts, pigeon towers, in order to excavate the site.
The Luxor Temple is largely the work of Amenhotep III and Ramesses II. The courtyard of Ramesses II is surrounded by 72 columns and is adorned with the 16 obelisks of the Pharaoh. It includes a chapel on northern side which is dedicated to the Theban Gods and was built during the reign of Hatshepsut.
The Colonnade with 14 columns has reliefs showing the festivals from Ancient Egypt and was completed during the reign of King Tutenkhamun.
The courtyard which follows is lined with a double row of columns and is flanked on the South by another hall with 32 gigantic columns. From here, the inner section starts where there are a four antechambers as well as the sanctuary of the sacred Barque in the innermost chamber. This chapel was built by none other than Alexander the Great himself and was the place of religious rituals during various royal ceremonies.