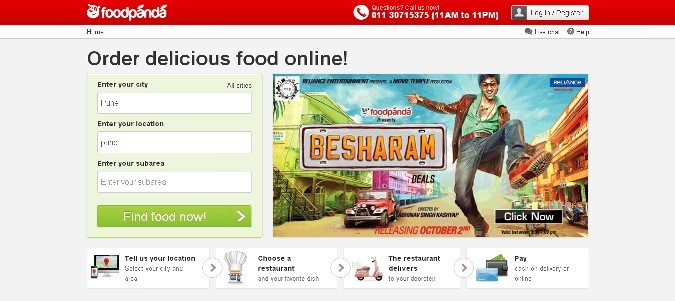 I must confess that we are one hell of a lazy couple when it comes to cooking, especially on weekends. Sometimes we are so lazy that we do not even go out to eat and just order it from restaurants near by. In fact, we always planned to have a thick folio at home, with menus from restaurants all over our area; but as it happens the folio was never bought and the menus kept getting lost. So when we got a chance to try Foodpanda, an online portal with eases the process of ordering food, we were more than happy to do that.  This blog is basically a review of the website and its services.
Foodpanda aims to make ordering food should be simple, fast, and definitely enjoyable; on those days when one needs something different from home food and without having to make an effort to get out in order to get fed. A problem in making a phone call to the restaurants is that you do not get enough options in front of you to choose from. Ordering online is obviously the better option in this digitally connected world, but the problem in this case is that not all restaurants have their own websites or logistics in place for a home delivery. It is to fill that gap that Service providers like Food Panda have come up.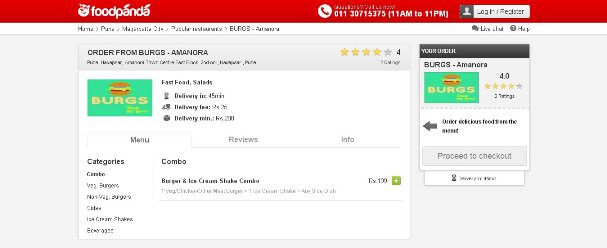 The website is clean and clutter free and ordering food is surprisingly easy. All one needs to do is to enter the city and the locality and hit "Find Food Now" (pun intended) and the portal provides the list of restaurant available for home delivery in the area. The results can be filtered based on the type of cuisine,  deals etc, post which one can select the restaurant and select the items in the menu. This section mentions upfront, the details like what the delivery charges will be, how much will be delivery time etc. All one needs to do is to select the items to order, specify any customization and go ahead to checkout. While delivery charges are free for many restaurants, there is a minor charge for some of them. Payment can be either made online or through the Cash on delivery option.
One good thing which I noticed while placing the orders is that the portal is updated with any discounts or offers available for the users. The deals of the week are prominently described on the front page. It not only makes the whole thing more lucrative but also encourages the first time users to convert into repeat customers. The Foodpanda folks have positioned themselves well, for the not so net savvy, there is a hotline which works from 11:00 AM – 11:00 PM and for the smart phone owners there are apple and android apps available to make the purchase. I could see that they are providing their services in around 15 cities across India and hope that more cities are brought under their radar soon.
Coming to the real service part; when placing the order, I was informed by the portal that my order would reach me in 45 minutes and I was happy to note that the delivery guy was punctual and we were delivered yummy burgers without getting up from our couch (OK that was a figure of speech). So it seems that the logistics is in place to support what the company promises, "to deliver warm and delicious food straight to your doorstep".