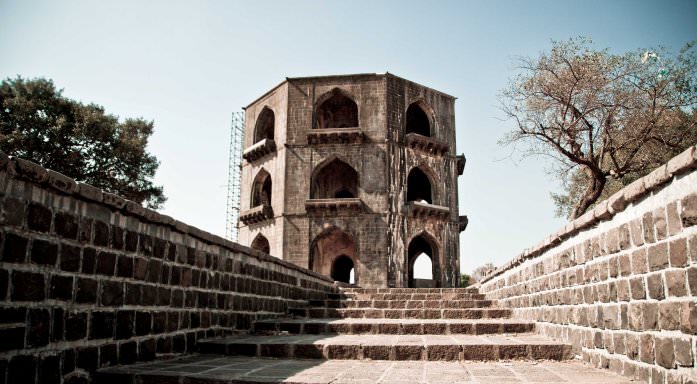 It was a day trip to Ahmednagar as we were going to attend Omkar's marriage. Before leaving for this place, I asked a friend if there were places worth visiting there, and he replied "Chaand Biwi's Mahal". Well, he turned out to be both true and false; the place is indeed worth visiting but it is not the palace of Chaand Biwi, but the tomb of Salabat Khan, a general and statesman of Nizamshahi.
To give a background, the city of Ahmednagar was established by Ahmed Nizam Shah in 1495 AD and was thus named after him. This city has been a theater of countless wars and strife. In fact, Hampi which we visited prior to this trip was ravaged and plundered by the Sultan of Ahmednagar in connivance of other Deccan Sultanates.
After the marriage ceremony was over, we had just enough time to visit Salabat Khan's tomb. This monument perched on the top of a hillock lies at some distance from the main town on the Ahmednagar-Shevgaon road. It was an uphill drive from the foothill to the top and the area was generally deserted with very few people and some paramilitary personal from a nearby training camp.
The tomb is an octagonal building built more like a tower and five levels high. Quite plain from the outside, the monument is a good example of the Sultanate architecture, and not the Gothic architecture as it is mentioned at a few places over the internet.
The graves are at the basement; as we went down, it was pitch dark inside. We could see two graves, one belongs to Salabat Khan, and am not sure to whom does the second one belongs to. There were fresh sheets on the graves but no one was around. Since it was dark and kind of spooky, we did not stay there for a long time.
We spent sometime inside the monument and went to different levels. The steps in the staircases were very steep and the staircases themselves were built as if inside the walls. It gives a spectacular view of the countryside from the top, the landscape dotted with countless windmills. It felt good to be at the top. Unfortunately it was not a good time of the day to take photographs as sun was at its peak. So the photographs all came a bit flat.
Salabat Khan's tomb is an interesting place to see if you are in Ahmednagar. Worth a visit.