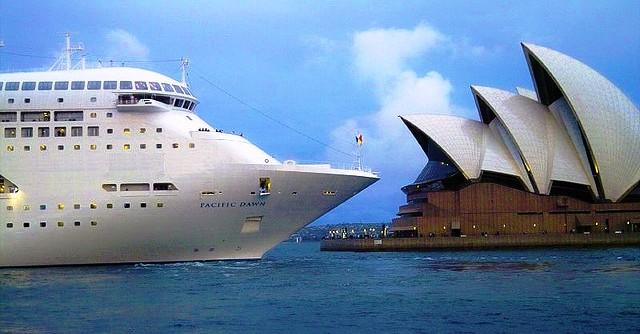 Taking a cruise in the Pacific is one of the top travel options for 2013. From the sunny shores of Australia to the staggering natural beauty of Alaska, the Pacific offers a wealth of superb cruising options. Whether you're a seasoned cruise fan or taking your first cruise ever, be sure to check out these five exceptional destinations for cruises in the Pacific Ocean for 2013.
Melbourne
Cruises from Melbourne offer the perfect opportunity to see Australia's natural beauty as well as discover the city's wide array of cultural, entertainment and leisure options. Melbourne cruises give vacationers an up-close and personal view of the striking Victoria coastline as well as the opportunity to see the exotic beauty and grandeur of Tasmania.
In addition, Melbourne offers a plethora of attractions to discover while portside. Vacationers can explore top destinations like the Docklands, the Melbourne Aquarium, the Queen Victoria Market and the city's wealth of beautiful Victoria buildings and cultural institutions.
Sydney
As with Melbourne, Sydney is a fantastic place to take a cruise from in 2013. The city and its surrounding waters offer breathtaking natural beauty to explore, warm ocean breezes and abundant sunshine to enjoy. When it comes to leisure and enjoyment, Sydney is always a top destination.
Attractions and sites of interest in Sydney are plentiful. Just a few of the city's top attractions include the iconic Sydney Opera House, the Sydney Harbour Bridge, Darling Harbour, Bondi Beach, the Royal Botanic Gardens, the Australian Museum and much more.
Alaska
Few places in the world offer the dramatic natural beauty and sheer sense of wonderment as the Alaska coastline. Vacationers willing to trade sunny climes for stunning natural beauty will definitely fall in love with Alaska's many cruises. The state's rugged shores and striking natural treasures are perfect for cruise fans looking for something new and exhilarating. Cities like Juneau and Anchorage offer plenty of things to see and do while on layover. With its breathtaking scenery and thrilling sights, Alaska cruises are always exciting.
British Columbia
Known for its dramatic mountain scenery and idyllic Pacific Northwest beauty, the coast of British Columbia is yet another outstanding place to take a cruise. British Columbia cruises offer plenty of jaw-dropping scenery as well as a leisurely and romantic flair to them. For a truly unique cruise experience, British Columbia is an increasingly popular option among cruise enthusiasts.
The province is home to a number of cruise ports like Vancouver and Victoria, all of which offer much to see and do year round. Vancouver boasts sites of interest like Stanley Park, the Vancouver Art Gallery and the Vancouver Aquarium as well as stunning mountain scenery all around while Victoria offers a wealth of museums and historic sites to explore.
Baja California
The crown jewel of Mexico, sunny Baja California offers plenty of great cruise options, not to mention beautiful scenery, gorgeous weather and excellent food. Those looking for sunshine and a laid-back, friendly atmosphere will fit right in here. On land, vacationers can discover beautiful beaches as well as vibrant cities like Tijuana and stunning natural attractions such as the Canyon de Guadalupe.
Photo courtesy: Photopedia